By Mike McGann, Editor, The Times @mikemcgannpa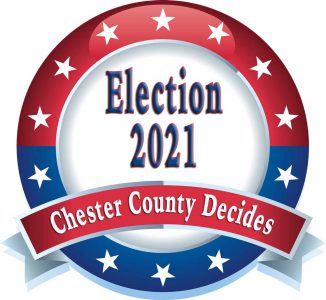 After a minor counting delay, Chester County Voter Services has been able to post unofficial results from Tuesday's Municipal Primary election — there was a minor software glitch that delayed the counting of some mail in ballots, which was largely resolved — about 500 ballots remained to be counted as of Friday morning.
Between mail and in person voting, turn out was 26.52% — fairly high for an off-year primary election.
In the highest profile race in the county, the race for Judge of the Court of Common Pleas, Democrats nominated Alita Rovito and Anthony Verwey, with Republicans backing Lou Mincarelli and PJ Redmond. Those four will face off in November for the two open seats on the bench.
The Row Office races were uncontested, with one candidate per party on the ballot.
Democrat Patricia Maisano will seek reelection as County Treasurer, taking on Republican challenger Jennifer Nicolas.
Democratic incumbent Controller Margaret Reif will take on Republican Regina Mauro.
Democratic incumbent Clerk of Courts Yolanda Van De Krol will face Republican Carmela Z. Ciliberti this fall.
Democrat Sophia Garcia-Jackson won nomination to replace retiring Coroner Christina VandePol, and will face Republican Frank Speidel.
In the magisterial district justice races, a number saw candidates win the nomination of both parties, and likely election in November: In District 15-1-03, Gregory V. Hines won both nominations; in District 15-1-04, Marian Vito won both nominations; in District 15-2-07, Maria Varano McDowell also won both nominations.
The remaining races will be contested: with Mark Bruno taking on Marc Lieberman in District 15-1-01; Mackenzie Smith will take on Thomas Tartaglio in District 15-1-02; Lauren Holt won the Democratic nomination in District 15-04-01, but won 49% of the vote in the Republican primary, with write-in votes getting 50% of the vote; Anne Feldman will take on Jeffrey Valocchi in District 15-4-02; and Bobby Brown will take on Matthew Seavey in 15-4-04.