By Denny Dyroff, Entertainment Editor, The Times 
The PHS Philadelphia Flower Show (phsonline.org) has been a staple in Philadelphia since 1829. The massive annual show, which is the nation's longest-running horticultural event, typically draws more than 250,000 people to Philadelphia every year.
The show, which is presented every year by the Pennsylvania Horticultural Society and celebrated its 190th anniversary in 2019, treats visitors to a spectacle of floral displays in every size, style and shape imaginable.
Each year, the show seems to get bigger and better. Each year's event has the vibe of being special – different from its predecessors.
This year, the PHS Philadelphia Flower Show is really special – totally different from all previous editions.
Like many other iconic events, the Flower Show is making changes for 2021. This year, the spectacular display takes place entirely outdoors for the first time ever. It will run from June 5-13 in South Philadelphia's FDR Park, which is located at South Broad Street and Pattison Avenue.
The 2021 show, themed "Habitat: Nature's Masterpiece," uses South Philadelphia's expansive and lush FDR Park as the setting for its breathtaking displays by the world's premier floral and landscape designers. As always, the annual gardening celebration features top-of-the-line horticulture and landscape design, demonstrations, entertainment, themed nights and a marketplace.
"HABITAT: Nature's Masterpiece" will explore the beauty of life through nature's kaleidoscopic lens. Visitors will be able to see exceptional beauty, learn from a diverse line-up of designers and leading horticulturalists, and enter a new gardener-centric experience that invites everyone at all skill levels to nurture a lifelong connection to plants and gardening.
This year's event will be broken up into three "districts" across the park space, each with its own theme and interactive experience. They are Plant District, Garden District and Design District.
The Plant District has been curated to attract all types of plant lovers.
The area will feature a variety of plants that have been carefully arranged in the Show's long-standing Hamilton Horticourt, showcasing hundreds of plants in their purest form by gardeners who have spent months priming their flora for just this event.
Plant "galleries" will allow guests to browse their favorites or explore new floral and plant varieties. Plant owners will be available to discuss their expertise in gardening. In this District, gardeners will learn about the planting, growing, care and maintenance of plants from PHS experts and other plant-knowledgeable volunteers.
In the Garden District, guests can see the "how to" of gardening with practical garden techniques, ongoing learning, and interaction with experts. The Garden District will feature several memorable experiences such as "Butterflies Live!" and the "PHS Gardeners Grove."
Within the Grove, gardeners will want to visit the PHS Gardeners Green, the educational section of the Flower Show where PHS experts and other gardening experts will safely hold informative sessions on a variety of topics in horticulture. A curated library for gardeners will be onsite in the PHS Members' Lounge.
The Design District, which is the largest district at the show, has been curated for the floral enthusiast who wants to see all the horticultural pomp and circumstance that the Flower Show has represented for decades. The area features the largest displays of floral and landscape design connected to this year's Flower Show theme, "Habitat: Nature's Masterpiece."
Award-winning designers from all over the globe exhibit at the Flower Show, bringing the most current trends in landscape design, outdoor floral design, art combined with nature, and sustainability to guests. Guests can talk with the designers, view 360° displays on the grand lawn of FDR Park, take photos outdoors with the displays, and take in the beauty, creativity, and artistry of each exhibit.
There are several interesting "Major Exhibits" including Jeff Leatham's "Habitat" which is located in the Design District at the Olmstead Pavilion.
Jeff Leatham is the Artistic Director for Four Seasons Hotel Philadelphia where he has a permanent living installation on the Hotel's 60th floor Sky Lobby. His work is a combination of his love for flowers, people, and design. His creations are bold statements – using shape, color and simplicity to produce a dramatic effect. Breathtaking and unforgettable, Leatham's signature designs are always integral to the setting, never merely a backdrop.
Other impressive exhibits are "Nomad Studio" which is located in the Design District, and PHS Gardeners Green which is located in the Garden District.
"Nomad Studio" is an internationally awarded creative workshop devoted to innovative site-specific projects. Its work explores the interaction between art and landscape. The studio's exhibit, "Kokedama Forest," is a visual reflection about the hidden importance of the dwellers within the soil and how their partnership with plants creates a suitable habitat for all of us.
"PHS's Gardeners Green" will take visitors on a journey through multiple garden "habitats" — from a formal kitchen garden with parterre-style beds, to espalier fruit-tree tunnels, to an edible landscape, to a greenhouse overflowing with seedlings.
Each day, gardening experts will be on hand to provide visitors with a personalized experience, sharing ideas, solutions, and inspiration specific to unique tastes, growing conditions, and amount of gardening space.
Another popular location at the show will be "America's Garden Capital Selfie Spot."
With 37 public gardens located within 30 miles of Philadelphia, the Philadelphia area has more gardens in close proximity than anywhere else on the continent – earning the region the distinction of being called "America's Garden Capital."
Visitors to the "Selfie Spot" can pick up a free Garden Passport showcasing all 37 gardens, meet experts from our gardens, and get an exclusive, limited-edition 2021 Flower Show stamp to add to your Passport collection.
Guests can take selfies with a large eight-foot garden map that showcases all 37 gardens. They also can enter to win tickets and prizes from the gardens.
Timed tickets are required and include admission to the American Swedish Historical Museum, also located in FDR Park. Admission prices for the 2021 PHS Philadelphia Flower Show are Adult, $45; Young Friend (18-29), $30; and Child (ages 5-17), $20.
The unofficial summer season has already arrived at Longwood Gardens (Route 1, Kennett Square, 610-388-1000, www.longwoodgardens.org) with the start of its annual "Festival of Fountains."
The 2021 "Festival of Fountains" opened in May and is running through September 26.
Daily performances in the Main Fountain Garden will feature more than 1,700 spinning jets that spin dance to various music programs. These are no little jets as some shoot up as high as 175 feet in the air.
The 30-minute show is slated for Thursdays, Fridays and Saturdays at 9:15 p.m.
The 2021 Illuminated Fountain performance schedule for this weekend is "Selections from Carl Orff's 'Carmina Burana,'" including "O Fortuna," "Amor volat undique" and "Chramer, gip die varwe mir" on June 3, "Bailando: Latin Rhythms," featuring Shakira's "Nunca Me Acuerdo de Olvidarte," and Marc Anthony's "Vivir Mi Vida" on June 4, and "We've Got the Funk," featuring Sly & The Family Stone's "Thank You (Falettinme Be Mice Elf Agin)" and Prince's "Let's Go Crazy."
Other scheduled themes in June are: 10, Swan Lake; 11, Classic Rock Road Trip; 12, Solid Gold '70s; 17, Monet's Garden; 18 and 19, Freedom;  24, The Magic of Mozart; 25, The Piano Men; and 26, Be Our Guest.
The Main Fountain Garden Show's "Fountains Then and Now" show is a 12-minute fountain performance that begins with a touch of narrated history and concludes with dynamic choreography marrying music and the site's newest fountain features.
These displays will be presented daily at 1:15 a.m. and 3:15 p.m. There will also be performances on Thursdays, Fridays and Saturdays at 7:15 p.m.
Another daily show in the Main Garden is "Classical, Jazz, and Hits of Today," another 12-minue show but with a different musical style. These will be presented daily at 1:15 and 5:15 p.m.
The third show on the roster is "Fountain Refresher," which is billed as "a five-minute mix of music genres that teases the theme of that evening's Illuminated Fountain Performance."
These are scheduled for Thursday through Saturday from May 6-August 28 at 6:15 and 8:15 p.m. and September 2 through October 30 at 6:15 p.m.
There will also be daily shows in the Open Air Theatre and the Italian Water Garden.
Featuring 750 jets in changing patterns, the Open Air Theatre comes alive with fountains set to music.
Since its 1914 Garden Party debut, this Italian-style outdoor theatre has expanded from its simple original fountains to the 750 jets that create the rainbowed curtain of water you see today, while playing host to more than 1,500 performances throughout the years.
To limit the spread of COVID-19, Longwood has made the difficult decision to temporarily suspend all ticketed concerts, fireworks shows and in-person continuing education classes. But live music can be heard in the Beer Garden, where live instrumental music from traditional Celtic tunes to Caribbean steel pan grooves sets the tone Thursday through Saturday evenings.
Beer Garden performances are scheduled through August from 6-9 p.m. from Thursday to Saturday evenings. They will also be held in September from 5-8 p.m. on Thursdays, Fridays and Saturdays.
As always, admission by "Timed Ticket" — tickets issued for specific dates and times. Timed ticketing limits the number of people in the Gardens at any given time and allows guests to enjoy minimal lines and a better viewing experience.
You may enter the Gardens up to 30 minutes prior and 30 minutes after your designated time. Make every effort to arrive at your designated reservation time. Earlier or later arrivals may not be accommodated.
Video link for "Festival of Fountains" — https://youtu.be/AHsC2YuFerY.
Admission to Longwood Gardens is $25 for adults, $22 for seniors (ages 62 and older) and college students, $18 for active military and veterans and $13 for youth (ages 5-18).
If you enjoy walking around garden displays or if you like to look at model railroad layouts, then you should definitely check out the Garden Railway Display at the Morris Arboretum (100 Northwestern Avenue, Chestnut Hill, www.morrisarboretum.org).
The ultra-popular Garden Railway Display has become a major summer attraction at The Gardens at Morris Arboretum. The annual edition of the display has its official season opening a few days ago and will remain open until October 11.
The railway has a quarter mile of track featuring seven loops and tunnels with 15 different rail lines and two cable cars, nine bridges (including a trestle bridge you can walk under) and bustling model trains.
The buildings and the display are all made of natural materials – bark, leaves, twigs, hollow logs, mosses, acorns, dried flowers, seeds and stones – to form a perfectly proportioned miniature landscape complete with miniature rivers.
Philadelphia-area landmarks are all meticulously decorated for the holidays with lights that twinkle. There is even a masterpiece replica of Independence Hall are made using pinecone seeds for shingles, acorns as finials and twigs as downspouts.
This year the tracks are surrounded by miniature replicas of "Wonders of the World." Visitors will be able to see the Eiffel Tower, Hagia Sophia, the Egyptian Pyramids, the Wall of China and more.
Admission is $20 for adults; $18 for seniors (65 and older); $10 for students (ages 13-17 or with ID), active military and retired military; and free for children (under 3).
If you want to ride on a real train, there are several options this weekend.
The West Chester Railroad (610-430-2233, www.westchesterrr.net) is running its "Summer Picnic Specials" every Sunday from June 6 through Sept 19. There will be one excursion each day at noon.
Passengers can enjoy a 90-minute round trip train ride from West Chester to Glen Mills and return on a warm summer afternoon. Riders are invited to pack a lunch to have during excursion's stop at the Glen Mills train station picnic grove.
Tickets are $17 for adults, $15 for children (2-12) and free for children (under two).
The Strasburg Railroad is celebrating one of its locomotives with a series called "611 at Strasburg: The Return of an American Icon."
The Norfolk & Western Class J 611, a National Historic Engineering Landmark by the American Society of Mechanical Engineers, is known as an engineering powerhouse of steam, technology, and near mechanical perfection.
The N&W Class J 611 is the sole survivor of 14 Class J steam locomotives designed and built by the Norfolk & Western Railway. The locomotive rolled out of Roanoke's East End Shops in 1950. Its mission was to pull the Powhatan Arrow, a 15-car passenger train, from Norfolk, Virginia, to Cincinnati, Ohio.
Now, the powerful and sleek locomotive is running the rails at the historic Strasburg Railroad in Lancaster County's scenic Amish Country.
Offered as part of the tourist railroad's regular daily steam train service, N&W No. 611 J will be the motive power for the day's main train on select days. She will pull 45-minute excursion rides to Paradise, Pennsylvania on the following days: May 29 – 31; June 5 and 6; July 2-5; July 10 and11; July 17 and 18: July 24 and 25; August 20-22; August 27-29; September 4-6; September 24-26; and October 2 and 3.
Ticket prices range from $9.50-$45.
Wilmington and Western Railroad (Greenbank Station, 2201 Newport-Gap Pike, Wilmington, Delaware, www.wwrr.com) is running a "Princess Express" train on June 5.
Riders can join the rail line's professional princesses and princes for a live fairytale show on the station platform and royal ride aboard the Princess Express.
This year's special guests are the Little Mermaid and her Prince, the Island Princess, Princess Beauty and Princess Aurora.
Young princesses are invited to join in for a magical and unforgettable ride – and to wear their most festive royal attire.
Sing-alongs and prizes aboard the train are an extra perk this year during the 1.5-hour round-trip to the Mt. Cuba Picnic Grove.
This departure is powered by one of the railroad's historic first-generation diesel locomotives.
Trains depart at 12:30 and 2:30 p.m. Tickets are $22 for adults, $20 for children (ages 2-12) and $21 for Seniors.
The Colebrookdale Railroad (South Washington Street, Boyertown, www.colebrookdalerailroad.com) is running its "Secret Valley Expedition" dinner train on June 5 at 6 p.m. Earlier in the day, there will be a "Doodlebug Excursion" at 1 p.m.
On June 6, the tourist rail line is presenting "Sundae Sundays – Doodlebug Adventure" ay 1 p.m.
The tourist rail line's two-hour expedition into the Secret Valley features rides on meticulously restored century-old rail cars and visits one of the most scenic and historic regions in the northeast.
Deluxe coach fares are $36 for adults (13-64), $29 for children (2-12), $31 for seniors (65 and older) and $6 for toddlers.
New Hope Railroad is running its "Grapevine Express," which features "Wine & Cheese Tasting," on June 5, 6, 12, 13, 26 and 27.
Riders are invited to take part in a romantic "Wine and Cheese Excursion" and enjoy fine gourmet cheese, artisan crackers, meats, fruit, and our featured local wines. Additional Alcoholic and Non-Alcoholic beverages are also available onboard.
Wine and cheese will be served to passengers as they travel along the same railroad line passengers did when it was built in 1891 connecting New Hope with Philadelphia. The journey travels through the beautiful hills and valleys of Bucks County, along once vital waterways and streams and across numerous trestle bridges.
The excursions will take place aboard one of the railroads lavishly appointed early 1900's first-class parlor cars.
Tickets are $79.99 (Ages 21 and older only).
If you'd prefer a more stationary setting to drink some wine, the Chaddsford Winery (632 Baltimore Pike, Chadds Ford, 610-388-6221, http://www.chaddsford.com) will host "Reserve Tastings – Sweet Wine Showcase" on Saturdays and Sundays from June 5-20.
Steuben, Concord and Niagara grapes are the building blocks of the winery's popular sweet wine portfolio. These wines are fun, distinctive, and very versatile.
This month's reserve tasting is designed to celebrate the unique characteristics of the winery's wide-ranging sweet wines. The program is equal parts wine tasting, food pairing, and mixology class.
The "Pairing Lineup" is: Welcome Wine: Chaddsford White; Sunset Blush paired with Brie and Hot Pepper Jelly; Spiced Apple paired with Applewood Smoked Cheddar; Chester County Cooler cocktail featuring Niagara wine with DiBruno Gorgonzola spread and Terra Blue chips; and Sangria Frozen Wine Pop.
Reserve Tastings are $35 per person and offered only on select Saturdays and Sundays. There are three seatings per day – noon, 2 and 4 p.m.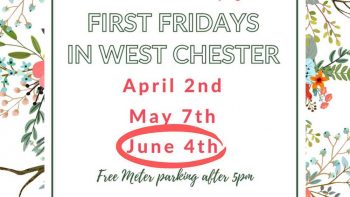 Amazingly, it's already June. And the start of the month means that it's time for First Friday events.
When the first Friday of the month comes around, it's a good time to spend the evening in West Chester or Lancaster.
On June 4, West Chester will host its version of First Friday (downtown West Chester, http://www.downtownwestchester.com) from 10 a.m.-8 p.m.
First Friday activities will take place all day in the county seat and include great shopping opportunities and delicious food offerings. Stores are open late and many of them feature free refreshments and shopping specials.
As an added attraction, there will be free on-street parking after 5 p.m. The remaining First Fridays in West Chester are scheduled for August 2, September 6, and October 4.
Lancaster has a lively First Friday celebration every month. This month's edition of First Friday Lancaster (http://www.firstfridaylancaster.com) will run from 5-9 p.m. on June 4 in downtown Lancaster.
The event will feature attractive exhibitions at art galleries, artisan studios and museums. There will also be live performances presented in a variety of genres — professional theater, symphony orchestra and performing groups.
Some of the featured events are "Symphony of Spring 2021, Part II" at Freiman Stoltzfus Art Gallery from 10 a.m.-9 p.m., "Angie Hohenadel — The Art of SOAR" at curio from 11 a.m.-8 p.m., "Alex Cohen: Many Wolds First Friday" at Lancaster Galleries from 4-8 p.m., "Art Heals", an outdoor art installation unveiling from 5-8 p.m., "Less and More Fiber Art Show" from 5-8 p.m. and "Brian Lehman: Artist Reception" at Deerfoot Downtown  from 6-8 p.m.
Two of the most popular Greek festivals in the area are running this weekend – one in Montgomery County and one in Wilmington, Delaware.
The main attractions are the tasty Greek food offerings and the festival part with rides and live entertainment
The Grecian Food Festival at St. Sophia Church Grecian Festival (900 South Trooper Road, Jeffersonville, 610-650-8960, www.saintsophiachurch.org) is running now through June 6.
The 2021 Greek Festival at the Holy Trinity Greek Orthodox Church (808 North Broom Street, Wilmington, 302-654-4446, www.holytrinitywilmington.org) opened on June 2 and is running through June 5.
With the pandemic still happening, both events are limited to take-out food offerings.
The list of main dish items at theses festivals has a wide variety of meat and vegetable items. Chicken Riganato is Grecian-style chicken roasted with a mixture of lemon, oil and oregano, while souvlaki is grilled pork tenderloin or chicken breast marinated with special herbs.
Gyros are pita sandwiches featuring a spice-infused ground beef-and-lamb mixture that is grilled, sliced fresh and served with tzatziki (cucumber and yogurt sauce), tomatoes, onions and olives.
Pastitsio is a macaroni dish with braised ground lamb and beef that is topped with béchamel sauce and baked. A similar entrée is moussaka, which features layers of eggplant, potato, ground lamb and beef, which is then baked and topped with a light béchamel sauce.
Other selections that can either be a main meal or a side dish are tiropita, which is a Greek-style cheese pie in a crispy phyllo crust; spanakopita, which is a tiropita that has spinach added; and Dolmathes, which are rice and meat wrapped in grape leaves.
For dessert, it is impossible to go wrong with any of the traditional Greek pastries. The most well-known Greek dessert is baklava, which is made with multiple layers of thin buttered phyllo dough cooked with walnuts, spices and honey syrup. Kataifi features shredded wheat with chopped nuts and honey syrup.
Galaktoboureko is a custard dessert baked between carefully placed pastry sheets and covered in syrup and Bougatsa is a custard filling in phyllo pastry topped with powdered sugar.
Greek cuisine also includes a variety of mouth-watering cookies including kourabiedes (butter cookie served with confectioner's sugar), paximadia (zwieback-type cookie that is baked then sliced and toasted in the oven), and koulourakia (butter cookie that is twisted, basted with egg yolk and baked.)
Greek dishes will be for sale in the parking lot of Holy Trinity Greek Orthodox Church at 808 N. Broom St. in Wilmington from 11 a.m. to 7:30 p.m. daily. All orders will be placed in-person via park- or walk-up or parking lot drive-thru. Cash and all major credit cards will be accepted.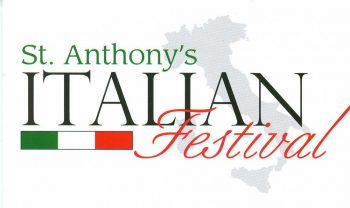 Every year, Wilmington is home to a pair of huge ethnic food festival. In addition to the Greek Festival at the Holy Trinity, there is the annual St. Anthony's Italian Festival (St. Anthony of Padua Church, 901 North DuPont Street, Wilmington, Delaware, 302-421-2790, www.stanthonysfestival.com).
The St. Anthony's Italian Festival, which opens on June 8 and runs through June 11, is also a "Take Out Only" affair this year.
In normal times, the festival features cafes, carnival rides, live Italian music and amusement games. Unfortunately, COVID-19 restrictions make this impossible in 2021.
Tis year, secure online ordering and payment will be available, as well as on-site ordering and payment (by credit card) from 4:30-7:30 p.m. daily.
The 2021 take-out menu will feature Meatball Sandwich, Porkette Sandwich, Sausage and Peppers Sandwich, Pasta Faglioli, Gnocchi with Meatball, Veal Spezzato Sandwich, Lasagna, Cheese Panzarotti, and Cannolis.
On June 5, Winterthur (Route 52, Wilmington, Delaware, 302-888-4600, www.winterthur.org) is presenting "Winterthur Invitational: A Celebration of Rolling Design."
The event, which is included free with museum admission, provides visitors with the opportunity to see a variety of vehicles from the past that have been maintained in pristine condition. The event will be held on Saturday from 10 a.m.-4 p.m.
Featuring a dynamic display of historic autos throughout the garden, the invitational will highlight the style, performance, fashion, and technology of rolling design.
Design is at the very heart of Winterthur. From the garden to the room settings to the library, Winterthur is a world-renowned font of design inspiration. Building on this legacy, this event will celebrate the rich history of 20th century automotive design.
At 1 p.m., there will be a lecture "Fashion and Cars: Advertising Automobiles and Clothing over the Decades" presented by Gregory J. Landrey, senior furniture conservator emeritus, and Laura Mina, associate conservator of textiles.
Among the cars expected to be on display are a 1926 Model T Pickup Truck with a calliope in the back that plays show tunes, a 1931 Buick 90 Model 901 station wagon, a 1958 Rolls-Royce Silver Cloud Saloon, and a 1959 Ford Thunderbird convertible.
Admission to Winterthur is $20 for adults, $18 for seniors and students, and $6 for children (ages 2-11).
The Delaware Art Museum (2301 Kentmere Parkway, Wilmington, Delaware, www.delart.org) has resumed its "DelArt Cinema Drive-in Series."
Participants can enjoy a classic film from the comfort of their own car. Concessions will be available to purchase on site. Rain dates will be scheduled as needed. Parking begins at 7:15 p.m. and the movie starts at dusk.
This week's screenings are "Get Out" on June 4 and "Weekend at Bernie's" on June 5.
Tickets, which include popcorn and soda, are $19 per person.
Hagley Museum and Library (200 Hagley Creek Road, Wilmington, Delaware, 302-658-2400, www.hagley.org), the site of the former DuPont Powder Mill, offers a wide array of special events for visitors every summer.
On June 6, Hagley Museum will present "H2 Oh! Walking Tour."
In the "H2 Oh! Walking Tour," which starts at 11 a.m., visitors will discover the evolution of waterpower at Hagley from the water wheel to modern waterpower and how the DuPont Company harnessed the power of the Brandywine to make black powder for more than 120 years.
It is a journey of innovation through the Hagley powder yards, including a stop at Hagley's recently restored turbine bringing green energy back to the site.
The tour is included in admission and reservations are requested. Admission to Hagley is $8 for adults and $4 for children (ages 6-14). Visitors must use Hagley's main entrance off Route 141 in Wilmington, Delaware.
On June 6, the Marshall Steam Museum at Auburn Heights Preserve (3000 Creek Road, Yorklyn, Delaware, 302-239-2385, http://auburnheights.org) is presenting "Yorklyn Day" from noon-4 p.m.
"Yorklyn Day" celebrates the history, community and resiliency of Yorklyn with something for everyone including an artisan's market, live music, food to suit every palate, craft beer, antique auto and train rides.
The fun extends from Center for the Creative Arts to Dew Point Brewing Co. and Garrison's Cyclery (open on Sunday for this event!) to the Yorklyn Bridge Trail and up to Auburn Heights and the Marshall Steam Museum. While there will be no shuttles this year, walking paths connect all areas and invite all to enjoy Yorklyn.
The Elmwood Park Zoo (1661 Harding Boulevard, Norristown, www.elmwoodparkzoo.org) has several upcoming special events.
"Zoo Revue" will be held every weekend throughout the summer with live entertainment by a variety of talented performers including musicians, young actors, magicians and more.
All performances will take place on Saturdays and Sundays from 11 a.m-3 p.m. on the stage located next to the bison feeding deck and across from Zoo Brew Beer Garden.
This weekend's schedule features Bow Tree Brass Quintet on June 5 and Susan Steen on June 6.
Performances are free to attend with regular zoo admission – Adult, $17.95; children (ages 3-12), $13.95; and Students and Seniors, $15.95.
The Elmwood Park Zoo will also host "Dog Days" on June 9 and 11.
All guests visiting the zoo with a furry friend must complete an online waiver and submit required documents before visiting the zoo. You must upload a copy of your most recent veterinary visit, including proof of vaccine and heartworm test here. All items will be required for you to attend "Dog Days."
The "Dog Days" event is slated to run from 1-5 p.m. each day.
Pricing is $10.95 per dog with each additional dog at $9.95. Regular zoo admission is required for all humans.
On June 5 from 9-11 a.m.,  the John Heinz National Wildlife Refuge at Tinicum (8601 Lindbergh Boulevard, Philadelphia, www.fws.gov/refuge/John_Heinz) is presenting an event called "Bird & Butterfly Walk with Cliff and Nancy Hence."
Participants will be able to take an educational walk with one of the park's knowledgeable volunteers.
Those on the Walk will be able to discover the butterflies and birds of the Refuge.
The Walk will meet by visitor center and be at a relaxed paced on flat surfaces. No registration required.
Also, "Nature Tots!" will be held June 5 from 10-11 a.m.
Children ages 3-5 and an adult are invited to explore nature with a refuge ranger. Participants will enjoy story-times, crafts, hikes, and more. Registration is required.
The Philadelphia Comic-Con, which is scheduled to run from 10 a.m.-4 p.m. on June 6 at the Clarion Hotel Conference Center (76 Industrial Highway, Essington, 856-217-5737, www.philadelphiacomic-con.com), features comic books, trading cards and other collectibles — both modern and vintage.
The popular collectibles event, which is the area's longest running comic convention, will host dealers from all over the Northeast with sales booths featuring Gold & Silver Age comics, action figures, and a wide array of non-sport cards including Topps "Star Wars" and "Garbage Pail Kids."
Also featured will be Japanese Manga, gaming cards such as Pokemon and Magic the Gathering, original artwork and all the latest issues of today's popular comic book series.
The roster of top-flight vendors includes veteran dealers and relative newcomers. As an added attraction, there will be hourly door prizes beginning at 11 a.m. with $100 in show cash to be given away.
Admission is $4 – free if you show your vaccination card at the door for this June show. Masks are still mandatory. Parking is free.
The 2021 Conshohocken Arts Festival and Car Show (801 Fayette Street, Conshohocken, www.conshohockenartsfestival.com) will be held on June 5 from 11 a.m.-4 p.m.
The Destination Conshohocken team is excited to be presenting the annual Conshohocken Arts Festival and Car Show as a live even this year after being shut out by the pandemic last year.
The event will feature an auto show with an array of eye-catching cars, a variety of food vendors and a full schedule of live entertainment.
Live music will be provided by Emily Drinker, The Funky T, Maggie Mae, John Gilbride, Katie Miller and Paul Keen.
From one of the oldest, most iconic museums in Philadelphia to one of the newest, a new "Art & America" discounted joint ticket will provide access to two world-class institutions this summer.
The Philadelphia Museum of Art (2600 Benjamin Franklin Parkway, Philadelphia, www.philamuseum.org) and the Museum of the American Revolution (101 South Third Street, Philadelphia, www.AmRevMuseum.org) have joined forces to offer visitors a convenient joint ticket that includes access to both museums for a discounted price.
The adult joint ticket, which is $35 (savings of $11), will be available for purchase from now through September 6 at www.philamuseum.org, by calling (215) 763-8100, or at the Philadelphia Museum of Art's front desk. Tickets will be redeemable through September 20 at both museums.
This summer at the Philadelphia Museum of Art, visitors can explore Philadelphia's extraordinary creativity in the brand new Early American Art galleries. They feature an unparalleled collection of paintings, sculpture, ceramics, furniture, glass, silver and more from the early 17th century until 1850.
More than 10,000-square-feet of new gallery space has been installed to tell new and inclusive stories of how Philadelphia became the young nation's cultural capital, and how Black, Indigenous, and Latin American artists contributed to the development of American art.
As part of the Museum of the American Revolution's "Revolutionary Summer," visitors can view more than 40 rare American flags alongside historic early state constitutions and the first printing of the proposed U.S. Constitution of 1787 as part of the special exhibition "Flags and Founding Documents, 1776-Today."  The exhibit will run from June 12- September 6.
Also beginning Flag Day weekend, the Museum's "True Colours Flag Project" will feature recreations of flags carried by ships during the Revolutionary War.
Extended summertime hours and family-friendly events and activities will take place all summer long, offering visitors of all ages the opportunity to explore the American Revolution's ongoing relevance.
This Saturday is a special day at the Academy of Natural Sciences of Drexel University (1900 Benjamin Franklin Parkway, Philadelphia, www.ansp.org). June 5 is one of the museum's special "Naturally Awesome Days."
The museum's event shows visitors why science is "Naturally Awesome."
Visitors will be able to enjoy a themed family-led activity and get a take-home craft kit to show off all the awesome science that the museum has to offer.
Participants can pick up your activity mini-guide when they enter and then explore the museum at their own pace. They will also be able to grab craft supplies to continue the fun at home.
The theme for March 20 is "Shells and Shores."
Participants will explore the shores and shells found in the museum and learn what unique adaptations water creatures have that help them to survive in their habitat. They can also take home a craft kit to create their own shelled creature.
This program is free with admission. Advance timed tickets are recommended to reserve your spot.
Visitors to the museum can also check out the Academy's latest exhibit, "Permian Monsters: Life Before the Dinosaurs," which shows the species that predated dinosaurs.
Visitors to the museum can step back in time 290 million years to when bizarre-looking creatures dominated life on land and sea, and dinosaurs had not yet evolved. They can also learn about the most devastating mass extinction the world has ever seen when "Permian Monsters: Life Before the Dinosaurs" takes up a year-long residence at the Academy.
The exhibit blends vivid artwork, amazing fossils and full-size scientifically accurate models of moving beasts to recreate this relatively unknown period that ended with the most devastating extinction of life. Visitors will explore odd-looking sharks, strange reptilelike precursors of mammals, a vicious giant saber-toothed gorgonopsid, and other extinct creatures that ruled the world millions of years before the dinosaurs.
"Permian Monsters: Life Before the Dinosaurs" will be on view through January 17, 2022.  "Wildlife Photographer of the Year," which is located in the museum's new natural-light-filled gallery, will be on view through February 15.
Admission is $22 for adults, $19 for seniors and $18 for children (ages 2-12).
This weekend, you can take a trip back in time – way back in time – when the Greater Philadelphia Expo Center (100 Station Avenue, Oaks, www.bigtickets.com/events/g/dino-stroll-philadelphia) hosts "Dino Stroll."
On June 5 and 6, the Greater Philadelphia Expo Center will be transformed into the Mesozoic Era with prehistoric dinosaurs throughout!
During "Dino Stroll," participants experience a transformation into the Mesozoic Era with prehistoric dinosaurs from the Triassic, Jurassic, and Cretaceous periods,
throughout!
As guests walk through this Dinosaur adventure, they are able to get up close and personal with almost 75 life-like creatures, reptiles, and life-size dinosaurs, with most standing over 25 feet tall and spanning over 60 feet long, including T-Rex, Velociraptors and Stegosaurus, just to name a few.
Dino Stroll will be the most realistic tour back into history with animatronic dinosaurs that are created with moving heads, necks, tails, wings, eyes blinking, mouths that open and close, breathing movements, synchronized sounds, spraying water, and many more exquisite details that bring them to life.
Guests will become paleontologists and be able to explore and study skeletons, fossils, and dinosaur eggs, even while climbing inside of them for photo opportunities.
There will be entertainment by the Dino Band, various roaming Dinosaurs to encounter during the stroll, and much more.
"Dino Stroll" will be an interactive event allowing guests to walk along, stand next to, and touch some of the life-size dinosaurs while providing a memorable experience of what it felt like when the world's largest creatures roamed the earth.
The event will run from 9 a.m.-6 p.m. both days. Tickets are $23.99.
This weekend, it's also time for the annual Strawberry Festival at Linvilla Orchards (137 West Knowlton Road, Media, 610-876-7116, www.linvilla.com). The free festival will be held Saturday June 5 from 9 a.m.-5 p.m. on Linvilla's grounds in Media.
The festive event will feature children's entertainment, costumed characters, live music, ice cream sundaes, giant strawberry shortcake and strawberry treats.
Every year, Linvilla's Bakery presents the Delaware County's largest Strawberry Shortcake. Carrying on with tradition, Linvilla's homemade Strawberry Shortcake will be presented at precisely 11 a.m.
The entertainment host will be Silly Joe. Joining Silly Joe will be musical guests The McChords and another local favorite band — Beg, Borrow and Steel. Also slated to perform is "One Man Sideshow – David Darwin" with his interactive vaudeville show.
From June 4-6, the Broomall Fire Company Carnival will make its annual visit to Delaware County on the grounds adjacent to the Broomall Fire Company's station (10 North Malin Road, Broomall, broomallfirecompany.com).
The Carnival, which runs from 6-11 p.m. on Friday, 3-11 p.m. on Saturday and 1-6 p.m. on Sunday, is free and open to the public.
The event will feature a carnival midway, amusement rides, family games and a wide variety of food vendors.
Sesame Place (100 Sesame Road, Langhorne, www.sesameplace.com), a family-friendly amusement park in Langhorne, hosting "Elmo's Springtacular" now through June 20.
"Elmo's Springtacular" at Sesame Place is filled with furry fun and exciting events. On weekends now through the end of June, guests can join in on the fun with an exciting lineup of meet & greets, music, magic, pirate adventures, and fireworks.
This weekend's special themed activity is "Abby's Magic Weekend."
On June 5 and 6, Abby Cadabby is hosting a magical weekend full of spellbinding tricks and spectacular illusions by magician Sam Sandler. Kids can also get physically distant photos with magician Elmo throughout the weekend.
Ticket prices for Sesame Place start at $49.99.
Peddler's Village (Routes 202 and 263, Lahaska, 215-794-4000, www.peddlersvillage.com) is celebrating summer with its "Peddler's Village Summer Block Party!"
Every weekend through the month of June, visitors can enjoy live entertainment, plenty of delicious food and drink specials, family-friendly activities and more across all five Village neighborhoods.
They can enjoy lunch or dinner in one of the many Village restaurants and eateries, cool off in chic boutiques and specialty shops, and play arcade games or ride the antique carousel at Giggleberry Fair.
Peddler's Village shops will be open until 8 p.m. on Saturday. Admission and parking are free. Event is rain or shine.
Every Sunday, the Village will host string bands — famous Mummers string bands including Jersey, Aqua, Ferko, and Uptown.
Each weekend, Peddler's Village will host talented musicians, entertainers, and fantastic food trucks, plus kids crafts, family-friendly activities, and more. On certain weekends, join us for carnival rides, ponies and a petting zoo, a charity dunk tank, bubble magician, axe throwing, and a cartoonist.
The entertainment schedule for June 5 features DJ Dwayne Dunlevy, Lolly and YoYo, and Paul Tozz. On June 6, the live acts will be Lolly and YoYo, School of Rock and Jersey String Band.