By Denny Dyroff, Entertainment Editor, The Times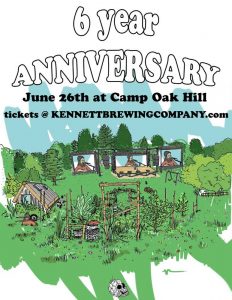 Enjoying a drink in an outdoor setting is always a well-liked activity. This weekend, there are several events around the area that feature that kind of scenario.
On June 26, the Kennett Brewing Company (109 South Broad Street, Kennett Square, http://kennettbrewingcompany.com) will present its Sixth Anniversary Party, which is billed as "an all-day music appreciation festival."
Beer and live music will be the focal points at the event, which is scheduled to run from 1-10 p.m. at Camp Oak Hill, which is located at 53 Camp Road in Nottingham.
Live music will be performed by It's About the People, Bones Brigade, The Flying Komorowski Brothers, and The Joe Hillman Band.
Three food trucks will be on-site — Taste of Puebla, 22 BBQ and Cajun Culture. Additionally, Rita's Water Ice will be a participating vendor. No outside food is allowed.
Beer will be available for purchase. Cash and all major credit cards will be accepted. There are water refill stations available for you to refill your water bottles.
On-site camping is available along with swimming, hiking, volleyball and outdoor activities.
Fully vaccinated people are recommended but not required to wear masks outdoors and required to wear masks indoors. People who are not fully vaccinated are required to wear masks except when eating and drinking.
Dogs are allowed but must be leashed at all times (no longer than 6ft leashes).
All-day music fee is $40 per person. Overnight camping and all-day music pass is $60 per person. Children under 12 are free. Children 17 and under must be accompanied by an adult.
Chaddsford Winery (Route 1, Chadds Ford, 610-388-6221, www.chaddsford.com) will also be presenting "What a Sweet Weekend" on June 26 from noon-7 p.m. and June 27 from noon-6 p.m.
The winery is shining a spotlight on the sweet side of its wine portfolio to show just how refreshing, versatile and tasty sweet wines can be.
For one weekend only, visitors can take advantage of specials on these fan-favorite wines — Sunset Blush, Sangria and Niagara – and enjoy discounts of $1 off per glass, $2 off per bottle, and $2 off per Sweet Wine flight.
Another featured treat is a specialty Piña Colada Wine Slushie featuring the winery's luscious Niagara wine along with pineapple, coconut and whipped cream.
Live music will be performed on Saturday by MK and COL (noon-2 p.m.) and Nicole Zell Duo (3-6 p.m.) and on Sunday by Joshua Howard (noon-2 p.m.) and Little Red Rooster Band (3-6 p.m.).
Food items will be available for purchase at the Plum Pit food truck.
Admission is free with two seating options available – walk-in or reserved.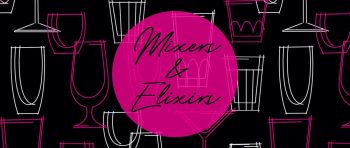 Winterthur Museum, Garden & Library (5105 Kennett Pike, Wilmington, Delaware, 800-448-3883, www.winterthur.org) will host the latest edition of its "Mixers and Elixirs" on June 25.
"Mixers and Elixirs" will be held in a secret pop-up location on the Winterthur estate. Visitors will be able to see the storied grounds of Winterthur in a whole new way — with a featured cocktail, small bites, and live music.
"Summer Spritzer" is the theme of this month's event which will run from 5-7 p.m. on Friday.
Future dates and themes for "Mixers and Elixirs" are Botanical Cocktail, July 23; Margarita Madness, August 27; Nothin' But Shrub, September 24; Bitter So Sweet, October 22; Sparkle and Fizz, November 26; and Cheers to the Holidays, December 17.
Tickets are $35 per person and include two cocktails of the month, small bites, live music, and garden access). $12 for designated driver and students ages 12-18 (includes one non-alcoholic beverage and small bites). Children under 12 are free.
On June 30, Berks Nature (The Nature Place, 575 Saint Bernardine Street, Reading, 610-372-4992, https://www.berksnature.org) is staging an event called "Wild in the Parks — Wine & Paint Night."
Artists and people interested in trying their hand at painting can join Berks Nature's very own Regan Moll-Dohm as she leads an evening of wine drinking and painting.
Participants will be painting an outdoor landscape picture after taking a short hike through our wetlands trail for inspiration.
Those attending the event need to bring the wine, while Berks Nature will bring the paint supplies.
Tickets for the event, which runs from 6-9 p.m., are $20 per person or $30 per couple.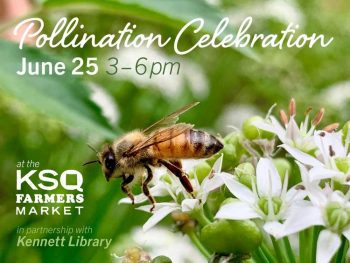 This week is National Pollinator Week and the Kennett Square Farmers Market (401 Birch Street, Kennett Square, www.ksqfarmersmarket.com) is having a Pollination Celebration on June 25 from 3-6 p.m. There will be guests and activities for all ages to enjoy in addition to the regular farmers market lineup.
The Keynote Presentation, which will be hosted by the Kennett Library from 4-5 p.m., will feature George Datto, president of Chester County Beekeepers Association and partner in Revolution Bees. He will share his knowledge about the importance of honeybees, the threats they face, and what we can do to help protect them.
Also at the Kennett Library, visitors will have the opportunity to dissect a daylily to learn the parts of a flower and explore how pollination works.
Participants can get a "Nature as Teacher" activity passport at Kennett Greenway. At the Kennett Parking Authority, they can learn about Anson B. Nixon's plans to install a pollinator garden.
At the Land Conservancy of Southern Chester County, guests can learn about the Conservancy's "Planting for Birds and Bees" initiative. While there, kids can make and decorate an origami paper bird.
Longwood Gardens (Route 1, Kennett Square, 610-388-1000, www.longwoodgardens.org) is always a special place to visit – especially during the run of its annual "Festival of Fountains."
The 2021 "Festival of Fountains" opened in May and is running through September 26.
Daily performances in the Main Fountain Garden will feature more than 1,700 spinning jets that spin dance to various music programs. These are no little jets as some shoot up as high as 175 feet in the air.
The 30-minute show is slated for Thursdays, Fridays and Saturdays at 9:15 p.m.
The Main Fountain Garden Show's "Fountains Then and Now" show is a 12-minute fountain performance that begins with a touch of narrated history and concludes with dynamic choreography marrying music and the site's newest fountain features.
These displays will be presented daily at 1:15 a.m. and 3:15 p.m. There will also be performances on Thursdays, Fridays and Saturdays at 7:15 p.m.
Another daily show in the Main Garden is "Classical, Jazz, and Hits of Today," another 12-minue show but with a different musical style. These will be presented daily at 1:15 and 5:15 p.m.
The third show on the roster is "Fountain Refresher," which is billed as "a five-minute mix of music genres that teases the theme of that evening's Illuminated Fountain Performance."
These are scheduled for Thursday through Saturday from May 6-August 28 at 6:15 and 8:15 p.m. and September 2 through October 30 at 6:15 p.m.
There will also be daily shows in the Open Air Theatre and the Italian Water Garden.
Featuring 750 jets in changing patterns, the Open Air Theatre comes alive with fountains set to music.
Since its 1914 Garden Party debut, this Italian-style outdoor theatre has expanded from its simple original fountains to the 750 jets that create the rainbowed curtain of water you see today, while playing host to more than 1,500 performances throughout the years.
To limit the spread of COVID-19, Longwood has made the difficult decision to temporarily suspend all ticketed concerts, fireworks shows and in-person continuing education classes. But live music can be heard in the Beer Garden, where live instrumental music from traditional Celtic tunes to Caribbean steel pan grooves sets the tone Thursday through Saturday evenings.
Beer Garden performances are scheduled through August from 6-9 p.m. from Thursday to Saturday evenings. They will also be held in September from 5-8 p.m. on Thursdays, Fridays and Saturdays.
As always, admission by "Timed Ticket" — tickets issued for specific dates and times. Timed ticketing limits the number of people in the Gardens at any given time and allows guests to enjoy minimal lines and a better viewing experience.
You may enter the Gardens up to 30 minutes prior and 30 minutes after your designated time. Make every effort to arrive at your designated reservation time. Earlier or later arrivals may not be accommodated.
Video link for "Festival of Fountains" — https://youtu.be/AHsC2YuFerY.
Admission to Longwood Gardens is $25 for adults, $22 for seniors (ages 62 and older) and college students, $18 for active military and veterans and $13 for youth (ages 5-18).
The John Heinz National Wildlife Refuge at Tinicum (8601 Lindbergh Boulevard, Philadelphia, www.fws.gov/refuge/John_Heinz) is hosting an event titled, "Bird Walk with Edie Parnum" on June 27 from 8-10 a.m.-noon.
Participants will be able to take an educational walk with one of the venue's knowledgeable volunteers.
Visitors to the Refuge can discover the 300-plus species of birds that use the Refuge during their migration routes — with a different species guaranteed each week.
The walk will be at a relaxed paced on flat surfaces. There are restrooms and a water fountain near the trailhead.
Another activity on Sunday morning will be the "Bird & Dragonfly Walk" from 9-11 a.m.
Guests will have the opportunity to discover the dragonflies and birds of the Refuge.
Participants in the walk will meet at the parking lot of the Route 420 entrance. This walk will also be at a relaxed paced on flat surfaces. Walkers are advised to wear comfortable shoes and dress in layers.
Another prime location to check out flowers in bloom is Tyler Arboretum (515 Painter Road, Media, 610-566-9134, www.tylerarboretum.org).
The arboretum's schedule for this weekend features "Saturday Evening Wildflower Walk," "What Lives in the Pond?" and "Leaping into Summer!"
"Saturday Evening Wildflower Walk, which runs from 6-8 p.m., features wildflower expert Dick Cloud on an informative two-hour hike that will take guests through meadows, woods, and occasionally streamside. These walks are for those who have a love of plants, their role in ecology, or for those who want to learn more.
Although the focus is on plants, Cloud will also talk about whatever else is seen on the tour. Walkers should wear comfortable hiking shoes and bring a camera and/or a wildflower guide, for this botanical-filled walk.
"What Lives in the Pond?" will be held on June 27 at 10 a.m.
When participants stand on the deck of Tyler's Pond and take a look around, they are likely to see frogs, turtles and maybe even fish — along with the tiny aquatic plant called duckweed.
Tyler volunteer Sue Fredrick will take water samples and lead guests on a tour of the pond and other wet areas around Tyler.
"Leaping into Summer!" will also be held on June 27 at 10 a.m.
Both the Native Woodland Walk and the Rhododendron Garden remain colorful and provide a cool oasis of dappled shade.
Participants will encounter new plants, insects, and water life as the warming weather brings a change to Tyler as we move from spring into early summer.
Admission to Tyler Arboretum is $15 for adults (ages 18-64), $13 for Seniors (65+) and $9 for children (ages 3-17) and Military with valid ID.
If you enjoy walking around garden displays or if you like to look at model railroad layouts, then you should definitely check out the Garden Railway Display at the Morris Arboretum (100 Northwestern Avenue, Chestnut Hill, www.morrisarboretum.org).
The ultra-popular Garden Railway Display has become a major summer attraction at The Gardens at Morris Arboretum. The annual edition of the display has its official season opening a few days ago and will remain open until October 11.
The railway has a quarter mile of track featuring seven loops and tunnels with 15 different rail lines and two cable cars, nine bridges (including a trestle bridge you can walk under) and bustling model trains.
The buildings and the display are all made of natural materials – bark, leaves, twigs, hollow logs, mosses, acorns, dried flowers, seeds and stones – to form a perfectly proportioned miniature landscape complete with miniature rivers.
Philadelphia-area landmarks are all meticulously decorated for the holidays with lights that twinkle. There is even a masterpiece replica of Independence Hall are made using pinecone seeds for shingles, acorns as finials and twigs as downspouts.
This year the tracks are surrounded by miniature replicas of "Wonders of the World." Visitors will be able to see the Eiffel Tower, Hagia Sophia, the Egyptian Pyramids, the Wall of China and more.
Admission is $20 for adults; $18 for seniors (65 and older); $10 for students (ages 13-17 or with ID), active military and retired military; and free for children (under 3).
For those who prefer real railroads, there are several tourist rail lines offering special excursions this weekend.
The West Chester Railroad (610-430-2233, www.westchesterrr.net) is running its "Summer Picnic Specials" every Sunday now through Sept 19. There will be one excursion each day at noon.
Passengers can enjoy a 90-minute round trip train ride from West Chester to Glen Mills and return on a warm summer afternoon. Riders are invited to pack a lunch to have during excursion's stop at the Glen Mills train station picnic grove.
Tickets are $17 for adults, $15 for children (2-12) and free for children (under two).
The Colebrookdale Railroad (South Washington Street, Boyertown, www.colebrookdalerailroad.com) is running its "Stony Run Wine Tasting" train on June 27 at 1 p.m.
Stony Run Winery, an estate winery in Kempton, has crafted the perfect wine and cheese pairing for a delectable mouthwatering experience. Small batch handcrafted cheeses are paired with specific award-winning Stony Run wines.
During this excursion, passengers will be sampling four pairings then choosing from those four wines to enjoy a full glass. Each pairing is designed to highlight and bring out the unique and delicate balance of flavor, mouthfeel, and finish.
The tourist rail line's expedition features rides on meticulously restored century-old rail cars and visits one of the most scenic and historic regions in the northeast.
Deluxe coach fares are $36 for adults (13-64), $29 for children (2-12), $31 for seniors (65 and older) and $6 for toddlers.
The New Hope Railroad (32 Bridge Street, New Hope, 215-862-2332, www.newhoperailroad.com) is running its "Grapevine Express," which features "Wine & Cheese Tasting," on June 26 and 27.
Riders are invited to take part in a romantic "Wine and Cheese Excursion" and enjoy fine gourmet cheese, artisan crackers, meats, fruit, and our featured local wines. Additional Alcoholic and Non-Alcoholic beverages are also available onboard.
Wine and cheese will be served to passengers as they travel along the same railroad line passengers did when it was built in 1891 connecting New Hope with Philadelphia. The journey travels through the beautiful hills and valleys of Bucks County, along once vital waterways and streams and across numerous trestle bridges.
The excursions will take place aboard one of the railroads lavishly appointed early 1900's first-class parlor cars.
Tickets are $79.99 (Ages 21 and older only).
This weekend, the Strasburg Railroad (Route 741, Strasburg, 717-687-7522, www.strasburgrailroad.com) is presenting three different excursions as part of its "Unique Friends & Family Experiences" series – starting with "Escape-Room-on-the-Train" on June 25.
According to the railroad's website – "Time is running out! Harry Houdini, the renowned magician, and escape artist is trapped in a safe onboard a moving train, and only you and your party can free him before he runs out of air!"
This interactive escape room — onboard the opulent (and moving!) President's Car — is unlike anything passengers have experienced before. While on board, riders can enjoy one complimentary adult beverage and snack.
"Games and Bingo" will be featured on train rides on June 25 and "Trivia Nights" is scheduled for June 26.
On "Trivia Nights" trains, trivia questions will be administered by one of Strasburg Rail Road's team members with light food and beverages available for purchase onboard.
Tickets are $45 for "Escape-Room-on-the-Train" and $22.50 for "Games and Bingo" and "Trivia Nights."
The Northern Central Railway (2 West Main Street, New Freedom, www.northerncentralrailway.com) is running two special excursions this weekend – the "Howard Tunnel Photo Special with No. 17" on June 26 and the "Glen Rock Express & Pop Up Market" on June 27.
The "Howard Tunnel Photo Special with No. 17" will depart at noon on Saturday.
The special five-hour excursion celebrates the completion of the railroad's track rehabilitation from Seven Valleys through Howard Tunnel. The William H. Simpson No. 17 will push the train north to the tunnel while riders eat a boxed lunch and enjoy the scenery.
At Howard Tunnel, they will have the chance to stretch their legs and walk through the tunnel. The rail line will perform two photo run-bys at track speed. Once everyone is back aboard, it will proceed to Hanover Junction for another set of photo run-bys. On the return, No. 17 will stop to take water at Seven Valleys or Hanover Junction.
The Howard Tunnel is the thirrd oldest railroad tunnel in the country. Completed in 1838, it represented the final link between Baltimore and York on the Northern Central Railroad. The last steam train to operate through the tunnel was Pennsylvania Railroad K4 #1361 in 1989.
Tickets, which are $75 for adults and $30 foir children (ages 5-12), include a boxed lunch — Turkey & American Cheese Sandwich, Ham & American Cheese Sandwich or Garden Salad.
The "Glen Rock Express & Pop Up Market" excursion will depart at 1 p.m. on Sunday.
Passengers will travel to Glen Rock and back with the rail line's vintage PRR GP9 Diesel Locomotive built-in 1959. The ride follows the route of the original Northern Central Railroad through the scenic Heritage Rail Trail County Park.
There will be a 45-minute stop in Glen Rock where passengers will have time to visit the Glen Rock Train Stop Pop Up and Simply Local at the Glen Rock Mill Inn. The Glen Rock Train Stop Pop Up is a farmers market featuring some of Southern York County's best. Simply Local is a boutique, indoor artisan market and gift shop that supports local and Pennsylvania small businesses.
Tickets are $27 for adults, $15 for children (ages 3-12) and $5 for Toddlers (in lap).
This weekend, the Mount Hope Estate & Winery (Route 72, Cornwall, 717-665-7021, www.PaRenFaire.com) will host the 23rd Annual International Celtic Fling and Highland Games at the winery's fairgrounds in Cornwall.
The Celtic Fling will also feature a variety of Celtic music acts including Barleyjuice, Burly Celts, Cu Dubh, Flanigan's Right Hook, Kilmaine Saints, The Gothard Sisters, Matthew Young, Rogue Diplomats, Quittapahilla Highlanders and Young Dubliners.
The festival, which celebrates traditional and contemporary Celtic heritage, features the music, food and culture of all the Celtic nations — Welsh, Cornish, Manx, Bretons, Galecians/Asturians and, of course, Irish and Scottish.
Attractions this year include more than 50 musical performances, competitions and demonstrations, a full slate of live entertainment and the Ceilidh (grand finale of music and dance).
The competitive Highland Games focus on traditional competition events such as "Tossing the Caber", "Weight for Distance", "Hammer Throw" and "Putting the Stone". There will also Irish dance competitions.
For the thirsty and the hungry, there will be more than 20 feast kitchens featuring a culinary tour of the Celtic Nations with traditional items. Some of the Celtic delicacies available for purchase at this weekend's festival will be Highland Honey Mead, Scotch Eggs, Tiger Pie, Shepherd's Pie, Haggis, Cottage Pie, Irish Potato & Leek Soup, Boxty and Corned Beef and Smoked Cabbage.
In addition to the 100-plus resident Renaissance Faire shops, there will be booths presented by more than 50 guest artisans and merchants with a wide array of unique items from imported Irish wools and Scottish tartans to Celtic souvenirs.
The event runs from 11 a.m.-10 p.m. on June 26 and 27 with tickets priced at $29.95 for adults and $15.95 for children (ages 5-11).
From June 25-27, Agrarian Hemp is presenting the Pennyslvania Hemp Festival (2145 Conestoga Road, Chester Springs, www.agrarianhemp.com) in Chester County.
The festival features live music, great food and hemp culture and information. This is a great way for the whole family to learn about the benefits of both using hemp and the positive impacts that farming it sustainably can have on our planet and communities.
The roster of participating music acts includes Jessica Illuzzi, Lovelight Band, Gypsy Funk Squad, Dave Brown, and the Dishonest Fiddlers, Luke Tinklepaugh, Spacemen in the Basement, Dee Maple, Teddy Young, Carly Moffa, Hoppin Boxcars and Jasper,
Hemp Fest 2021 will also bring together growers, processors, equipment manufacturers, seed vendors, and ancillary businesses, with the common goal of creating harmony and infrastructure within the hemp industry in Pennsylvania.
Another special attraction at the festival will be hot air balloon rides.
Hagley Museum and Library (Buck Road East entrance via Route 100, Wilmington, Delaware, 302-658-2400, www.hagley.org) is presenting an educational event geared for children this weekend.
The special event this Saturday at Hagley is "Science Saturday: What's in Your Dirt?"
At the family event, which runs from 1-4 p.m. on June 26 at the Visitor Center, participants can learn about the wonderful, worm-filled world of soil.
Participants will also be able to create their own mixture, plant a seed in it, and watch it grow.
Activities are included in admission and free to members. This is a drop-in activity and guests can join the fun at any time.
On June 27, Hagley will present another special event – "What's for Dinner? A Tale of Two Gardens" walking tour.
The walk features two very different gardens — one fed the du Pont family and the other DuPont Company workers in the 19th century. This tour explores the socioeconomic factors influencing the architecture, produce, and the philosophies of each garden.
The tour involves walking on uneven ground. This event is weather-dependent.
Admission fees for Hagley Museum are $9 for adults and $5 for children (ages 6-14).
On June 26, Ice Cream Festival at Rockwood Park (4651 Washington Street Extension, Wilmington, Delaware,
rockwood@nccde.org) will return – but with a somewhat different look.
Unlike the Rockwood Ice Cream festivals in pre-pandemic days, this pared-down, free version of the Ice Cream Festival is a low-key one-day event. Guests are invited to bring picnic lunch, chairs and blankets to relax outdoors at beautiful Rockwood Park.
The festival will feature the shops of First State Flea Market, live music by local acts, the Wilmington Brew Works Beer Garden and, of course, a lot of ice cream.
The festival, which runs from 9 a.m.-3 p.m., has a huge selection of treats – Woodside Farm Creamery (Ice Cream), Cinnamon Bun Exchange (Cinnamon buns and brownies), Dino's Ice Cream Truck (Ice cream, frozen novelties, and water ice), Kilby Cream (Ice cream), Kona Ice (Shave ice), UDairy Creamery (Ice Cream), Madi LLC (Funnel cakes, apple fritters), The Ice Cream Shoppe (Ice Cream), Paleteria Y Neveria Tocumbo (Ice Cream, yogurt), Port House Creamery (Ice Cream) and Sweet Josephine's (Water Ice and Cupcakes).
This weekend, Rockwood Park will also be the site of a pair of shows in The Grand's "Summer Lawn Concerts" series.
The weekend kicks off with comedian Ryan Hamilton on June 25, who previously sold out the Baby Grand in 2019. The weekend continues with one of The Grand's resident companies, The Rock Orchestra, performing their "Evening of The Who" concert on June 26.
Tickets for these events will be sold in a pod format (a seating group of 4 or 6 patrons). This format is extremely popular with outdoor concert venues during the COVID outbreak as it allows for groups to enjoy the arts together while providing a comfortable distance between patrons. Patrons do not need to be from the same household to sit together and will not need to wear masks when seating in their pod.
Pods are on sale now and range from $100-$162 per four- or six-person pod.  They are available online only at www.TheGrandWilmington.org.
Another special event at Rockwood this weekend is "A Gentleman's House & Garden Tour," which is scheduled for June 26 from 10:30-11:30 a.m.
History lovers will enjoy a garden walk as your guide shares the story behind the building of Rockwood Mansion and Gardens. Topics covered include architecture of the mansion, the history of Joseph Shipley's family, and the garden's unique design.
Social distancing will be in practice during the tour. Masks are required.  Please meet your tour guide in the courtyard.
Online registration required. Bring a folding chair.
Face masks are required, along with social distancing, a brief COVID form and temperature checks.
The Bethel Fire Company (www.bethelfire.com) will is holding its annual Carnival now through June 26.
The festive event will run from 6-10 p.m. each night on the grounds of the old Francis Harvey Green School at 3220 Foulk Road in Garnet Valley.
The Carnival features rides, food and games and all proceeds benefit Bethel's all-volunteer fire department.
Ride all night wristbands can be purchased each evening for $25 at the ticket booths.
Pre-Order your wristbands for $5 dollars off per wristband. All pre-orders must be purchased before June 21.
A Presale $50 Mega Pass is also available. You may ride all week from open until close with the Mega Pass. The Mega Pass is valid for one person for the entire week and is nontransferable. The Mega Pass is only available via presale by ordering before June 21.
Another summertime favorite is watching movies outdoors on a big screen. Two options to do this are on this weekend's schedule.
The Delaware Art Museum (2301 Kentmere Parkway, Wilmington, Delaware, www.delart.org) has both outdoor and indoor special events this weekend.
Last week, The Delaware Art Museum unveiled its reimagined American art galleries, kicking off a series of gallery reopenings throughout the summer.
Shaped by feedback from more than 100 Delawareans, "Picturing America" expands the American stories told with art. Developed largely through gifts from local donors, the Museum's collection reflects art produced and collected in Delaware and the Brandywine Valley.
According to Chief Curator Heather Campbell Coyle. "The new galleries offer a chance to reinterpret historic American artworks to share a more inclusive history. New acquisitions by women and Black artists have added depth and diversity to the collection."
A highlight of the new American galleries is a large salon-style display, wrapping walls from floor to ceiling with Gilded Age artworks. Recent acquisitions on view include a bust of Frederick Douglass by Isaac Scott Hathaway, landscapes by 19th-century African American artists Robert Duncanson and Edward Mitchell Bannister, and a new painting by Mary Macomber.
Reimagined main floor galleries will continue to open throughout the summer, and public tours are available at delart.org.
Admission to the Delaware Art Museum is $14 for adults, $7 for students, and $6 for youth (ages 7-18).
The "DelArt Cinema Drive-In Movies" series continues this weekend with a screening of "The Blues Brothers" on June 25 at 9 p.m.
Participants can enjoy a classic film from the comfort of their own car. Concessions will be available to purchase on site. Rain dates will be scheduled as needed. Parking begins at 7:15 p.m. and the movie starts at dusk.
Tickets, which include popcorn and soda, are $19 per person.
On June 26, Laurel Hill Cemetery (3822 Ridge Avenue, Philadelphia, 215-228-8200, www.thelaurelhillcemetery.org) will present "Cinema in the Cemetery: The Philadelphia Story,"
The cemetery staff is inviting guests to pack a picnic, gather some friends or a date, and enjoy an evening under the stars.
As the sun sets over the historic tombs, the grainy joys of the film experience will be brought to life during the Friends of Laurel Hill & West Laurel Hill Cemeteries' annual "Cinema in the Cemetery" series.
"The Philadelphia Story" is a classic film.
Hollywood legends Katherine Hepburn, Cary Grant, and Jimmy Stewart light up this classic romantic comedy. Based on the 1939 Broadway play of the same name by Philip Barry, the film is about a socialite whose wedding plans are complicated by the simultaneous arrival of her ex-husband and a tabloid magazine journalist. The socialite character of the play — performed by Hepburn in the film — was inspired by Helen Hope Montgomery Scott (1904–1995), a Philadelphia socialite known for her hijinks, who married a friend of playwright Barry.
The screening is scheduled to start at 8:30 p.m. Tickets are $20 for general admission, $18 for seniors and students, $10 for youth (ages 6-12). Rain date is June 27 at 8:30 p.m.
The Elmwood Park Zoo (1661 Harding Boulevard, Norristown, www.elmwoodparkzoo.org) has several upcoming special events.
On June 26 and 27, the Zoo is hosting "Breakfast with the Giraffes."
Guests can enjoy a delicious, socially distanced outdoor breakfast buffet, right next to the zoo's three towering giraffes. After participants have cleared their plates, they will be invited to an exclusive giraffe feeding.
The breakfast will get underway at 8:30 a.m.
The Zoo will have another animal-themed special activity on June 25 and 30 called "Dog Days."
All guests visiting the zoo with a furry friend must complete an online waiver and submit required documents before visiting the zoo. You must upload a copy of your most recent veterinary visit, including proof of vaccine and heartworm test here. All items will be required for you to attend "Dog Days."
The "Dog Days" event is slated to run from 1-5 p.m. It will also be held on selected dates throughout June.
Pricing is $10.95 per dog with each additional dog at $9.95. Regular zoo admission is required for all humans.
A "Zoo Snooze" overnight campout will start at 6 p.m. on June 25 and run until 9:30 a.m. on June 26.
The "Campout" includes — Dinner (includes pizza, salad, and potato chips), Breakfast (includes pastries and fresh fruit), Flashlight tour of the zoo, Campfire & activities, educational show the next morning and Zoo admission the next day.
Tickets are $54.95.
"Night Adventures" is scheduled for June 25.
Adventurous visitors can zip the zoo in the dark with Treetop Adventures' "Night Adventure." They will be able to experience all the thrills of the zip line and ropes courses with the added challenge of darkness.
Adventurers will navigate through the trees, equipped with a headlamp. Young adventures can also experience the nighttime fun on the Zoo's Cub Climb course.
The "Night Adventure" ticket includes access to an all-you-can-eat buffet (full of Norristown specialties like zeps, veggie zeps, pretzels, tomato pie and local beer) and one drink ticket.
Tickets are $55.
This weekend will be "Sand Sculpture Weekend" at Sesame Place (100 Sesame Road, Langhorne, wwameplace.com) featuring Master Sand Sculptor John Gowdy.
Gowdy is spending his days by creating a 10-ton sand sculpture beginning on June 24. Sesame Island is the location to watch this large sand creation being sculpted.
Gowdy and his team will be hosting sandcastle-building instructions with guests on June 26 and 27 beginning at 12:30 p.m. each day.
Ticket prices for Sesame Place start at $49.99.
Peddler's Village (Routes 202 and 263, Lahaska, 215-794-4000, www.peddlersvillage.com) is celebrating the final weekend of its "Peddler's Village Summer Block Party!" on June 26 and 27.
Every weekend through the month of June, visitors can enjoy live entertainment, plenty of delicious food and drink specials, family-friendly activities and more across all five Village neighborhoods.
They can enjoy lunch or dinner in one of the many Village restaurants and eateries, cool off in chic boutiques and specialty shops, and play arcade games or ride the antique carousel at Giggleberry Fair.
Peddler's Village shops will be open until 8 p.m. on Saturday. Admission and parking are free. Event is rain or shine.
Every Sunday, the Village will host string bands — famous Mummers string bands including Jersey, Aqua, Ferko, and Uptown.
Each weekend, Peddler's Village will host talented musicians, entertainers, and fantastic food trucks, plus kids crafts, family-friendly activities, and more.
The entertainment schedule for June 26 features Matt Gordeuk, the Galena Brass Band, the Give & Take Jugglers and Lolly & YoYo.
On June 27, the live acts will be Paul Tozz, the Give & Take Jugglers, Uptown String Band, and Jersey Harmonics Quartet
On Friday evening, Peddler's Village will present "Comedy Under the Stars." The show, which starts at 8 p.m. on June 25, features host Dwayne Dunlevy, along with Erin Harkes, Paul Lyons, and headliner David Temple.
The 2021 Manayunk Arts Festival (Main Street, Manayunk, http://manayunk.com/) will take place on June 26 and 27 in the heart of Manayunk along Main Street.
The Manayunk Arts Festival draws upwards of 200,000 attendees every year and is one of the largest outdoor arts festivals in the region.
The art show part of the event will showcase top-flight artists from around the country. Hundreds of respected local artists join with the national artists to sell handmade items of all sorts.
The two-day event will also feature crafts, food and music.
As an added attraction, there will be a wide variety of vendors specializing in fiber, glass, metal, wood, photography and other media.
The festival's hours are Saturday from 11:30 a.m.-7 p.m. and Sunday from 11:30 a.m.-6 p.m.
Daily tickets are $4 for adults and $2 for children. Masks will be required for all guests and vendors.
Even though summer has just officially arrived, the American Swedish Historical Museum (1900 Pattison Avenue, Philadelphia, 215-389-1776,www.americanswedish.org) is celebrating an event known as Midsommarfest (mid-summer fest) on June 26.
In Sweden, Christmas is the most important holiday. Midsommar is the second most important holiday in the Swedish calendar.
The midsummer party in Sweden involves flowers in your hair, dancing around a pole, singing songs while drinking unsweetened, flavored schnapps and eating a lot of pickled herring.
The American Swedish Historical Museum's Midsommarfest, which starts at 4 p.m. on Saturday, features  live traditional folk music by the Last Chance Band and maypole dancing. There will also be crafts and games for the kids.
Midsommarfest runs rain or shine and includes general admission to the museum.  Tickets for Midsommarfest, which are available at the door, are $6 for adults. Children (12 and under) are admitted free.
The Museum of the American Revolution (101 South Third Street, Philadelphia, www.amrevmuseum.org) is getting in party mode early when it starts it's a weeklong Fourth of July celebration that will run from June 28-July 5.
The Museum will have an array of special exhibits, events, and activities for all ages — including the summer special exhibition Flags and Founding Documents, 1776-Today, which is on view now as part of the Museum's Revolutionary Summer.
Another highlight can be found on the Museum's outdoor plaza featuring giant flags replicating those that were flown by ships during the Revolutionary War, as part of the True Colours Flag Project.
In the Museum's core galleries, visitors can view a rare 1777 broadside of the Declaration of Independence printed by Maryland postmaster and printer Mary Katharine Goddard. Goddard's printing was the first to include the names of the signers of the document. Her own name, as printer, also appears at the bottom of the page.
In a pocket theater that evokes the interior of Independence Hall, visitors can watch a film about the tumultuous weeks leading up to the adoption of the Declaration. Through a touchscreen installation, visitors learn about the 88 local declarations of support for independence that preceded the one issued by the Continental Congress. Galleries also explore what "the promise of equality" meant for all people, including women, native people, and enslaved people.
Admission to the museum is $21 for adults, $18 for seniors and $13 for youth (ages 6-17).
On June 26, Fort Mifflin (6400 Hog Island Road, Philadelphia, www.fortmifflin.us) is presenting a special event titled, "Behind the Scenes of the Declaration of Independence: Get the Inside Scoop on Separating from the Crown."
Visitors to the Fort can get their Independence Week started in style and go behind the scenes of the American Revolution.
They will be able to meet the venue's Tavern Keeper and Colonial Brewmeister and listen to the tavern gossip circa 1776 when many details of the Declaration of Independence were discussed and debated in the local taverns.
Guests can learn the history and importance of taverns in Colonial society and politics. And they can add their voices to the discussion when they stop by the Cannonball Tavern where tavern beverages and light fare are available.
The event will also feature Revolutionary revelry, musket and cannon demonstrations, guided tours, tavern games and living history activities.
Tickets are $10 for adults, $8 for seniors and $6 for veterans and students. The event will run from 11 a.m.-5 p.m.
Hope Lodge (553 South Bethlehem Pike, Fort Washington, 215-343-0965, http://www.ushistory.org/hope/) will be presenting a "Self-Guided Mansion Tour" on June 27.
Hope Lodge was built between 1743 and 1748 by Samuel Morris, a prosperous Quaker entrepreneur. Morris acted as a farmer, shipowner, miller, iron master, shop owner, and owner of the mill now known as Mather Mill. Hope Lodge is an excellent example of early Georgian architecture, and it is possible that Edmund Woolley, architect of Independence Hall, offered advice in building. Samuel Morris owned the estate until his death in 1770.
The site opens at 12:30 p.m. with self-guided tours starting at 1 p.m. The site closes at 4 p.m.
Because of COVID-19 restrictions, guests will be able to tour the main floor of the mansion and summer kitchen areas only. Interpretive signage will be available including photos and text describing the other closed areas.
Tour admission is $8 for adults, $5 for seniors (age 65+) and for youth age 6-17, and fee for children under 5. Hope Lodge is a Blue Star Museum which means that active-duty military personnel, including National Guard and Reserve and their families, are admitted free for regular tours from Memorial Day through Labor Day.