By Denny Dyroff, Entertainment Editor, The Times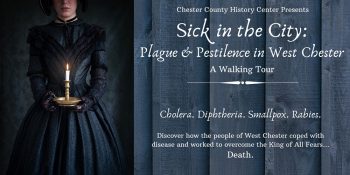 Forget that we're in the middle of a brutal heatwave. This is still the time of year to venture out and take advantage of the plethora of outdoor special events in the area.
On August 13 from 6-8 p.m., the Chester County History Center (225 North High Street, West Chester, chestercohistorical.org) will present "Sick in the City: A Walking Tour of West Chester."
Participants will join educators from Chester County History Center for this 1.5-hour walking tour of West Chester's historic locations.
In the early 1800s, West Chester billed itself as an elegant and healthful place, but the reality was very different. Words like cholera, diphtheria, and smallpox struck fear into the heart of every West Chester resident.
This tour will explore its fight against infectious diseases in the 19th and early 20th centuries, how families coped with loss, and how they worked to overcome the fear of death.
This walking tour will last approximately 90 minutes and covers 1.5 miles. Participants should arrive 15 minutes before scheduled start time to check in. Though the tour will be staying predominantly on sidewalks, the terrain may be uneven in places.
The tours will also be presented on August 14 at 11 a.m. and 1 p.m. Tickets for the tour are $15.
Ticket fees benefit the mission of the Chester County History Center and are nonrefundable. Event is rain or shine.
One of Chester County's most popular annual events is edging closer to the century mark.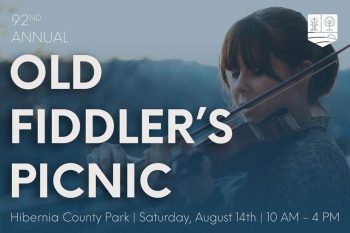 The Chester County Old Fiddlers' Picnic (Hibernia County Park, off Route 340, Wagontown, 610-383-2812, http://dsf.chesco.org/ccparks), which is scheduled for August 14, is celebrating its 92nd anniversary this year.
Known originally as the "Chester and Delaware Counties' Old Fiddlers' Picnic," the event began at Crystal Springs Park outside Parkesburg and later moved to Lenape Park, which is located just south of West Chester. When Lenape Park closed in 1980, Chester County Parks and Recreation offered to sponsor the Picnic at Hibernia County Park.
This year's edition of the festival will run from 10 a.m.-4 p.m. with Open Stage registration beginning at 9 a.m. Remington Riders, the Old Fiddlers House Band, will kick things off with a performance from 10-11 a.m.
When Remington Riders' set concludes, a constantly changing lineup of individuals and groups will take the stage and perform for the audience. Solo acts are allotted 10 minutes on stage while groups get as much as 20 minutes to perform.
The primary source of live entertainment will be the sounds emanating from the stage but there will also be plenty of other musical offerings throughout the park — especially Fiddlers' Field.
In the wooded areas near the stage, there will be impromptu jams taking place throughout the day. Musicians of all ages are invited to stroll along the lane and join in with other musicians to make fresh, live music of their own.
Guided tours of Hibernia Mansion, the 19th century Ironmasters' home will be available at 1, 2, 3 and 4 p.m. A donation of $3 per person is requested for the tour.
There will also be a large number of vendors with crafts, beverages and food items such as BBQ, sandwiches, ice cream, fries, funnel cakes, smoothies and more. Lawn chairs and blankets are encouraged. Tents, canopies and alcohol are prohibited.
There will be free admission and free parking.
The Rose Tree Summer Festival (Rose Tree Park, Route 252, Media, www.delcopa.gov/departments/parks) returns with a summer-long series of free outdoor shows at the scenic park just north of Media.
On August 13, the series will host Barefoot Bobby & the Breakers followed by Chameleon on August 14.
The schedule for the upcoming week also features Cool Confusion on August 15, Jimmy & the Parrots on August 18 and Bryn Mawr Mainliners and Valley Forge Sweet Adelines on August 19.
Paranormal Investigation at Rockwood (Rockwood Museum and Park, 4651 Washington Street Extension, Wilmington, Delaware, www.nccde.org/431/Rockwood-Park-Museum) is scheduled for August 14 starting at 8 p.m.
Joseph Shipley, a Quaker merchant banker, built Rockwood between 1851 and 1854. Its Gothic Revival architecture and enchanting landscape were designed to reflect the beauty of an English country estate.
The museum reflects the way the Bringhurst family, descendants of Shipley, lived during the turn of the 20th century.
Participants in Saturday's tour will embark on an exciting new outdoor paranormal investigation of Rockwood Park. This is a rare opportunity to find out what paranormal activity may be going on outside the walls of the famously haunted mansion. Investigators get an opportunity to help in the search using sophisticated paranormal equipment.
The tour meets at the mansion courtyard (museum Visitor's Entrance). Attendees must be able to traverse walks, hills, and occasional uneven surfaces of the park. This is a weather permitting outdoor walking tour. No interiors of buildings are explored. Participants should wear appropriate shoes because surfaces include grass, gravel, bricks, and paved areas.
Tickets are $30.
On August 14, Laurel Hill Cemetery (3822 Ridge Avenue, Philadelphia, 215-228-8200, www.thelaurelhillcemetery.org) will present "Hot Spots and Storied Plots" walking tour at 10 a.m.
In life and in death, we all have stories to tell, and what better place to hear tales of wonder than Philadelphia's most famous home of the dead?
This tour provides an informative overview of Laurel Hill's long history, which includes many of the marble masterpieces, stunning views, and legendary stories about Laurel Hill.
"Hot Spots and Storied Plots" is the perfect introduction for anyone who enjoys beautiful art, scenic nature, and fascinating history. An experienced graveyard guide will offer a unique perspective. No two "Hot Spots and Storied Plots" are alike.
The tour will take place on August 14 at 10 a.m. — departing from Laurel Hill Cemetery's Gatehouse entrance at 3822 Ridge Avenue, Philadelphia. The tour Guide will be Peter Howell.
Tickets, which must be purchased in advance, are: $12/General Admission, $10/Seniors (65 & Up), $10/Students with ID, $7/Members, $6/Youth (6-12), and $0/Child (5 & Under). Youth and children must be accompanied by an adult.
Every Saturday in August, Pottsgrove Manor (100 West King Street, Pottstown, 610-326-4014, http://montcopa.org/index.aspx?nid=930) will be presenting "Open House Days-Historic Cooking and Collections Curiosities."
Visitors will have the opportunity to see select 18th-century items from the Pottsgrove Manor collection up close and ask the curator questions. At the same time, summer treats will be being created in the site's reproduction kitchen.
Visitors can return every week to see a presentation of something from Pottsgrove's cook and its collections.  The first floor of the museum will be open for visitors to view at their leisure.
The schedule is:
August 14 — Historic Cooking, fruity colonial waters
August 21 — Collections Curiosity, 18th century calash, or collapsible women's bonnet
August 28 — Historic Cooking, Ice Cream
This event features free admission with a suggested donation of $2 per person.
This month, the Chestnut Hill Business District (https://chestnuthillpa.com/events/second-saturdays/) is hosting the fourth chapter of its new monthly series, "Second Saturday."
This month's "Second Saturday" celebration, which is an event highlighting Chestnut Hill's vibrant arts scene, will be held on August 14.
With live music, retail and restaurant specials, and family-friendly activities, "Second Saturday" offers art enthusiasts, collectors, and casual spectators plenty of reasons to visit Chestnut Hill.
During each "Second Saturday," which is free and open to the public, visitors can stroll the Avenue and explore the works of dozens of visiting regional artists. The event will feature highly sought-after professionals and new emerging talents.
"Second Saturday" events are a great time to explore and shop in one of the many art galleries and art supply stores in Chestnut Hill, as well as take a self-guided tour of the multiple outdoor and indoor exhibits at the Woodmere Art Museum.
Each month, a rotating selection of guest artists will set up outdoor pop-up shops on the sidewalks of Germantown Avenue where guests can meet artists, shop works, and watch artists painting live. "Second Saturday" will also host various opportunities for children to delve into their creative side.
"Second Saturday" will run from 2-6 p.m. along the 7600 to 8600 blocks of Germantown Avenue. Additional "Second Saturday" events are scheduled for September 11, October 9, and November 13.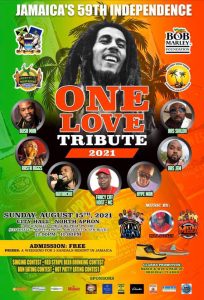 In Philadelphia on August 15, the south apron of City Hall will be the site of the Jamaican Pennsylvania Association's celebration of Jamaica's 59th year of independence.
Attendees will be able to enjoy a wide variety of Jamaican food, purchase goods from vendors specializing in Jamaican fashion and arts and crafts and win a prize for performing their favorite Bob Marley song.
The Jamaican Pennsylvania Association is a non-profit charitable organization whose mission is to promote and sustain Jamaica's Motto "Out of Many, One People." Also known as JamaicaPhilly, the organization produces and promotes Jamaican cultural and heritage activities throughout Pennsylvania.
The event in Philly on August 15 will run from noon-10 p.m. and is free and open to the public.
This is the time of year to enjoy nature at its best and there are plenty of locations around the area where the focus is on flowers, plants and the beauty of nature.
On August 14, Bartram's Garden (5400 Lindbergh Boulevard, Philadelphia, www.bartramsgarden.org) will host a special event – Honeybees & Mushrooms."
The event, which is billed as "An exploration in biodiversity, interactive species, urban ecologies and foraging," will run from noon-3 p.m.
"Honeybees & Mushrooms" is a two-season event featuring scheduled honeybee hive tours and mushroom hikes at Bartram's Garden in the Spring and Fall of 2021. Presentations by Beth Teigan, founder of Philadelphia Mycology Club, and an open hive demo by Mark Berman of Anna Bee's Honey (and Philadelphia Beekeepers Guild member) will explore the honeybee and mushroom relationship, focusing on seasonal changes in honeybee and fungal activity.
The Morris Arboretum (100 Northwestern Avenue, Chestnut Hill, www.morrisarboretum.org). is offering its "Garden Highlights Tour" this month.
Experienced guides will share both the history and current highlights of the Arboretum during a one-hour walking tour.
Tours depart from the Visitor Center at 1 p.m. each Saturday and Sunday. These tours are small groups and space is very limited.
This reservation is good for admission to the Arboretum as well as for the tour itself. The tour is weather permitting. If the tour is cancelled, your ticket is still good for admission. Another attraction at Morris Arboretum is the ultra-popular Garden Railway Display, which has become a major summer attraction at the site. The annual edition of the display will remain open until October 11.
The railway has a quarter mile of track featuring seven loops and tunnels with 15 different rail lines and two cable cars, nine bridges (including a trestle bridge you can walk under) and bustling model trains.
The buildings and the display are all made of natural materials – bark, leaves, twigs, hollow logs, mosses, acorns, dried flowers, seeds and stones – to form a perfectly proportioned miniature landscape complete with miniature rivers.
Philadelphia-area landmarks are all meticulously decorated for the holidays with lights that twinkle. There is even a masterpiece replica of Independence Hall are made using pinecone seeds for shingles, acorns as finials and twigs as downspouts.
This year the tracks are surrounded by miniature replicas of "Wonders of the World." Visitors will be able to see the Eiffel Tower, Hagia Sophia, the Egyptian Pyramids, the Wall of China and more.
Admission is $20 for adults; $18 for seniors (65 and older); $10 for students (ages 13-17 or with ID), active military and retired military; and free for children (under 3).
Another venue where you can get close to nature is Tyler Arboretum (515 Painter Road, Media, 610-566-9134, www.tylerarboretum.org).
The arboretum's schedule for this weekend features the "Blue Trail Tour" and "Painter History Tour" on August 14.
On the "Blue Trail Tour," which runs from 10-11 a.m. on August 14, guests might see totally white plants shaped like a smoker's pipe, strange spider webs resembling slender tubes as they reach underground, and lengthy berms of soil purposely built generations ago near Rocky Run stream. Participants will pass fallen trees supporting an eco-community of life as they decay, and an open meadow full of summer wildflowers and insects.
"The Painter History Tour" is a Minshall/Painter homestead tour, including Lachford Hall, Painter Library, the Springhouse, the Fruit Vault, the Greenhouse, and the historic 19th century Painter plants. Participants can discover the story of this family of early Quaker farmers and tradesmen and learn how they shaped the land and the region.
Admission to Tyler Arboretum is $15 for adults (ages 18-64), $13 for Seniors (65+) and $9 for children (ages 3-17) and Military with valid ID.
This Saturday is a special day at the Academy of Natural Sciences of Drexel University (1900 Benjamin Franklin Parkway, Philadelphia, www.ansp.org).
This message was posted on the museum's website:
"Bug Fest is back at the Academy this August! While this year's event will be a bit scaled back from past years, we are excited to present a hybrid version of Bug Fest with both in person activities as well as virtual programs. Join us in person August 13-15 for creepy-crawly insect displays, roach races and auditorium shows. Don't miss the chance to meet up with our entomologists in person at the Rushton Conservation Center for some community science."
"Bug Fest Presents: Bug Hub" is scheduled for August 13-15.
Visitors can celebrate all the many-legged movers and shakers of the world at the Academy's annual Bug Fest! They can check out live bug displays, read excerpts from the Academy's world-renowned entomological collection, attend auditorium shows featuring Academy entomologists, watch the Roach Race 500, and enjoy "Bugs on the Big Screen."
Another special attraction — "Hungry Pop-Up at the Academy" — is scheduled to get underway at 11:30 a.m. on August 14 with local chefs serving delicious and sustainable lunches.
The Academy is partnering with Hungry, a national platform for top local checks and food delivery services. Hungry is committed to environmental sustainability and uses materials that are either fully compostable or recyclable.
Hungry is also committed to the fight against hunger, and for every two meals purchased at the Academy, the organization will donate one meal through food bank partnerships.
Visitors to the museum can also check out the Academy's latest exhibit, "Permian Monsters: Life Before the Dinosaurs," which shows the species that predated dinosaurs.
Visitors to the museum can step back in time 290 million years to when bizarre-looking creatures dominated life on land and sea, and dinosaurs had not yet evolved. They can also learn about the most devastating mass extinction the world has ever seen when "Permian Monsters: Life Before the Dinosaurs" takes up a year-long residence at the Academy.
The exhibit blends vivid artwork, amazing fossils and full-size scientifically accurate models of moving beasts to recreate this relatively unknown period that ended with the most devastating extinction of life. Visitors will explore odd-looking sharks, strange reptilelike precursors of mammals, a vicious giant saber-toothed gorgonopsid, and other extinct creatures that ruled the world millions of years before the dinosaurs.
"Permian Monsters: Life Before the Dinosaurs" will be on view through January 17, 2022.  "Wildlife Photographer of the Year," which is located in the museum's new natural-light-filled gallery, will be on view through February 15.
Admission is $22 for adults, $19 for seniors and $18 for children (ages 2-12).
If you're a fan of classic cars, you might want to check out the annual New Hope Car Show (New Hope-Solebury High School, Bridge Street, New Hope, 215-862-5665,www.newhopeautoshow.com) on August 14 and 15.
Featured vehicles include Senior Cars, Vintage Antique, Cars of the 20s-30s, Cars of the 40s-50s, Cars of the 60s, Cars of the 70s, Cars of the 80s, Alfa Romeo, Antique Motorcycles, Antique Trucks, Austin Healey, BMW, Corvair, Auburn/Cord/Duesenberg/Pierce-Arrow/Packard, Corvette, Datsun/Nissan, DeLorean, Foreign Exotic, French Connection, High Performance Production, Historically Preserved Original, Jaguar, Lincoln Continental: Lincoln, Continental, Zephyr, and Lotus.
The huge line-up also includes Mercedes Benz, MG, Military Vehicles, Model   "A" Fords, Model "T" Fords, Morgan, Mustang, Porsche, Professional Specialty Cars, Racing Cars-Domestic, Racing Cars-Foreign, Rolls-Royce/Bentley, Shelby, Specialty Class Cars, Studebaker, Thunderbird, Triumph, TVR, Viper, Volkswagen, and Woodies.
Because the show is conducted on school grounds, consumption of alcoholic beverages and the use of tobacco products in any form are strictly prohibited at all times.
Admission to the show is $10. Children under 12 accompanied by an adult are free as are active duty military and their dependents. Parking is free.
The Brandywine Zoo (1001 North Park Drive, Wilmington, Delaware, 302-571-7747, www.brandywinezoo.org) is hosting a special attraction on August 14 – "Ron Albanese – POLKA DOT!"
The "Kids' & Family Entertainment" will run from noon- 2 p.m. with two 40-45-minute sets in that timeframe.
Guests will be treated to some classic "Ron Albanese – POLKA DOT!" Albanese will do his solo music and comedy show (storytelling and tunes), "exercise dance" DJ party, and more.
The Zoo will also host "Sip and Stroll" on August 18 from 5-7 p.m.
This is the Brandywine Zoo's new happy hour series in which guests "Sip & Stroll" through the Zoo and enjoy an adult beverage from Bellefonte Brewing, Liquid Alchemy Beverages and Dogfish Head Brewery.
Beer purchases will be sold separately. Alcohol and Kona Ice is available for purchase.
Tickets are $10 for adults and $7 for children.
The Elmwood Park Zoo (1661 Harding Boulevard, Norristown, www.elmwoodparkzoo.org) has several upcoming special events.
A "Zoo Snooze" overnight campout will start at 6 p.m. on August 13 and run until 9:30 a.m. on August 14.
The "Campout" includes — Dinner (includes pizza, salad, and potato chips), Breakfast (includes pastries and fresh fruit), Flashlight tour of the zoo, Campfire & activities, educational show the next morning and Zoo admission the next day.
Tickets are $54.95.
"Night Adventures" is a recurring event that will get underway on August 13.
Adventurous visitors can zip the zoo in the dark with Treetop Adventures' "Night Adventure." They will be able to experience all the thrills of the zip line and ropes courses with the added challenge of darkness.
Adventurers will navigate through the trees, equipped with a headlamp. Young adventures can also experience the nighttime fun on the Zoo's Cub Climb course.
The "Night Adventure" ticket includes access to an all-you-can-eat buffet (full of Norristown specialties like zeps, veggie zeps, pretzels, tomato pie and local beer) and one drink ticket.
Tickets are $55.
On August 13 and 18, the Zoo is hosting "Dog Days."
All guests visiting the zoo with a furry friend must complete an online waiver and submit required documents before visiting the zoo. You must upload a copy of your most recent veterinary visit, including proof of vaccine and heartworm test here. All items will be required for you to attend "Dog Days."
The "Dog Days" event is slated to run from 1-5 p.m. It will also be held on selected dates throughout June.
Pricing is $10.95 per dog with each additional dog at $9.95. Regular zoo admission is required for all humans.
Hagley Museum and Library (Buck Road East entrance via Route 100, Wilmington, Delaware, 302-658-2400, www.hagley.org) is presenting an educational event geared for children this weekend.
The special event this Saturday at Hagley is "Science Saturday: Egg Newtons" from noon-3 p.m.
Guests can participate by using an egg to demonstrate the principles of motion, showing Newton's laws in full force.
Visitors of all ages are invited to discover solutions to science and engineering challenges at Science Saturday. Activities are included in regular admission.
In the "Walking Tour – Rocks and Roll Mills," which starts at 11 a.m. on August 15, visitors will explore the geology of the Brandywine Valley and its impact on the milling industry.
Participants also will be able to take home a piece of Delaware Blue Rock as a souvenir.
The tour involves walking on uneven ground and is weather dependent.
Admission fees for Hagley Museum are $15, Adults; $11, Seniors (age 62 and up) and Students $11; $6, Children (ages 6-14).
The Brandywine River Museum (1 Hoffman's Mill Road, Chadds Ford, www.brandywine.org) is now open Wednesdays through Mondays from 10 a.m.-4 p.m. and closed Tuesdays.
To ensure the safety, security and quality of the visitor experience, the Brandywine has implemented a variety of procedures, including timed ticketing and capacity limits. While not required, advance purchasing of timed tickets is highly recommended. Click below to reserve your timed tickets.
During its closure, the Museum underwent several facility renovations to its second and third floors. Upgrades included a complete refurbishment of the restrooms on the second floor, making them fully ADA accessible, as well as switching their current location with the Strawbridge Family Gallery (which will open later this summer), plus new HVAC and fire suppression systems.
Opening into the Museum's central atrium, the reimagined Gallery — complete with new state-of-the-art lighting — will improve circulation within the Museum building, enhancing the visitor experience.
The special exhibition currently on view is "Ralston Crawford: Air & Space & War," which will be running now through September 19.
Admission is $18 for adults, $15 for seniors (65+), $6 for students with ID and children (ages 6-18) and free for children (ages five and under).
Longwood Gardens (Route 1, Kennett Square, 610-388-1000, www.longwoodgardens.org) is always a special place to visit – especially during the run of its annual "Festival of Fountains."
The 2021 "Festival of Fountains" opened in May and is running through September 26.
Daily performances in the Main Fountain Garden will feature more than 1,700 spinning jets that spin dance to various music programs. These are no little jets as some shoot up as high as 175 feet in the air.
The 30-minute show is slated for Thursdays, Fridays and Saturdays at 9:15 p.m.
The Main Fountain Garden Show's "Fountains Then and Now" show is a 12-minute fountain performance that begins with a touch of narrated history and concludes with dynamic choreography marrying music and the site's newest fountain features.
These displays will be presented daily at 1:15 a.m. and 3:15 p.m. There will also be performances on Thursdays, Fridays and Saturdays at 7:15 p.m.
Another daily show in the Main Garden is "Classical, Jazz, and Hits of Today," another 12-minue show but with a different musical style. These will be presented daily at 1:15 and 5:15 p.m.
The third show on the roster is "Fountain Refresher," which is billed as "a five-minute mix of music genres that teases the theme of that evening's Illuminated Fountain Performance."
These are scheduled for Thursday through Saturday now through August 28 at 6:15 and 8:15 p.m. and September 2 through October 30 at 6:15 p.m.
There will also be daily shows in the Open Air Theatre and the Italian Water Garden.
Featuring 750 jets in changing patterns, the Open Air Theatre comes alive with fountains set to music.
Since its 1914 Garden Party debut, this Italian-style outdoor theatre has expanded from its simple original fountains to the 750 jets that create the rainbowed curtain of water you see today, while playing host to more than 1,500 performances throughout the years.
To limit the spread of COVID-19, Longwood has made the difficult decision to temporarily suspend all ticketed concerts, fireworks shows and in-person continuing education classes. But live music can be heard in the Beer Garden, where live instrumental music from traditional Celtic tunes to Caribbean steel pan grooves sets the tone Thursday through Saturday evenings.
Beer Garden performances are scheduled through August from 6-9 p.m. from Thursday to Saturday evenings. They will also be held in September from 5-8 p.m. on Thursdays, Fridays and Saturdays.
The schedule for August is:
August 12
Ensemble Novo (Brazilian/Tropical Chill)
August 13
Conjunto Philadelphia (Traditional Cuban and Latin Jazz)
August 14
Slowey & the Boats (Hawaiian-Inspired Steel Guitar)
August 19
Conjunto Philadelphia (Traditional Cuban and Latin Jazz)
August 20
Plenty Pepper Steel Band (Caribbean Steel Pan)
August 21
the mma project (Eclectic Acoustic)
August 26
Flexible Flyer Bluegrass (Bluegrass)
August 27
Ensemble Novo (Brazilian/Tropical Chill)
August 28
Conjunto Philadelphia (Traditional Cuban and Latin Jazz).
As always, admission by "Timed Ticket" — tickets issued for specific dates and times. Timed ticketing limits the number of people in the Gardens at any given time and allows guests to enjoy minimal lines and a better viewing experience.
You may enter the Gardens up to 30 minutes prior and 30 minutes after your designated time. Make every effort to arrive at your designated reservation time. Earlier or later arrivals may not be accommodated.
Video link for "Festival of Fountains" — https://youtu.be/AHsC2YuFerY.
Admission to Longwood Gardens is $25 for adults, $22 for seniors (ages 62 and older) and college students, $18 for active military and veterans and $13 for youth (ages 5-18).
The Chaddsford Winery (Route 1, Chadds Ford, 610-388-6221, www.chaddsford.com) is presenting "Reserve Tastings – Summer Sips" on select Saturdays and Sundays in August.
Visitors are invited to join the winery's staff for an intimate and educational 60-minute experience in the newly renovated Barrel Room tasting some of Chaddsford's latest wine releases.
The trained staff will guide you through a pre-selected tasting of five widely diverse wines from across the portfolio.  The selections will be paired alongside local cheeses and other accoutrements to enhance your tasting experience.
The staff will also discuss topics such as grape growing conditions at partner vineyards and the onsite winemaking process from production to aging and bottling.
Reserve Tastings are $35 per person. There are three seatings each day – noon, 2 and 4 p.m. Advanced reservations are required and are non-refundable.
The "pairing lineup" is Greeting Wine: 2019 The White Standard wine spritzer with peach and fresh herbs; 2020 Sauvignon Blanc with Yellow Springs Farm Black Diamond; 2020 Dry Rosé with Birchrun Hills Farm Little Chardy and sour cherry pomegranate preserve; and 2020 Niagara Demi Sec with Gemelli's Pear Sorbetto.
Auburn Heights Preserve (3000 Creek Road, Yorklyn, Delaware, 302-239-2385, http://auburnheights.org) will host "Auburn Heights After Hours" on August 18 from 5-8 p.m. each day.
Visitors can dine at the featured food truck and purchase wine and craft beer from Dew Point Brewing Co.
They can wander the grounds to view a selection of classic cars brought by local clubs and collectors, check out the newly renovated museum and try their hand at outdoor games.
Some seating will be available, but guests are invited to bring blankets and chairs. Friendly, leashed dogs are welcome at this
General admission is $6 (ages 13 and older), $3 (ages 6–12), and free for children (ages five and under).
A fun summertime family activity is taking a trip to the past by riding behind a vintage locomotive on a tourist rail line.
The West Chester Railroad (610-430-2233, www.westchesterrr.net) is running its "Summer Picnic Specials" every Sunday now through Sept 19. There will be one excursion each day at noon.
Passengers can enjoy a 90-minute round trip train ride from West Chester to Glen Mills and return on a warm summer afternoon. Riders are invited to pack a lunch to have during excursion's stop at the Glen Mills train station picnic grove.
Tickets are $17 for adults, $15 for children (2-12) and free for children (under two).
The New Hope Railroad (32 Bridge Street, New Hope, 215-862-2332, www.newhoperailroad.com) is running its "Grapevine Express," which features "Wine & Cheese Tasting," on August 14 and 15 at 5 p.m. each day.
Riders are invited to take part in a romantic "Wine and Cheese Excursion" and enjoy fine gourmet cheese, artisan crackers, meats, fruit, and our featured local wines. Additional Alcoholic and Non-Alcoholic beverages are also available onboard.
Wine and cheese will be served to passengers as they travel along the same railroad line passengers did when it was built in 1891 connecting New Hope with Philadelphia. The journey travels through the beautiful hills and valleys of Bucks County, along once vital waterways and streams and across numerous trestle bridges.
The excursions will take place aboard one of the railroads lavishly appointed early 1900's first-class parlor cars.
Tickets are $79.99 (Ages 21 and older only).
The Northern Central Railway (2 West Main Street, New Freedom, www.northerncentralrailway.com) is running several special excursions this weekend.
On August 14, Seitzland Special with No. 17 will depart at 11 a.m. and 12:30 p.m.
Riders can enjoy a scenic excursion through the beautiful countryside of York County along the historic Northern Central Railway. They will travel to Seitzland with the William H. Simpson No. 17, our authentic replica steam locomotive, on a former Pennsylvania Railroad mainline that has been in operation since 1838. Your conductor and brakeman will give you a unique historical perspective on the growth and evolution of the towns and villages you pass along the way.
Other special excursions are the Hanover Junction Flyer with No. 17 on August 14 at 1:30 p.m., the "Glen Rock Express with No. 17" on August 15 at 11:30 a.m. and the Seven Valleys Special on August 15 at 1 p.m.
Tickets: $28 Adult; $15 Child (age 3-12); $5 Toddler (in lap).
From one of the oldest, most iconic museums in Philadelphia to one of the newest, a new "Art & America" discounted joint ticket will provide access to two world-class institutions this summer.
The Philadelphia Museum of Art (2600 Benjamin Franklin Parkway, Philadelphia, www.philamuseum.org) and the Museum of the American Revolution (101 South Third Street, Philadelphia,www.amrevmuseum.org) have joined forces to offer visitors a convenient joint ticket that includes access to both museums for a discounted price.
The adult joint ticket, which is $35 (savings of $11), will be available for purchase from now through September 6.at www.philamuseum.org, by calling (215) 763-8100, or at the Philadelphia Museum of Art's front desk. Tickets will be redeemable through September 20 at both museums.
This summer at the Philadelphia Museum of Art, visitors can explore Philadelphia's extraordinary creativity in the brand new Early American Art galleries. They feature an unparalleled collection of paintings, sculpture, ceramics, furniture, glass, silver and more from the early 17th century until 1850.
More than 10,000-square-feet of new gallery space has been installed to tell new and inclusive stories of how Philadelphia became the young nation's cultural capital, and how Black, Indigenous, and Latin American artists contributed to the development of American art.
The Philadelphia Comic-Con, which is scheduled to run from 10 a.m.-4 p.m. on August 15 at the Clarion Hotel Conference Center (76 Industrial Highway, Essington, 856-217-5737,www.philadelphiacomic-con.com), features comic books, trading cards and other collectibles — both modern and vintage.
The event, which has an admission fee of $4, also features a number of special autograph guests.
The popular collectibles event, which is the area's longest running comic convention, will host dealers from all over the Northeast with sales booths featuring Gold & Silver Age comics, action figures, non-sport cards (including Topps "Journey to Star Wars: The Force Awakens").
Also featured will be Japanese Manga, gaming cards such as Pokemon and Magic the Gathering, original artwork and all the latest issues of today's popular comic book series.
The roster of top-flight vendors includes veteran dealers and relative newcomers. As an added attraction, there will be hourly door prizes beginning at 11 a.m. with $100 in show cash to be given away.
Monster-Mania Con 46 will be held now through August 15 at Crowne Plaza Philadelphia-Cherry Hill (2349 West Marlton Pike, Cherry Hill, New Jersey, monstermania.net).
One of the nation's premier horror film conventions, Monster-Mania Con features an impressive list of celebrities who will be appearing this weekend, including Amanda Bearse, Chris Sarandon, Fiona Dourif, Christine Elise, Brad Dourif, Danny Trejo, Martin Kove, William Zabka, Mathew Lillard, Skeet Ulrich, Jesse Kove and David Nauhgton.
Visitors to the convention will be able to meet the stars, get autographs, browse vendor rooms and enjoy films and special events all weekend long.
Activities get underway at 5 p.m. on August 13 and at 10 a.m. on August 14 and 15.
Admission is $30 on Friday and Saturday and $25 on Sunday. Children (ages 10 and under) are free when accompanied by a paying adult.