By Mike McGann, Editor, The Times @mikemcgannpa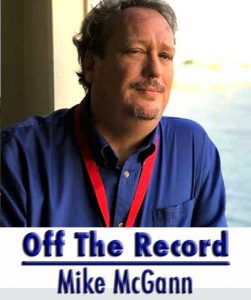 Yes, it was a good thing that Pennsylvania Attorney General Josh Shapiro came to Chester County this past week and announced 48 criminal charges against Energy Transfer, the company completely botching the construction of the Mariner East II Pipeline.
The bad thing: work continued on the project the next day like nothing happened.
Even if Energy Transfer gets convicted, all they have to do is write a check and keep on doing what they've been doing. No executive gets prison time. No halt or limit placed on the construction. Just cash going out the door, again, as it has the multiple times the state Department of Environmental Protection (DEP) has fined them over the project. That's not Shapiro's fault — it's the way state law is written, as he pointed out on Tuesday.
And just so we're clear: MEII would be a dubious project even if it were being constructed by an honest, capable company — despite the PR spin about jobs, the economy, blah, blah, blah. 
It's a bunch of BS.
First, the pipeline is planned to run at a higher pressure than similar pipelines — pushing an odorless, colorless gas that is heavier than air. One leak and the potential is there for gas to overcome dozens in local neighborhoods. Those numbers would even higher if it happens near a school or long term care facility. Worse, and there's always a worse when it comes to Energy Transfer, the gas is highly explosive — so the projected blast zone could be a mile or more, with an expected lethality that could kill a lot of people if something goes wrong (and as a lot has gone wrong in construction, so this isn't exactly panicked thinking).
Second, the entire project exists to ship petrochemicals from fracking in western Pa. to Europe to be turned into exciting things like those amazing plastic shopping bags that are about to be banned everywhere. This pipeline won't improve our gasoline or home heating supplies and help keep America energy independent, but rather be used for carryout Chinese food in Birmingham, England, until the UK bans plastic bags, which seems like any day now.
So what we have here is a dangerous pipeline to nowhere basically for nothing.
Run by wildly incompetent lying weasels. What could go wrong?
Well, as it turns out quite a lot. From sinkholes, to polluted groundwater and state parks — Marsh Creek Lake — to disruption of neighborhoods (and for extra credit, bullying of said neighbors by Energy Transfer employees), to repeated lies about methods and chemicals being used. 
Beyond a mushroom cloud, we've pretty much seen it all in the last four years.
And where has DEP and Gov. Tom Wolf been?
Both have the power the shut this exercise in idiocy down. Neither has — and that falls on Wolf. If he wanted it done, it would have happened.
Despite pleas from our County Commissioners — who have zero authority here, but have done what they legally can — and most of our state legislators, all we've heard from Wolf on the subject is crickets.
So who really wants this pipeline?
Well, Republicans, of course. As we've seen with their handling of the pandemic, they have adopted the "what's a few (thousands of) deaths as long as our donors make money?"
No shock there — but they haven't been calling the shots on this since 2015, so aside from cheerleading for the project, they don't really own the blame for this one.
(I'll pause for a moment to allow you to recover from the idea of me holding a Republican mostly blameless — as I know it must be a shock to the system.)
The blame falls squarely on Wolf. He's the one guy who could have signaled to his DEP to stop the pipeline. 
But he has not.
Wonder why?
As usual, it comes down to cash. In this case, cash to Democrats from key unions such as the Pipefitters, IBEW 98, the Building Trades Council — who want the jobs and the patronage from the project.
You might notice some local legislators have little to say about this — while almost the rest of the Chesco Democratic delegation has their hair on fire about stopping the pipeline. You may want to check and see who they got campaign cash from. It may prove to be enlightening.
Let me be clear: a lot of union people and organizations are great, fight for their members and for a fairer country — I'm literally just picking on the one group infested by corrupt leadership like John "Johnny Doc" Dougherty, currently on trial, coincidentally, for corruption.
Johnny Doc and his people threw money around the county among Democratic Party leaders (none of whom are in charge now, mind you) to try to tamp down slowly growing opposition to the pipeline within the party rank and file.
But like Energy Transfer's management of MEII, that effort seems to be failing miserably as people start to follow the money and ask questions.
Which brings us back to Wolf.
The game is up. It's time for Wolf to suck it up and shut this dangerous, polluting mess of project down.
There's no good reason to keep it going and way too many to kill it off once and for all.
It's time for Wolf to do the right thing: stop Mariner East II once and for all.
If he doesn't, we'll know for sure he was bought and paid for.