By Denny Dyroff, Entertainment Editor, The Times
Temperatures that have climbed into the upper 70s and low 80s but don't let that fool you. We're in the fourth week of autumn and winter is just around the corner.
If you look at an event calendar, you'll see that it is loaded with autumn and Halloween events.
This week's schedule features a variety of events that are either about history or have a history of their own — or both.
If Indian Summer has returned this weekend, then it might be a good time to check out a Native American Festival.
The Chester County American Indian Cultural Festival will be held at the Ramano 4-H Center of Chester County (1841 Horseshoe Pike, Honey Brook, www.chescoamericanindianculturalfest.com) on October 16 and 17.
The local "Native American Cultural Festival" features dance, drums, craft vendors, kids' activities and live music.
The event will start with cultural dance demonstrations at 11 a.m. The "Grand Entry" at noon will mark the official start of the Pow Wow.
Featured entertainers at the festival will be Gray Cloud Singers, hoop dancer Matt Clair, Itchy Dog Singers, Mother Earth, Mike Rockwood, Gretchen Wohr and Ernie Strong Bear.
Admission is $5 per person with children (under 10) and seniors (over 65) admitted free. Dogs on a leash are welcome.
The area's Native American history will also be in the spotlight at a special event in northern Delaware this weekend.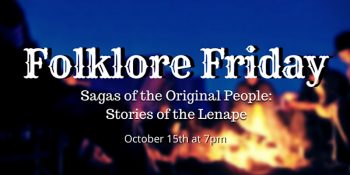 "Folklore Friday: Sagas of the Original People" will be presented at Greenbank Mills & Philips Farm (500 Greenbank Road, Wilmington, www.greenbankmill.com)  on October 15 at 7 p.m.
Greenbank Mills & Philips Farm is a living history museum with tours and programs focusing on a variety of aspects of the Early Republic (1790-1830): the gristmill, the textile factory, and daily life at the 1794 Philips House and 19th century farm with heritage livestock.
On Friday evening, guests are invited to gather around the bonfire and be transported back in time through stories of folklore and history by the Farm's gifted storytellers. Each community, each state, are threads in the fabric that make up the history and legacy of our great nation.
Participants can enjoy the fire once as and get immersed in the history of Delaware's Original People: the Lenape. For this evening, the historical site will host Chief Dennis Coker as he recounts stories from his culture's rich heritage.
Admission to this program is free but donations are encouraged.
One of the most popular Halloween events in the area is "The Great Pumpkin Carve" (Chadds Ford Historical Society, Route 100, Chadds Ford, 610-388-7376, www.chaddsfordhistory.org) which is running now through October 16.
The colorful event began with the carving competition on October 14.
Every year at the Great Pumpkin Carve, more than 70 carvers — amateur and professional — gather to sculpt, saw and chisel giant pumpkins in front of crowds of enthusiastic onlookers.
This well-attended Chadds Ford tradition is one of those events which has a history of its own.
It began in the early 1970's when artists Jimmy Lynch, Andrew Wyeth and his son Jamie Wyeth were convinced to carve pumpkins to decorate the inside of the Chadds Ford Inn. Other Chadds Ford artists joined in the carving, and, within a few years, the event spread from the Inn's front porch all the way across the lawn of the Chadds Ford Gallery.
As the Pumpkin Carve grew, it moved to larger venues and in 1992 arrived at its current venue — the meadow behind the Chadds Ford Historical Society. This annual event, still held on the Historical Society's grounds, is a major fundraiser that raises funds to support the CFHS' educational programs, historic preservation of their historic sites and more.
Hours are from 4-9 p.m. on October 14 and 15 and 3-9 p.m. on October 16.
All three nights feature a "Kid Friendly Haunted Trail," raffle prizes and live music. Food, local craft beer and wine are available for purchase.
Each night, "America's Got Talent" contestant, Dylan Zangwill, will be singing on the stage from 5:30-6:30 p.m.
Admission is $15 for adults (18 and older) and $5 for children (ages 7-17).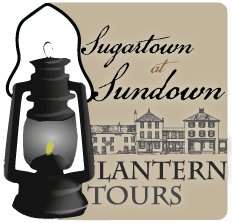 On October 16 and 17, visitors to Sugartown (690 Sugartown Road, Malvern, http://historicsugartown.org/events) will have the opportunity to see Sugartown in a whole new light at the "Sugartown at Sundown Lantern Tours."
Guides will lead visitors through the village by lantern and offer chilling tales about the village. The lantern tours will begin each night with the first tour at 6 p.m.
The tour will last approximately one hour. At the conclusion of the tour, guests can enjoy hot apple tea punch and treats from Simpson House Tea Room in the Carriage Museum
Admission is $12 for adults and $10 for children 6-10. The event is not recommended for children under age 6.

The 1696 Thomas Massey House (Lawrence Road, Broomall, 610-353-3644, http://www.thomasmasseyhouse.org) will be celebrating autumn with its Harvest Day Festival on October 17. The free festival features demonstrations of a variety of colonial crafts by period re-enactors and other special activities from 19 a.m. until 4 p.m.
Visitors will be able to learn how to make apple butter, churn butter and make candles. There will be a working walk-in fireplace as well as a working blacksmith shop. Live music will be provided by the Marple Community Band.
On October 16 and 23, the Colonial Pennsylvania Plantation (Ridley Creek State Park, Media, 610-566-1725, www.colonialplantation.org) is presenting "Lantern Ghost Tours."
The Colonial Plantation, one of the most haunted properties in Delaware County, invites you to an evening of strange sounds, squeaky doors, and ghostly stories. Relive 300 years of the area's most mysterious, scary and true tales of terror. Start by following the torch lit path and discover the strange and inexplicable ways that colonists treated their dead.
The stories are researched by Plantation staff, are local on the Delaware County area, and are absolutely spine-chilling! Due to the graphic nature of some stories, we will not allow anyone under the age of ten to participate, and we recommend ages 12 and up.
Space is limited, and tickets must be purchased in advance. Tickets for the ghost tours are $15. The event is recommended for people 10 and older. No pets are allowed.
The West Chester Railroad (Market Street Station, West Chester, 610-430-2233, www.westchesterrr.net) is running its special "Fall Foliage Express" trains on October 17 and November 7. Trains depart at noon and 2 p.m.
The round-trip train ride travels to the village of Glen Mills and back and lasts for 90 minutes. During the brief layover in Glen Mills, riders can explore the historic Pennsylvania Railroad station and have a snack in the railroad's picnic grove along the Chester Creek.
Tickets are $20 for adults, $18 for children ages 2-12 and free for kids under two.
There will be another special excursion this weekend on the tourist rail line.
The West Chester History Train will depart West Chester on October 17 at noon only.
Riders can take a 90-minute interactive guided train ride that will showcase the rich history that the railroad has to offer. Onboard narration will be provided by WCRHA historian Dave Walter.
The train will lay over at Glen Mills station for approximately 25 minutes before returning to West Chester.
This is an intimate trip which occurs in our dining car during our regularly scheduled train. Tickets are $25 for adults and $20 for children ages 2-12.
The New Hope & Ivyland Railroad (32 West Bridge St, New Hope, 215- 862-2332, www.newhoperailroad.com) offers a two-hour roundtrip ride on its "Fall Excursion Trains" now through November 7.
Riders can enjoy a "Fall Excursion" experience on a heritage train, departing from the rail line's 1891 Witch's Hat Train Station in the center of New Hope. On this excursion, passengers will enjoy a relaxing ride through scenic Bucks County on the "New Hope Branch" route, which was originally part of the North-East Pennsylvania Railroad and later the Reading Railroad.
Passengers will ride aboard beautifully restored vintage (early 1900's) passenger coaches while a narrator will provide them with interesting historical facts and stories of significant cultural locations along the route.
The train will travel to Buckingham, Pennsylvania where it will then change direction and return to New Hope.
Passengers can enjoy the sights of the beautiful fall scenery while riding aboard the rail line's "First Class Bar Car," "Antique Seat Coach" or "Open Air Car."
Coach tickets are $72.60 for adults, $71.50 for children (ages 2-11) and $10.99 for toddlers.
The Wilmington & Western Railroad (2201 Newport Gap Pike, Wilmington, DE, 302-998-1930, www.wwrr.com) is running its "Autumn Leaf Special" with trains on October 16, 17, 20, 23, 24, 27, and 30 and November 6.
Trips are either a one-and-one-half hour roundtrips to the Mt. Cuba Picnic Grove or two-and-one-half hour roundtrips to Hockessin.
Tickets for the "Autumn Leaf Special" are $20 for adults, $19 for seniors (60 and older) and $12 for children (ages 2-12).
The W&WRR also is running its "Hayride Express" on October 15 and 22 at 7 and 8:30 p.m. each night. Visitors can experience a one-hour evening ride through the Red Clay Valley on an original railroad flatcar converted especially for hayrides.
Tickets for the "Hayride Express" are $15 for adults, $13 for seniors (60 and older) and $18 for children (ages 2-12).
"Candlelight Ghost Tours" (Fort Mifflin, Fort Mifflin and Hog Island roads, Philadelphia, 215-685-4167, http://fortmifflin.us) are scheduled for October 15, 16, 22, 29, 30 and 31.
Visitors can tour historic (and haunted) Fort Mifflin by candlelight from 7-10 p.m. each night (6:30-8:30 on October 31) and hear true stories of ghostly encounters. This event is billed as an "authentic experience."
Tickets are $20 for adults and $15 for children (12 and under).
Longwood Gardens (Route 1, Kennett Square, 610-388-1000, www.longwoodgardens.org) is a great place to visit any time in the year and always has special attractions to add to the experience.
To celebrate the arrival of autumn, Longwood has a new attraction – "Autumn's Colors."
Crisp and refreshing, autumn at Longwood is a season of constant shifts in hue and texture — and ever-present beauty.
Visitors will be struck with Longwood's spectacularly painted vistas as they stroll through picturesque Meadow Garden Special attractions loved by children of all ages are Pumpkin Playground and the whimsical Garden Railway.
Inside, guests can celebrate fall's quintessential flower at Longwood's Chrysanthemum Festival. Beginning October 16, innovative plant-growing techniques and displays take center stage by way of thousands of trained chrysanthemums throughout our Conservatory.
Big, bold colors and thousands of carefully nurtured and trained chrysanthemums abound during this imaginative display serving as the largest and oldest of its kind in North America.
Throughout the Conservatory, specialty chrysanthemum forms from fanciful clouds to sculptural spirals not only showcase our horticultural savvy but help preserve an ancient Asian artform that we are beyond proud to perpetuate.
Admission to Longwood Gardens is $25 for adults, $22 for seniors and college students and $13 for youth (ages 5-18).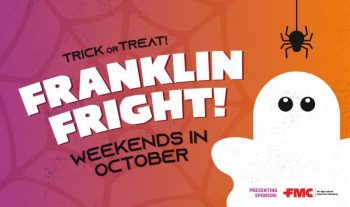 Every weekend in October, The Franklin Institute (222 North 29th Street, Philadelphia, www.fi.edu) is presenting Franklin Fright featuring trick-or-treating through the exhibits, creepy guests from The Insectarium, spooky science experiments, liquid scare shows and other frightfully-fun festivities.
Spooky live science shows, Halloween-inspired décor, and the return of the ever-popular museum-wide indoor trick-or-treating adventure takes place every weekend in October during Franklin Fright.
Experience one of the most fun-filled Halloween destinations around with the return of Franklin Fright.
Back by popular demand, young witches and warlocks, ghosts, and goblins are invited to trick-or-treat by knocking on friendly decorated doors in exhibits throughout the museum.
New this year, meet Dr. Franklinstein, joined by her science sidekicks for one of several all-new live science shows. Watch as they perform explosive experiments, dastardly demonstrations, and spooky science with There will be several Halloween-Inspired Live Science Shows incucing "That's Gross!." "Dr. Franklinstein's Pumpkin Lab" and "Pondering Plasma."
Admission is $23 for adults and $19 for children. Wearing costumes is encouraged.
The 35th Annual AIDS Walk Philly will be held October 17 at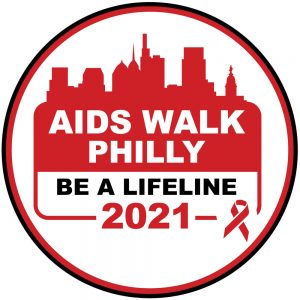 The HIV/AIDS epidemic has evolved over the last 30 years, so AIDS Fund is evolving its mission to create an even greater impact on the lives of those living with HIV disease in our community. Beginning in 2017, AIDS Fund began providing support to the most vulnerable people in our community living with HIV by providing emergency financial assistance for critical life needs.
Advances in treatment and new prevention strategies have now made "Getting to Zero" — zero new infections, zero deaths, zero stigma– an achievable goal. www.aidswalkphilly.org
The Greater Philadelphia Expo Center (100 Station Avenue, Oaks, 484-754-3976, http://phillynon-sportscardshow.com) is hosting the Philly Non-Sports Card Show on October 16 and 17.
The big event for specialized memorabilia collectors this weekend will be held on Saturday from 10 a.m.-5 p.m. and Sunday from 10 a.m.-3 p.m. Tickets are $10 each day or $15 for a two-day pass.
There are two basic categories of trading cards — sports cards and non-sports cards. Sports cards depict athletes at all levels. Non-sport cards offer so much more. There are card sets dealing with music, movies, politics, nature, pop culture and history.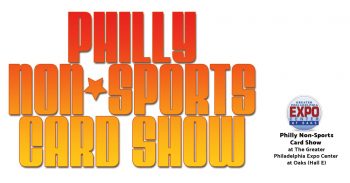 For more than a century, non-sport trading cards have documented trends in pop culture – providing people with history lessons provided by small, rectangular pieces of cardboard.
Twice each year, collectors from across the country come together in eastern Pennsylvania for this very special event. Now in its 35th year, the event is the oldest show of its kind in the country.
Many of the hobby's top manufacturers will have exhibit booths at this weekend's show and will be distributing free promo cards. There will be a huge array of non-sport cards, sets, singles, wrappers, chase cards, promos, and related memorabilia.
Chaddsford Winery (Route 1, Chadds Ford, 610-388-6221, www.chaddsford.com) is presenting its "Adult Trick or Treat" event every Saturday and Sunday through October 31. Tour Times Available at noon, 1, 2, 3 and 4 p.m.
Visitors will be able to "Trick or Treat" for wine and seasonal snacks at Chaddsford's wildly popular, adults-only Halloween program as they visit a variety of Halloween-themed pairing stations located throughout the Winery grounds.
The "Pairing Menu" features Sleepy Hollow: Chaddsford White with Kernel Clark's Kettle Corn; Hocus Pocus: Witch's Brew Wine Cocktail with Éclat Tahitian Vanilla Truffle; Creature from the Black Lagoon: 2018 Harbinger with Oso Sweet Negative Cookie; Frankenwine: Warm Spiced Apple with Carlino's Mini Pumpkin Cannoli; and The Shrieking Shack: Sangria Slushie.
Advanced tickets purchased online are $35 and include the food and beverage pairings, as well as a Halloween-themed keepsake wine glass.
"The Poison Garden," which is billed as an immersive Halloween experience, will be held from October 24-26 at Glen Foerd (5001 Grant Avenue, Philadelphia, www.glenfoerd.org/events).
A mysterious garden with a deadly purpose takes root this Halloween throughout the grounds and halls of Glen Foerd.
Glen Foerd, a public park and nonprofit cultural site in Philadelphia, is hosting "The Poison Garden," a roving, immersive adventure centered around a mysterious garden with an intriguing allure.
Visitors will be able to travel back in time to learn how one family inexplicably vanished nearly a century ago — and uncover the garden's role in this strange tale.
"The Poison Garden," designed and performed by Alterra Productions, will be presented on October 22 (fundraising launch party), 24, 25, and 26, from 7-9 p.m. The production will feature theatrical action and artistic choreography led by a troupe of actors, circus artists, and aerialists. This immersive experience is designed to engage audiences with the Glen Foerd estate's history and landscape in a new and innovative manner.
"The Poison Garden" debuts on Friday, Oct. 22, with a fundraising launch party hosted by Glen Foerd. Tickets for this special premiere event are $75 and include hors d'oeuvres and craft cocktails. With the launch on October 22, Glen Foerd hopes to raise $23,000 to benefit the nonprofit's cultural, educational, and ecological programs and mission.
Glen Foerd is an 18-acre public park and historic site located along the Delaware River in Philadelphia. Built in 1850 and enlarged in 1902-03, the estate—consisting of historic gardens, an Italianate-Classical Revival style mansion, and multiple additional structures—was saved from potential development through the activism of dedicated neighbors in 1983.
Today, Glen Foerd focuses on welcoming a diverse community through a wide array of programs for all ages. As one of the only cultural sites located in Northeast Philadelphia, Glen Foerd aims to connect audiences from different backgrounds by offering unique and affordable experiences to engage with the arts and the environment.
Tickets for "The Poison Garden" experience on Oct. 24, 25 and 26, are $35.
October 16 is the date of the "All Hallows Eve Fall Festival at Pennypacker Mills" (5 Haldeman Rd, Schwenksville, 610-287-9349, www.montcopa.org/pennypackermills). The event is free but there is a suggested donation of $2 per person.
The annual event, which is slated to run from 1-4 p.m., features tractor-pulled hayrides, pumpkin painting for kids, fall crafts, an apple cider press, corn shucking, a "Hay Pile Jump" and a bean bag toss.
Masks are required for all craft booths, pumpkin painting and the hayride.
The Hagley Craft Fair is known for being one of the oldest and best annual craft events in the Brandywine Valley, will be held October 16 and 17 at Hagley Museum and Library (Buck Road East entrance via Route 100, Wilmington, Delaware, 302-658-2400, www.hagley.org).
The popular annual show, which is being held inside Hagley's Library Building and Soda House along with the grounds outside the building, is a juried craft fair with more than 50 top-flight artisans demonstrating, displaying and selling their crafts.
The Hagley Craft Fair, which was created to celebrate the history of the textile industry along the Brandywine in the late 18th and early 19th centuries, will spotlight artists who specialize in wearable art, Shaker boxes, wood, pottery, jewelry, glass, soap, metal and other media.
The Craft Fair will run from 10 a.m.-5 p.m. on Saturday and 10 a.m.-4 p.m. on Sunday. Tickets are $7.
On weekends now through October 23, the Kalmar Nyckel will be offering public sails from the Kalmar Nyckel Shipyard (1124 East Seventh Street, Wilmington, Delaware, www.kalmarnyckel.org.)
For two decades, the Kalmar Nyckel, which has its home base in Wilmington, has been hosting riders all over the world – especially in Delaware.
A ride on the Kalmar Nyckel is a totally different from most tourist water rides.
The ship is a beautiful recreation of the original Kalmar Nyckel, which was built in Holland in the 1620s. Her mainmast is taller than a 10-story building and she carries 7,600 square feet of sail area and six miles of rigging.
The original Kalmar Nyckel was a Swedish-owned, three-masted armed pinnace that sailed from Goteborg, Sweden in November of 1637 and brought the first permanent European settlers to the Delaware Valley.
Carrying 24 settlers from four countries (Sweden, Finland, Holland, and Germany), she landed on the banks of the Christina River. The site, which became known as "The Rocks", can be visited at Fort Christina Park off Wilmington's East Seventh Street.
The Kalmar Nyckel made four documented round-trip crossings of the Atlantic, more than any other "settlers' ship" of the era. The original ship was lost in the late 1600s.
In 1986 a group of citizens established the Kalmar Nyckel Foundation to design, build and launch a replica of the Kalmar Nyckel at a shipyard adjacent to the original landing site.
The new Kalmar Nyckel was constructed there and was launched on September 28, 1997. She was commissioned on May 9, 1998 and now serves as Delaware's sea-going Ambassador of Good Will. She is a fully functional sail training vessel and has represented Delaware all over the country.
Tickets are $40 for adults and $25 for youth (ages 17 and under).
Also in Delaware, "Boo at the Zoo" (Brandywine Zoo, 1001 N. Park Drive, Wilmington, 302-571-7747, www.brandywinezoo.org) will be held on October 23 and 24.
The popular annual non-scary family event features games, animal enrichment programs, live critters and trick-or-treating. Children (and their grown-ups) are encouraged to wear costumes. Tickets are $5.
Celebrate Halloween Brandywine Zoo-style with this merry, not scary, event. Come see all the zoo's spooky decorations, enjoy socially distanced activities, and meet some of the zoo's favorite animals. Kids (and grown-ups, too) are encouraged to come in costume!
There will be a pre-packaged treat bag for all your little trick-or-treaters. This event is free with Zoo admission, but early registration is strongly recommended, as tickets are extremely limited due to Covid-19 restrictions. Pre-packaged treat bags will be given to all registered children as they leave the zoo.
Admission is $7 for adults and $5 for seniors and children (ages 3+). This event is rain or shine. No refunds will be given.
"Boo at the Zoo" (Elmwood Park Zoo, Harding Boulevard, Norristown, www.elmwoodparkzoo.org) will be held October 16, 17, 23, 24, 30 and 31 from noon-3 p.m. each day.
"Boo at the Zoo" features live entertainment, costume contests, costume parades, trick-or-treat stations with candy, prizes, crafts and educational pieces.
Children are encouraged to bring their own treat bags for trick-or-treating. The zoo will not be providing any bags.
"Boo at the Zoo" is free with zoo admission, which starts at $12.95.
The Pennsylvania Renaissance Faire (Pennsylvania Renaissance Faire Shire, Mount Hope Estate and Winery grounds, Route 72, Cornwall, 717-665-7021, www.parenfaire.com) is hosting its "Halloween Daze & Spooky Knights I" event on October 16 and 17.
There will also be "Halloween Daze & Spooky Knights II" event on October 23 and 24 and "Halloween Daze & Spooky Knights III" event on October 30 and 31.
From 11 a.m. until 8 p.m. each day, the huge faire will celebrate Halloween.
Three weekends of mystery and mayhem kick off this weekend as spooky creatures of every variety haunt the Shire. Visitors can join the good Shirefolk of Mount Hope for a grand All Hallows Eve celebration, complete with tricks and treats for children of all ages.
Featured events include "Halloween Treasure Hunt," "Nipperkins Costume Exhibition" (ages 11 and under), and "Adult Costume Competition."
Admission is $30.95 for adults and $15.95 for kids ages 5-11.
Each September, "Pumpkinland" returns to Linvilla Orchards (137 West Knowlton Road, Media, 610-876-7116, www.linvilla.com). "Pumpkinland," which runs through November 7, features fairy tale characters from nursery rhymes along with a huge scarecrow and a really tall storybook.
Other activities include train rides, a straw bale maze, hayrides, pick-your-own apples and pony rides.
There will also be "Harvest Hayrides" and "Autumn Moon Hayrides" starting later in September along with "Straw Bale Maze," "Train Rides," "Corn Maze" and "Pony Rides."
Pumpkinland is open from mid-September through early November and takes center stage at Linvilla Orchards. Larger than life figures and scarecrows illustrate the legends and lore of the harvest season, featuring local history and some of the many stories of pumpkins and apples.
Visitors will see Linvilla's piles of pumpkins in all colors, shapes and sizes — more than 100 tons on display.
This is the time of the year when farms in the area become a bustle activity — a time for harvest. But it is not harvest matters that are causing a bustle of activity at Cherry Crest Adventure Farm in Ronks (150 Cherry Hill Road, Ronks, 717-687-6843, www.cherrycrestfarm.com).
The farm's popular annual "Flashlight Maze" is now underway and will continue every Friday and Saturday night through November 4. Cherry Crest Adventure Farm has reserved several weekends during the autumn months for Flashlight Maze.
This special activity allows visitors to experience the Amazing Maize Maze in total darkness. All you need are flashlights and a few friends.
The Flashlight Maze is a nice, non-scary, Halloween alternative that has appeal for people of all ages. The Flashlight Maze, which has a $12 admission fee, is open from 6:30-10 p.m. with the last entrance into the Maze at 9 p.m.
The main attraction is Cherry Crest's "Amazing Maize Maze," which is billed as "the world's most dynamic and interactive corn maze." It is a five-acre corn maze with over two-and-one-half miles of paths, scenic bridges, and clues.
Participants can walk at their own pace as they encounter the "Kernels of Knowledge" along with a variety of clues, tunnel slides, and watering stations. They can also check out a bird's eye view from the two bridges and watch everyone's flags waving high above the corn.
The average time to complete the "Amazing Maize Maze" course is one hour. Ticket prices start at $17.95.
One of the best ways to welcome autumn is by checking out the corn mazes at Ramsey's Farm (Ramsey Road, Wilmington, Delaware, 302-477-1499, www.ramseysfarm.com). The farm's event season just got underway.
Corn mazes, along with hayrides, a pumpkin patch and scarecrows, will be featured at Ramsey's Farm, which is located in northern Delaware on Route 92 just south of the Pennsylvania-Delaware state line. The new season runs on weekends now through October 30.
Ramsey's "Pumpkin Patch" has been in operation since 1995 and the farm's varied mazes have been delighting and baffling visitors who return each year for the popular annual event. The owners of Ramsey's Farm raise pumpkins, gourds, ornamental corn, popcorn, feed corn and hay.
The farm's pumpkin field stretches over 12 acres and yields approximately 20,000 pumpkins each season. Hayrides around the farm will be offered from 11 a.m.-5 p.m. each day. Visitors will be able to shop for pumpkins and other items at the farm store. There will also be hot food and beverages available for purchase.
Tickets are $8 for the corn maze, $4 for hayrides, $4 for Spookley Trail, and $4 for pumpkin painting.
This weekend, it's time once again for the Scarecrow Competition and Display at Peddler's Village (Routes 202 and 263, Lahaska, 215-794-4000, www.peddlersvillage.com). Hours are 10 a.m.-6 p.m.
Visitors can stroll around the Village to see the Scarecrow Competition and Display, which showcases more than 100 creative and colorful scarecrows. The Scarecrows are on outdoor display through October 30.
The public is invited to vote for the winners. Ballots are available in all shops and restaurants. The ballot boxes are located in the Hospitality Center at the Cock 'n Bull, Giggleberry Fair, and Buttonwood Grill.
On Saturdays and Sundays now through October 31, Morris Arboretum of the University of Pennsylvania (100 E. Northwestern Avenue, Philadelphia, www.morrisarboretum.org) is hosting its annual Scarecrow Walk.
Visitors will be able to make their own scarecrows, paint a pumpkin and sample different varieties of apples. Weaver's Way Coop will be on hand with the season's best local apple varieties.
Morris Arboretum's Scarecrow Walk is back for its 14th year, and in recognition of those who show courage and care when faced with fright, this year's theme is "Heroes!"
Visitors will be able to wander through the Arboretum and see scarecrows in honor of a beloved superhero characters, essential workers, or best friend heroes.
Throughout the month of October, more than 30 scarecrows will be on display throughout the Arboretum. Visitors will vote for their favorite scarecrow online to determine the winners. The top three scarecrows win a cash prize with a top prize of $250.
Admission to Morris Arboretum is $20 for adults, $18 for seniors and $10 for youth (ages 3-17).
There are many annual Halloween events in the area that are so big and so popular that they remain open for anywhere from six-to-eight weeks.
Some of the ones definitely worth checking out are "Haunted Hayride, Bates Motel and Haunted Corn Maze at Arasapha Farm" (1835 N. Middletown Rd., Gradyville, 610-459-0647,www.thebatesmotel.com) , Eastern State Penitentiary (2124 Fairmount Avenue, Philadelphia, 888-763-NITE, www.easternstate.org), "Count's Halloween Spooktacular at Sesame Place" (100 Sesame Place, Langhorne, 215-752-7070, www.sesameplace.com
Pennhurst Asylum (100 Commonwealth Drive, Spring City, 484-866-8964, www.pennhurstasylum.com), "Great Pumpkin Fest and Halloween Haunt at Dorney Park" (3830 Dorney Park Road, Allentown, 610-395-3724, www.dorneypark.com), "Fright By Night" (Six Flags Great Adventure, Route 537, Jackson, NJ, 732-928-2000, www.sixflags.com), "Jason's Woods" (99 Stehman Road, Lancaster, 717-872-5768, www.jasonswoods.com), "Hersheypark in the Dark" (100 Hersheypark Drive, Hershey, www.hersheypark.com), "Valley of Fear" (300 W. Bristol Road, Feasterville, 215-942-9787, www.valleyoffear.com), "Field of Screams" (109 College Avenue, Mountville, 717-285-7748, www.fieldofscreams.com), Shocktoberfest (94 Park Avenue, Sinking Spring, 610-375-7273, shocktoberfest.com), "Frightland" (309 Port Penn Road, Middletown, Delaware, 302-838-0256, www.frightland.com), Ghost Tour of Philadelphia (215-413-1997,www.ghosttour.com), Ghost Tour of Lancaster (717-687-6687, www.ghosttour.com) and Ghost Tour of Strasburg (717-687-6687, www.ghosttour.com).