By Mike McGann, Editor, The Times @mikemcgannpa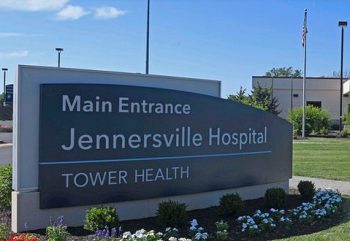 A sale that would have saved Brandywine and Jennersville hospitals collapsed this week — leading the current owner, Tower Health, to announce that both facilities will close within the next few weeks — meaning the loss of some 800 jobs and virtually critical care access for residents in southwest and northwest Chester County.
Last month, it appeared that both hospitals would survive Tower Health's ongoing financial problems with a sale to Canyon Atlantic Partners — but Thursday, Tower announced to staff that the deal collapsed, meaning Jennersville will close at midnight, Dec. 31, while Brandywine will close a month later, on Jan. 31, 2022.
Tower Health issued the following statement:
"For sixteen months, Tower Health pursued every viable option to secure the future of Brandywine and Jennersville Hospitals, including extensive exploration of potential new owners. When we announced a definitive agreement for Canyon Atlantic Partners to acquire both hospitals, we believed we had finally found a solution that would preserve Brandywine and Jennersville as acute care hospitals. Unfortunately, despite our understanding at the time the agreement was signed – and after multiple requests and extensions over the last three weeks – Canyon Atlantic Partners has ultimately not demonstrated the necessary regulatory and operational preparedness, nor validated its financial ability, to complete this transaction and operate these hospitals. As a result, both hospitals will close: Jennersville Hospital effective 11:59 PM on December 31, 2021; and Brandywine Hospital effective 11:59 PM on January 31, 2022.
"We are deeply saddened by this turn of events, however, no viable options remain for the continued operation of these facilities. Our responsibility to our patients, as well as employees and the communities served, is to ensure this transition included an effective and safe path for change. In the end, we are highly disappointed that Canyon Atlantic Partners has not been able to satisfy these essential requirements. Tower Health will work with patients to transition care, and with employees and providers on placement into other positions."
The closures would leave Chester County with hospitals largely only in the northeastern corner of the county — Chester County Hospital will be the closest facility for more than half of the county. The closure also leaves Chester County without a dedicated psychiatric unit — the unit at Brandywine being the only dedicated facility in the county.
The closures could worsen a crisis for local EMS/ambulance providers, which are already struggling with a shortage of funding and volunteers. EMS companies in western portion of the county will now need to make much longer runs — some as long as 40 minutes one way — taking ambulances and crews out their service areas for extended periods.