By Denny Dyroff, Entertainment Editor, The Times
The first touring Broadway presentation of 2023 has arrived – and it's a good one.
Now through January 15, the Kimmel Cultural Campus (250 South Broad Street, Philadelphia, www.kimmelculturalcampus.org) is presenting the Philly premiere of the hit Broadway musical, "Jagged Little Pill" at the Academy of Music.
"Jagged Little Pill" is a musical drawn from Alanis Morissette's 1995 album of the same name – an album that yielded the Number One hit, "You Oughta Know."
The "Jagged Little Pill" album as intense, emotional, raw at times and powerful. The same attributes apply to the Broadway musical.
The Tony and Grammy-Award winning production was written by Diablo Cody, the award-winning screenwriter of "Juno," "Jennifer's Body" and "One Mississippi."
The show is not a Morissette biopic but rather an original story informed by the Canadian American singer's poignant lyrics dealing with deals with pain, healing, and empowerment.
"Jagged Little Pill" tells the story of the Healy family — Mary Jane (MJ) Healy, mother; Steve Healy, the father; Frankie, the daughter; and Nick, the son.
The cast for the National Tour features Heide Blickenstaff as MJ, Chris Hoch as Steve, Lauren Chanel as Frankie and Dillon Klena as Nick.
"I've been with 'Jagged Little Pill' for a while," said Blickenstaff, during a recent phone interview. "It's such a beautiful show."
The show began previews on Broadway in November 2019, opened on December 5, 2019, and closed on December 17, 2021 due to the COVID-19 pandemic. For the 74th Tony Awards, "Jagged Little Pill" won two awards on 15 nominations, the most nominations of any show of the 2019–2020 season. It also won the Grammy Award for Best Musical Theater Album.
"I started my life with the show a year-and-a-half ago when I re-opened Broadway in the same role," said Blickenstaff.
"Then, Broadway was closed down three or four months after it reopened. Omicron hit big and many shows shut down for three months.
"I became aware of the tour. They asked me if I wanted to join the tour as MJ. The timing was perfect. Now the tour has been going since summer."
Performing Morrissette's music is a treat for Blickenstaff.
"I was very familiar with Alanis' music," said Blickenstaff. "I've been a fan of her music since she started.
"We're a similar age and the 'Jagged Little Pill' album has always meant a lot to me. Then her subsequent albums rocked my world."
Despite appearances, the Healys are not your typical happy, well-adjusted suburban family.
At the start of the show, MJ is writing the yearly family Christmas letter. She writes about her husband Steve's job promotion, her daughter Frankie's art, and her son Nick's early admission to Harvard University. MJ writes that she got into a car crash but is healing with the help of natural remedies.
The story behind the story is that she is addicted to the painkillers from the car accident, Steve is addicted to pornography, Frankie is making out with her best friend, a girl named Jo, as the letter is being written, and Nick is trying to turn a blind eye to the fact that his friend raped one of Frankie's friends at a party.
"The story line is just so timely and poignant and relatable," said Blickenstaff. "People can relate to things the Healy family goes through.
"The story is so intense. We are sharing a lot of emotional things onstage."
MJ is a complex character.
"My character in the show is going through a lot," said Blickenstaff. "She's dealing with an opioid addiction. Her son saw a girl getting assaulted at a party. My character is triggered by her own sexual assault experience when she was younger."
MJ is forced to deal with her own memory of being raped in college, but still blames herself and feels it was God's plan for her.
"Several of us in the show are in positions of life imitating art and art imitating life," said Blickenstaff.  "There are a lot of triggers – gender expression, drugs and sexuality. There is also the trans-racial adoption of Frankie, their black daughter.
"So many people feel a personal connection. I definitely did – and still do every night."
Blickenstaff has an impressive Broadway resume.
She created the role of Katherine in Disney's "Freaky Friday," played Bea in "Something Rotten," was Alice in "Addams Family," did the role of Ursula in "Little Mermaid" and was Cleo in "The Most Happy Fella."
"I have played Philly a number of times including 'Dreamgirls' and 'The Full Monty,'" said Blickenstaff, a native of Fresno, California and Duke University grad. "I love that city.
"And I love this show. Every time I do a performance, I feel more emboldened with my healing. As artists, we can learn so much from the roles we play."
"Jagged Little Pill" is recommended for ages 14 and up.
This production contains strong language, adult themes, drug use, and moments of sexual violence that some may find triggering. "Jagged Little Pill" addresses many topics of contemporary life, including sexual assault, opiate addiction, transracial adoption, gender and LGBTQIA+ identity, marriage struggles and mental health.
Having seen the show on Wednesday evening, I can think of no better start for Philadelphia's 2023 theater season.
The music and choreography are impressive, and the singing is excellent. The entire cast is talented and energetic, and Jade McLeod's vocals are killer.
Blickenstaff was the star of the show as she delivers a performance that is off the charts. Her portrayal of a woman in severe emotional distress is brilliant and her vocals reach the higher heights.
The show is running through January 15 and should not be missed by any theater fan — or any fan of Alanis Morissette's music.
Video link for "Jagged Little Pill" – https://youtu.be/X0Z2dqRNfjQ.
"Jagged Little Pill" will run now through January 15 at the Academy of Music.
Ticket prices range from $20-$129.
Over the next two weeks, area theater fans will not only be able to see a Philly premier with "Jagged Little Pill," they will also have the opportunity to see the world premiere theatrical staging of Langston Hughes' "The Ways of White Folks."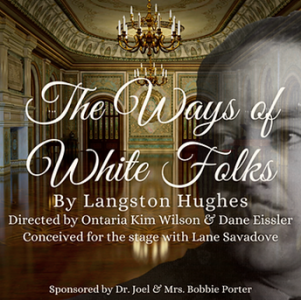 Glen Foerd (5001 Grant Avenue, Philadelphia, www.glenfoerd.org) will launch its 2023 arts and culture programming when it hosts EgoPo Classic Theater's staging of "The Ways of White Folks" from January 11-22.
Published in 1934, "The Ways of White Folks," is a collection of 14 short stories by American poet, social activist, novelist, playwright, and columnist Langston Hughes (1901-1967). The collection addresses multiple dimensions of racial issues, focusing specifically on interactions between Black and White people.
Originally from Joplin, Missouri, Hughes was one of the earliest innovators of the literary art form called jazz poetry. Hughes is best known as a leader of the Harlem Renaissance.
The American classic presents powerful portraits of race relations in America. Told with unparalleled candor, each short story offers a private view into the absurd and tragic interactions between White and Black people across systemic divides.
In EgoPo's immersive promenade staging, audiences are invited to attend a New Age retreat at the historic Glen Foerd Estate on the Delaware River. There you will be welcomed into each character's room on a tour of the extravagant mansion to witness their intimate and private lives.
Hughes wrote the book during a year he spent living in Carmel-by-the-Sea, California.  The collection addresses multiple dimensions of racial issues, focusing specifically on the unbalanced yet interdependent power dynamics between Black and White people. According to Hughes, the short stories are inspired either by his own lived experiences or those of others he encountered.
The 14 stories are "Cora Unashamed," "Slave on the Block," "Home," "Passing,' "A Good Job Done," "Rejuvenation Through Joy," "The Blues I'm Playing," "Red-Headed Baby," "Poor Little Black Fellow," "Little Dog," "Berry," "Mother and Child," 'One Christmas Eve" and "Father and Son."
EgoPo's immersive promenade staging of "The Ways of White Folks" is directed by Ontaria Kim Wilson and Dane Eissler and conceived for the stage by EgoPo's Founding Artistic Director Lane Savadove. Audience members will be welcomed into each character's room within Glen Foerd's historic mansion to witness the characters' intimate and private lives as told through each of the stories.
Savadove started EgoPo in 1993 as a theater company, as well as an acting method designed to bring emotional depth and physical commitment to classic literature.
The name "EgoPo" derives from the French words Ego (the decision-making part of our mind) and Peau (pronounced "Po," the skin), based on EgoPo's commitment to kinesthetic awareness and physical presence in performance.
Since its inception, EgoPo has staged more than 50 productions regionally, nationally, and internationally. EgoPo has been based in Philadelphia since 2005, celebrating 17 years of working with Philadelphia artists as a part of the city's theatrical renaissance.
Glen Foerd is an 18-acre public park and historic site located along the Delaware River in Philadelphia. Built in 1850 and enlarged in 1902-03, the estate — consisting of historic gardens, an Italianate-Classical Revival style mansion, and multiple additional structures — was saved from potential development through the activism of dedicated neighbors in 1983.
Today, Glen Foerd focuses on welcoming a diverse community through a wide array of programs for all ages. As one of the only cultural sites located in Northeast Philadelphia, a rapidly changing area of the city, Glen Foerd aims to connect audiences from different backgrounds by offering unique and affordable experiences to engage with the arts and the environment.
Performances will be held January 11-15 and 19-22 at 7 p.m. each night with additional matinee performances on January 15 and 21 at 2 p.m.
General admission tickets are $32 — $12 for students and industry professionals. Masks are required to be worn during all performances.
Jamey's House of Music (32 South Lansdowne Avenue, Lansdowne, 215-477-9985, www.jameyshouseofmusic.com) continues its tradition of presenting top quality blues music this weekend.
Jamey's House of Music is a prime destination to hear folk, jazz and blues music every Thursday through Sunday.
The "Thursday Night Jazz Jam" and the "Sunday Blues Brunch & Jam" are regular features on Jamey's calendar while Friday and Saturday night shows feature national and regional acts.
Jamey's features a popular "Guest Singer Series" on Thursday featuring many of the best singers in the region performing a set from 7-8 p.m. with the backing of the Dave Reiter Trio and occasional guest musicians.
The Dave Reiter Trio lays down the backing for some out of this world jazz to happen, and you never know who might show up to join in. Reiter is a long-time jazz pro and is equally at home on the seven-string guitar, Nord keyboard or the venue's top of the line Hammond organ setup. Bill Marconi is on drums; his name is known to jazz aficionados around the world. Holding down the bottom is first-call Philly bassist, George Livanos.
The "Guest Singers" for January will be Annika Horne on January 12, Geri Oliver on January 19, and Greg Farnese on January 26.
On January 6, Jamey's House of Blues will present The Jackson Taylor Blues Company.
At the forefront of the next generation of blues stars stands Jackson Taylor Lee and his well-tuned band. Lee's passion for his craft of entertaining has always shown as a major part of his personality.
His musical journey began at a young age as a member of grandparents' theater program. These experiences, along with the great inspiration in his grandfather, led to him starting to learn guitar when he was nine. He continued his musical knowledge as a part of his high school band and a member of drum and bugle corps horn lines.
Lee was also inspired by artists such as blues legends BB King, Muddy Waters, Stevie Ray Vaughan, Walter Trout, Eric Gales and Joe Bonamassa. He also was influenced by Eddie Van Halen and John Petrucci, but it was blues that became his primary love. He spent years playing in Walter Trout's band.
Showtime on January 6 is 8 p.m. Tickets are $15 in advance and $20 at the door.
The Kurt Crandall Band will headline the show on January 7.
Crandall has built a coast-to-coast reputation with strong followings in Kansas City, Washington, D.C., Macon, Chicago, Seattle and Richmond. After living in Kansas City and touring throughout the Midwest, he moved back to the East Coast. While in D.C., he played regularly with Jesse James Brown (former bass player for Bo Diddley).
After just one year in D.C., Crandall relocated to the Deep South, where he spent three years playing with the Macon Blues All-Stars which included several alumni from Otis Redding's band. He then moved to Chicago to immerse himself in the city's storied blues scene as well as travel nationally and internationally to promote his debut album, "True Story."
During his tenure in Chicago, he landed on the regular rotation at the House of Blues, Shaw's Crabhouse, Andy's Jazz Club, WiseFools Pub and Smoke Daddy and played with blues heavyweights Dave Specter, Kenny Smith, Barrelhouse Chuck and Jimmy Sutton. He is currently promoting his fourth album, "Starts on the Stops."
Showtime on Saturday is 8 p.m. Tickets are $20 in advance and $25 at the door.
The real highlight at Jamey's this weekend is the debut of a star-studded band of long-time area blues standouts at the "Sunday Blues Brunch & Jam" on January 8.
The host band is the well-known and loved Philly Blues Kings featuring bluesman Dave Reiter on guitar, keys and vocals, Bill Marconi on drums and vocals and Jamey Reilly on bass.
The exciting new addition is the newly formed all-star band, the Girke-Davis Project, featuring international artist Roger Girke on guitar and vocals, Dukes of Destiny front man John Colgan-Davis on vocals and harmonica, Hammond organ ace Glenn Bickel, drummer extraordinaire Fred Berman, and Reilly on bass.
Colgan-Davis started playing the harmonica in local blues and folk clubs back in the late 1960s while he was still a high school student. He played and recorded with Philadelphia singer-guitarist Jesse Graves and played with Bonnie Raitt when she lived in Philadelphia in the early 1970s.
Through Raitt, he had the opportunity to meet and play with Mississippi Fred McDowell, Arthur Crudup, Buddy Guy, Skip James, Mississippi John Hurt, and others. He has also jammed with James Cotton, John Hammond, Charlie Musselwhite, John Lee Hooker, Bill Dicey, and Louisiana Red.
Colgan-Davis has toured nationally and has recorded two CDs — "Cold and Lonesome on a Train" and "Heroes and Hard Times."
Colgan-Davis and the harmonica have a long history together.
"I started acoustic harmonica when I was in high school at Philadelphia's Central High School," said Colgan-Davis. "Central High had a folk music club, and we had a budget big enough to being Skip James and Son House to play at our school."
Colgan-Davis's introduction to the blues came when he was in high school and saw the Rolling Stones performing with Howling Wolf on the "Shindig" TV show. Howlin' Wolf, whose real name was Chester Burnett, was an American blues singer, guitarist and harmonica player who was one of the premier Chicago bluesmen.
"When I saw Howlin' Wolf on that TV show, I jumped up and said — this is what I want to do," said Colgan-Davis. "I started playing blues when I was 16. My dad gave me a grab bag for my birthday and a harmonica was in it.
"I started listening to blues records a lot — players like Muddy Waters and James Cotton. I was really into Chicago blues of the 1950s and 1960s when I started. Then, I got into guys like Sonny Terry and Brownie McGhee. One of the first bands I played in was a Philly blues band called Sweet Stavin' Chain."
A while later, the Dukes of Destiny became the main musical vehicle for Colgan-Davis. He also performs in the Two Johns with Johnny Never, who attended West Chester Henderson and graduated from Westtown School.
"Both guys – John and Roger – are regular performers at House of Music," said Reilly, owner and proprietor of Jamey's House of music, during a phone interview Wednesday afternoon.
"After shows, we talked about how wonderful it would be to do something with each other."
Girke is a respected veteran guitarist, singer and writer with a career including thousands of live shows, concerts and festivals and numerous recording sessions and releases.
He began his career began performing in rock bands in the eastern PA/NJ area, eventually joining the legendary Philadelphia area roots rock band Pickins (Capitol/Ariola), followed by many years of touring and recording with Sharks (Elektra), Robert Hazard (RCA), and many other notable artists.
Since 2000, Girke has released five albums and has regularly performed at blues festivals, clubs and concerts throughout the Mid-Atlantic. In that time he has also recorded and performed with Gary Allegretto (Los Angeles, CA), Sam Cockrell (Chicago, IL), Jimmy Pritchard (DE), Peter Veteska (NJ) and most recently Mike Guldin (PA).
The Roger Girke Band was a Top 10 finalist in the 2009 International Blues Challenge as well as receiving two time top tier Independent CD finalist awards in the 2005 and 2009 IBC.
Girke's album include "We Got The Funky Blues," "My Baby Loves That Stuff," "Shake It," "Piece Of Work" and "Silver Lining." He also has a new album due to be released this year.
"Roger has more than 5,000 performances to his name," said Reilly. "He has performed a lot in Philly, Memphis and New Orleans and he's been a bandleader. He lives in Delaware with his Hawaiian wife who is vegan and an animal lover."
Having been in the music business for more than a half-century, Reilly has worked with such acts as Aerosmith, Frank Zappa, Captain Beefheart, The Beach Boys and more.
Prior to his stint as main man at House of Music, Reilly and his wife Suyun ran a music venue in Overbrook called PSALM — The Philadelphia Society for Art, Literature and Music (PSALM) Salon. After 10 years, he closed PSALM and moved to a new venture at a new venue in Lansdowne in October 2017.
"John and Roger have done a few gigs together," said Reilly. "We've all rubbed against each other at shows for years. John plays almost every week here with the Philly Blues Kings."
The talented line-up is filled out by Glenn Bickel on Hammond and Fred Berman on drums.
"Glenn, who is an amazing B3 player, just moved back to Delaware," said Reilly. "He played on several of Roger's earlier albums – and he has a couple sons who are B3 players.
"Fred Berman, who is also known as Freddie Rojo, is a drummer's drummer. He's one of the best session and live drummers in the business.
"He can play any style. I'm thrilled to be playing with him. As a bass player, you want to hook up with a drummer like him.
"On Sunday, we'll be playing standard blues and some R&B. I think we're going to play really well together."
The music on June 8 will start at noon. There is no cover charge, and no reservations are needed.
Kennett Flash (102 Sycamore Alley, Kennett Square, 484-732-8295, http://www.kennettflash.org) is hosting a Billy Penn Burger CD release show on January 6 and Buffalo Nichols on January 7.
The Ardmore Music Hall (23 East Lancaster Avenue, Ardmore, www.ardmoremusic.com) will present Southern Rock Night on January 6 and Candy Volcano on January 7.
City Winery (990 Filbert Street, Philadelphia, citywinery.com) will present Bilal on January 8 and 9 and Earth, Wind & Fire Tribute Band on January 11.
The Keswick Theater (291 N. Keswick Avenue, Glenside, 215-572-7650, www.keswicktheatre.com) is hosting YYNOT – Tribute to Rush on January 7.
World Café Live (3025 Walnut Street, Philadelphia, 215-222-1400, www.worldcafelive.com) will have the Chuck Prophet Trio on January 6, Thee Weeklings and Ben Arnold on January 7 and Tommy Davidson & Marshall Mitchell on January 11.