By Denny Dyroff, Entertainment Editor, The Times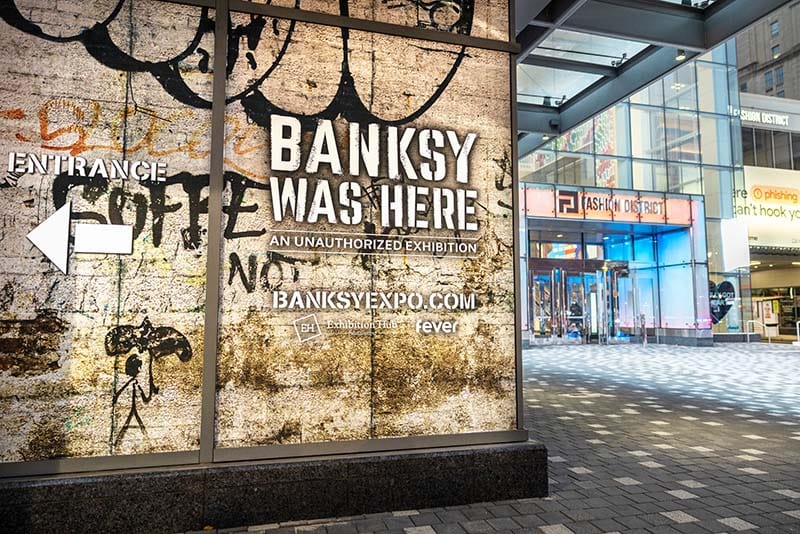 "Banksy Was Here" was close to being "Banksy Is Gone."
For those who wanted to see the exhibition but were dragging their feet, it was almost a case of "if you snooze, you lose."
"Banksy Was Here" was scheduled to run until January 31 at a location in Fashion District Philadelphia (901 Market Street, Philadelphia, banksyexpo.com/philadelphia/).
Fortunately, the exhibition's stay in Philadelphia has now been extended until the end of March.
"Banksy Was Here" features the work of elusive, anonymous street artist Banksy. It is an immersive, multisensory exhibit featuring original works, projections, virtual reality and more to plunge you into Banksy's world.
"Banksy Was Here," the "unauthorized exhibition" features a plethora of original works and installations, as well as interactivity, in galleries that pay homage to the artist's themes, works, and sense of chaos, satire and controversy.
According to John Zaller, executive producer at Exhibition Hub, the curator and producer of the exhibit, Philadelphia was the ideal city to premiere "Banksy Was Here."
Exhibition Hub has a proven track-record producing more than 70 exhibitions and immersive edutainment experiences around the world, reaching more than six million visitors. Exhibition Hub delivers edutainment experiences to wide audiences and adapts its productions to the venue, each time creating an original experience.
"The theme of the exhibit is a Banksy quote," said Zaller. "The quote that opens the exhibit is – '"Imagine a city where graffiti wasn't illegal, a city where everybody could draw whatever they liked. Where every street was awash with a million colors and little phrases. Where standing at a bus stop was never boring. A city that felt like a party where everyone was invited, not just the estate agents and barons of big business. Imagine a city like that and stop leaning against the wall – it's wet.'
"It takes a lot of guts to stand up and say that freedom is a right for all – remember to not look at how things are but how they could be. Ask yourself to look at things through a different lens."
Slippery, provocative, mysterious…. Banksy, the British artist whose identity is still unknown, is considered one of the main contemporary street art icons. In Philadelphia, an "unauthorized" Banksy's exhibition lets visitors dive into the controversial artistic universe of the most influential creator of present time.
The exhibition will include over 80 original works, sculptures, installations, videos and photos including the now classics of the artist (presumed to be British). These pieces come from private collections and – with the collaboration of Lilley Fine Art / Contemporary Art Gallery – will be exhibited in Philadelphia for the first time.
Banksy is a pseudonymous England based street artist, political activist and film director whose real name and identity remain unconfirmed and the subject of speculation. Active since the 1990s, his satirical street art and subversive epigrams combine dark humor with graffiti executed in a distinctive stenciling technique. His works of political and social commentary have appeared on streets, walls and bridges throughout the world. Banksy's work grew out of the Bristol underground scene, which involved collaborations between artists and musicians.
Banksy displays his art on publicly visible surfaces such as walls and self-built physical prop pieces. Banksy no longer sells photographs or reproductions of his street graffiti, but his public "installations" are regularly resold, often even by removing the wall they were painted on.
Much of his work can be classified as temporary art. A small number of Banksy's works are officially, non-publicly, sold through an agency created by Banksy named Pest Control. Banksy's documentary film, "Exit Through the Gift Shop" (2010), made its debut at the 2010 Sundance Film Festival. In January 2011, he was nominated for the Academy Award for Best Documentary Feature for the film.
"I've always been a fan of Banksy's work and what it represented," said Zaller.
"We wanted to expose his work. We found a collector with a sizable collection. We built an intense experience around it.
"People know the brand name, but they don't know the whole history. With this exhibition, people learn about the artist and his work."
Through it all and through the years, Banksy continues to maintain his anonymity.
"The fact that Banksy remains anonymous is one of the most compelling things about the artist," said Zaller.
"We don't know a ton about the artist. He was active in Bristol, and we can trace his itinerary. Banksy has been pretty public about sharing things through Instagram and the internet.
"We have over 80 pieces – all authenticated by Pest Control."
Pest Control is the office that handles the paperwork for the graffiti artist Banksy. They keep detailed records of all the artwork, answer enquiries and intercept hate mail. They are the sole point of contact for the artist.
"Our exhibition does have a video – a 10-minute preview," said Zaller. "And we do have some interactive areas."
"Banksy Was Here" is running now through March in Fashion District Philadelphia. Timed tickets are $37.90 for adults (ages 13 and up), $28.90 for seniors, students and military and $22.90 for kids (ages 4-12).
There is also another popular destination in the Fashion District.
Wonderspaces at the Fashion District (27 North 11th Street, Philadelphia, philadelphia.wonderspaces.com) is an experiential, interactive arts venue.
Building on the success of annual pop-up shows in San Diego, and its first permanent location in Scottsdale, Arizona, Wonderspaces opened a 24,000 square foot gallery space in Philly a year ago.
Wonderspaces features 14 art installations that all play with the idea of perspective.  The artwork ranges from award-winning virtual reality short film about a dinner party-turned-alien abduction, to a room where visitors digitally paint the walls with the movement of their bodies.
New artworks rotate in every few months, creating an ever-evolving, year-round show.
Tickets are for entry at a specific date and time. Visitors are welcome to stay as long as they please during operating hours. The average time spent experiencing the show is 90 minutes.
A few installations contain flashing lights, images, and patterns that may trigger seizures for people with photosensitive epilepsy. All visitors must sign a waiver prior to being admitted into the space. Adult supervision is required for visitors under 16.
From January 28-February 5, the Auto Dealers Association of Greater Philadelphia is presenting the 2023 Philadelphia Auto Show at the Pennsylvania Convention Center (12th and Arch streets, Philadelphia, www.phillyautoshow.com).
The automotive industry's latest creations are on display at the Pennsylvania Convention Center during the annual Philadelphia Auto Show, running for nine days. Showgoers get an up-close look at hundreds of classic, luxury and exotic cars — and even have the opportunity to climb behind the wheel of some.
Spanning more than a half-million square feet, the 2023 Philadelphia Auto Show display floor will include several new features as well as time-honored fan favorites. This year marks the 121st edition of the event.
New for 2023 are a full, electric vehicle test track and the Ram Truck Territory, a 30,000-square-foot track featuring an off-road experience that simulates real life.
Guests will again be invited to check out the latest and greatest developments from some of today's leading vehicle manufacturers in "The Showroom," which will be in Halls A, B and C of the PA Convention Center.
Custom Alley will showcase a wide array of tricked-out rides, bikes and the latest in after-market excitement.
Ticket prices range from $11-$17.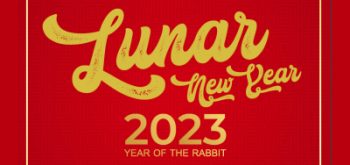 The Chinese zodiac is a rotating cycle of 12 years in which each year is represented by a specific animal and its characteristics — rat, ox, tiger, rabbit, dragon, snake, horse, sheep, monkey, rooster, dog and pig.
2023 is the "Year of the Rabbit" according to the Chinese Zodiac.
On January 28, there will be a Lunar New Year celebration at the Reading Terminal Market (51 North 12th Street, Philadelphia, readingterminalmarket.org).
At 11 a.m., The Philadelphia Suns will parade through the Reading Terminal Market to celebrate Lunar New Year, stopping at the following merchants: Sang Kee Peking Duck, Tea Leaf, Four Seasons Juice Bar, Shanghai Gourmet and Tambayan.
For the next few months, the American Swedish Historical Museum (1900 Pattison Avenue, Philadelphia, 215-389-1776, www.americanswedish.org) is presenting an exhibit "Art for All: The Swedish Experience in Mid-America," which will run through February 19. This weekend, there is an added attraction.
Bleak mid-winter days tend to make people cold and hungry. People in cold climates around the world are aware that a great way to get rid of the hunger and warm up is to sit down with a hot bowl of soup.
Sweden is definitely a cold-climate country with more than its share of bitter winter weather. As a result, the Swedish people are well aware of the nutritional and therapeutic benefits of hot soup.
In recognition of this, the American Swedish Historical Museum holds its annual Pea Soup and Punsch Supper.
Visitors to the museum in South Philadelphia are invited to shake off the chill and warm up Swedish style with an evening of steamy soup and strong drink at the midwinter event, which is also known as "Ärtsoppa och Punschin Sweden."
Participants break bread together over a quintessential Swedish meal of pea soup and punsch, which is a sweet and strong Arrack liquor-based drink. Arrack, a strong Indian liquor, was imported from Java and became the base ingredient for making punsch, which has 25 per cent alcohol by volume and 30 per cent sugar.
This hearty meal, which also includes sharp cheese, bread and dessert, is inspired by a tradition that dates back to medieval times. On Thursday nights, the people of Sweden would eat this filling meal before beginning the weekly Friday fast.
"Art for All: The Swedish Experience in Mid-America" is an exhibition of paintings and sculptures by Swedish American artists in the late-19th and early-20th centuries.
This colorful and emotive impressionist art reflects its own time, interprets nature and landscape, and is independent of artificial conventions while keeping Swedish folk traditions alive.
The American Swedish Historical Museum is proud to present Art for All: The Swedish Experience in Mid-America, an exhibition of paintings and sculptures by Swedish American artists in the late-19th and early-20th centuries. This colorful and emotive impressionist art reflects its own time, interprets nature and landscape, and is independent of artificial conventions while keeping Swedish folk traditions alive.
This exhibition features many Swedish artists who studied and absorbed the democratic philosophies of "art for all," espoused by Anders Zorn and the Artist's League. These young artists immigrated to America to forge new career paths. "Art for all" became a catchphrase in Kansas by the 1930s, stemming from efforts of local artists to offer affordable paintings and prints so that every citizen could have original art in their own homes for a richly cultured way of life.
"Art for All: The Swedish Experience in Mid-America" was conceived and developed by the Birger Sandzén Memorial Gallery and the Hillstrom Museum of Art.
Longwood Gardens (Route 1, Kennett Square, 610-388-1000, www.longwoodgardens.org) is now featuring one of its popular annual special events – "Winter Wonder."
"Winter Wonder," which runs from January 21-March 26, celebrates the beauty of winter. It's all about outdoor spacious, indoor oasis, and the power of story.
Outside, visitors can find a sense of peace and tranquility as they walk past textural grasses, seed heads and the dramatic silhouettes of trees that stretch up into the sky.
Inside, they can bask in a world of warmth that features an overhead garden of hanging baskets adorned with such vibrant beauties as jasmine, cape-primrose, and lipstick-plant.
Visitors will be able to enjoy a paradise of flowers and foliage, bursting with color — all in a beautiful indoor winter wonderland with a tropical twist.
"Winter Wonder" exists on two levels.
Both outdoors and in, they can embark on a poignant journey with "Voices in the Landscape: Deeply Rooted with Storyteller Charlotte Blake Alston" Beginning on March 11. This is a series of 10 stops throughout the Gardens which honor the contributions of the African American community through the lens of horticulture and the power of story.
Participants will follow along as storyteller Charlotte Blake Alston honors and celebrates the strength, resilience, and contributions of the African American community through the lens of horticulture and the power of story.
Those taking the tour can hear an ancient Zulu creation myth paired with the oldest plant on Earth in the Conservatory; make their way to the Lookout Loft Treehouse and learn the story of the significance and symbolism of woods and meadows; and call out the name of an ancestor in remembrance at the Large Lake while a traditional spiritual soothes your soul.
"Voices in the Landscape" signage is at each stop. Each audio recording ranges between three and eight minutes in length. The estimated time to experience the entire Voices in the Landscape exhibit is approximately 1.5 to 2 hours.
Inside Longwood's Conservatory, visitors can check out the towering Clerodendrum schmidtii (chains of glory) as well as nearly 300 blooming orchids on display in the site's newly renovated Orchid House. There will also be rare blue poppies blooming in March but for only about 10 to 15 days.
A new attraction this year is Longwood Gardens' "Science Saturdays series.
Beyond the boundaries of the formal gardens, Longwood stewards a rich variety of natural habitats. The rolling terrain of the Pennsylvania piedmont and changing ways people have used land over time provide us with diverse conditions for plant and animal life. Dr. Lea Johnson, Associate Director, Land Stewardship and Ecology, will reveal how patterns in the landscape reveal both history and potential futures for biodiversity.
The topics for Science Saturday events are "Plant Exploration Around the World" on February 18 and "Plant Collections: Clivia" on March 18.
There also will be another series called "Sweet Floral Treats"—a make-and-take floral design class where the designer draws inspiration from a sweet treat. Classes will be presented on February 23 and March 22.
The gardens are open from Wednesdays through Mondays from 10 a.m. to 5 p.m. until Friday, March 31. Hours change in the spring.
As always, admission by "Timed Ticket" — tickets issued for specific dates and times. Timed ticketing limits the number of people in the Gardens at any given time and allows guests to enjoy minimal lines and a better viewing experience.
You may enter the Gardens up to 30 minutes prior and 30 minutes after your designated time. Make every effort to arrive at your designated reservation time. Earlier or later arrivals may not be accommodated.
Admission to Longwood Gardens is $25 for adults, $22 for seniors (ages 62 and older) and college students, $18 for active military and veterans and $13 for youth (ages 5-18).
Greater Philadelphia Expo Center (100 Station Road, Oaks, phillyexpocenter.com) is hosting the Greater Philadelphia Boat Show from January 27-29.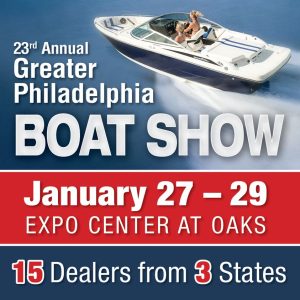 The boat show's website offered the following reasons to purchase a boat there now.
Manufacturer Incentives: Many dealers have special incentives and financing programs available from their manufacturers that are available ONLY at shows. This can include rebates, low interest financing, etc.
Selection: At boat shows you'll see all different types and sizes of boats at one time in one place. You'll save time and gas money by shopping and comparing dozens of dealers and hundreds of boats all together side by side. At the Greater Philadelphia Boat Show you'll see dealers from Pennsylvania, New Jersey, Maryland and Delaware. Imagine how long it would take you to visit 10, 15 or 20 different boat dealers in 4 states!
Value: Any time you get this many competitors together it means consumers are the winners. At winter boat shows dealers are eager to begin the boat selling season. Buying your boat early means you can get your boat delivered when you want it. As the boating season nears and demands increase, so do prices… so, buying at the Greater Philadelphia Boat Show can save you money.
The show will be open on Friday from 1-8 p.m., Saturday from 10 a.m.-7 p.m. and Sunday from 11 a.m.-5 p.m.
Admission is $10 (cash only) and $5 after 5 p.m. on Friday only. Children (ages 16 and under) are admitted free.
One of the most popular art shows each year is Malvern Retreat House's Art Show (McShain-Horstmann Family Life Center, 315 South Warren Avenue, Malvern, 610-644-0400, www.MalvernRetreat.com).
While many shows are just weekend events, Malvern Retreat House's 2022 Art Show is a five-day event from February 1-5. The ambitious show will have more than 2,000 original works of art by more than 100 juried artists.
Show hours are 10 a.m.-7 p.m. Wednesday-Saturday and 10 a.m.-4 p.m. on Sunday. There will be free admission every day. All proceeds support only Malvern Retreat House programs.
Chestnut Hill on Ice (chestnuthillpa.com/events/chestnuthillonice) will be held January 27 and 28 on Germantown Avenue between Rex Avenue and West Willow Grove Avenue.
The two-day event, which is free and open to the public, features elaborate ice sculptures and live ice carving demos, vendor locations for Chestnut Hill Brewing Company and Stateside Vodka and an outdoor bar made entirely of ice.
There will also be street curling – for the first time — on Saturday. Other new attractions are Snowflake Ice Sculpture selfie opportunity, and the Ice Sculpture Garden at Laurel Hill.
Also featured will be 10 businesses along Germantown Avenue serving up special chili recipes for the occasion.
The event climaxes with a giant eight-foot bonfire encased in a pillar of ice.
Hours are 5-8 p.m. on Friday and 11 a.m.-6 p.m. on Saturday.
The Sixth Annual West Reading Ice N Spice Fest (Penn Avenue, West Reading, westreadingicenspice.com) will be taking place from January 27-29.
The "Featured Sculptor" is nationally known pumpkin carver Danny Kissel of Kissel Studios, Newville, Cumberland County.
Kissel will once again lead a talented group of local sculptors, sawing and carving rectangular blocks of ice into crystalline sculptures at this weekend's Ice 'N Spice Festival.
Sculpture locations will be the 400, 500, 600 and 700 blocks of Penn Avenue along with the Italian American Club.
Hours are 9 a.m.-9 p.m. on Friday and Saturday and 11 a.m.-5 p.m. on Sunday.
On Sunday, there will be an "Ice N Spice Cocktail Stroll" from 2-5 p.m. Tickets are $15.
If you're looking for a fun family activity – an indoor activity unaffected by the weather — Linvilla Orchards (137 West Knowlton Road, Media, 610-876-7116, www.linvilla.com) has something just for you — theminiature golf course "Fore! the Planet."
Linvilla Orchard's"Fore! The Planet"is a highly interactive and playful museum exhibit created by the Academy of Natural Sciences in Philadelphia. This exhibition pairs important environmental issues with the fun of miniature golf.
It features nine unique educational holes explore butterfly metamorphosis, a tropical rain forest, evolution, dinosaur extinction, food chains, and more. It's perfect for kids of all ages. The entire family will enjoy playing miniature golf while learning about our environment – every step of the way.
The mini-course is open daily from 9 a.m. -5 p.m. through March 26. Tickets are $5.
Every Saturday in January, the Chaddsford Winery (632 Baltimore Pike, Chadds Ford, 610-388-6221, http://www.chaddsford.com) will present "Murder Mystery Nights 2023" from 6:30-9 p.m. each night.
Here is the scenario as posted by the winery – "Do you have what it takes to crack the case? Help the CFW Crew collect evidence, follow the leads, and uncover the mastermind during this interactive event that's part murder mystery, part wine pairing dinner.
Deep within the cellars of Chaddsford Winery sits the world's most elusive bottle of wine that's worth a cool $3,000,00. The first and only of its vintage, it is now a high-volume target. Only the most brazen of crews could pull off a heist like this – enter the infamous Great Lakes – five of the craftiest thieves in the world.
With so much on the line, tensions run high. When one of the group winds up dead, there's nowhere else to look than the person beside you. Join the crew to sleuth their way to this mysterious bottle of wine and hopefully—the killer."
Along with an evening of drama, you'll enjoy a full, five-course dinner and some strikingly delicious PA wine!
A five-course dinner, presented by J. Scott Catering, will be delivered as a roving dining experience spread out at stations throughout the building.
The Barrel Room will have Local Cheese + Charcuterie Board, Market Vegetable Station with Tomato Gorgonzola Dip and Roasted Garlic Bean Dip. This will be paired with 2021 Sparkling White.
The Bottling Line features Salad Station paired with 2021 The White Standard while the West Tank Room offers Gemelli Pasta with Braised Short Rib, Gorgonzola, Cherry Veal Ragout, and Crispy Carrot and Chickpea Rotini with Vegan Pesto, Broccoli, Tomato, Lemon, Artichoke, Wilted Arugula and Pine Nuts paired with 2021 Presage.
In the Reserve Room, there will be Rolled & Stuffed Pork Loin in a Spicy Orange Maple Glaze with Butternut Squash Puree and Charred Brussel Sprouts and Vegan Stuffed Poblano with Wild Rice, Roasted Corn, Black Beans, Cilantro, Vegan Cheddar Chipotle and Tomato Puree paired with 2020 Harbinger and 2022 Piquette.
At the end, the Tasting Room will feature Assorted Miniature Desserts paired with Holiday Spirit and YAAIMH Coffee
Chaddsford Winery is also presenting "Reserve Tastings – Festive Faves" on select Saturdays and Sundays in January.
Guests will join the CFW Crew for an intimate and educational 60-minute experience in the Barrel Room. The trained staff will guide them through a pre-selected tasting of five widely diverse and award-winning wines from across our portfolio. The selections will be paired alongside seasonal local cheeses and other accoutrements to enhance your tasting experience. 
The staff will also discuss topics such as grape growing conditions at our partner vineyards and the onsite winemaking process from production to aging and bottling. 
The 2023 Pairing Line Up is – Greeting Wine: 2021 Sparkling White; '21 Chardonnay with Farm at Doe Run 7 Sister Cheese; '21 Dry Rosé: Redux with Calkins Creamery Noblette Cheese and Strawberry Lavender Jam; '20 Merlot with Èclat Chocolate Coffee and Cardamom Bar; and Holiday Spirit with OsoSweet Bakery Cafe chocolate cinnamon scone.
Reserve seatings are $35 per person.
The "Wine, Cheese & Honey Pairings at Penns Woods" at Penns Wood Winery (124 Beaver Valley Road, Chadds Ford, 610-459-0808, http://www.pennswoodsevents.com) provide a nice way for visitors to enjoy a winter weekend day.
Penns Woods Winery is joining forces with local cheese makers and local honey artisans to present exclusive pairings of wine, cheese and honey. The tastings will feature four premium Penns Woods wines, each paired with various cheeses and honey from local farms.
The mouth-watering tastings will be held every weekend in January from 11 a.m.-6 p.m. on Saturdays and 11 a.m.-5 p.m. on Sundays.
Tickets cost $40 per person and reservations are required.
Hagley Museum and Library (Buck Road East entrance via Route 100, Wilmington, Delaware, 302-658-2400, www.hagley.org), a 230-acre historical village on the site of the original du Pont Company gunpowder mills in northern Delaware, has just opened a new attraction – "Nation of Inventors."
"Nation of Inventors" celebrates the American spirit of ingenuity by taking visitors on a journey from the early years of the patent system, in the 1790s, through the "golden age" of American invention, in the late 1800s. The exhibit features more than 120 patent models from Hagley's unique collection highlighting the diverse stories of inventors from all walks of life.
Patent models are scaled representations of inventions and were part of the patent application process for nearly 100 years. "Nation of Inventors" showcases patent models representing innovations in a variety of industries from transportation and manufacturing to food preservation and medical devices.
In the exhibition, visitors will enjoy engaging experiences around every corner, testing their knowledge of innovation and hearing personal accounts from inventors.
The patent models in "Nation of Inventors" were created between 1833 and 1886. "Nation of Inventors" not only features patent models submitted by inventors from the United States, but also models from inventors in England, France, Ireland, Russia, and Spain, demonstrating an international interest in America's intellectual property system.
Thomas Edison tested 6,000 different fibers before he found that his incandescent bulb required a filament of carbonized cotton thread which he and a team of 40 researchers developed in 1879. Edison's carbonizer patent model is currently on display in "Nation of Inventors" — on loan from the collection of Susan Mae Eichelberg.
"Nation of Inventors" includes patent models from well-known inventors and companies like Ball (Mason Jars), Jim Beam, Bissell, Corliss, Steinway, and Westinghouse. The exhibit presents important topics and timely themes including women inventors, Black inventors, immigrant inventors, improvements in urban living, and the ways Americans learn about and understand progress and change.
"Nation of Inventors" is located on the first two floors of Hagley's Visitor Center. Visitors can plan to spend about 30 minutes on their self-guided tour of the exhibition.
In January, Hagley's new exhibition, Nation of Inventors, is open every day from 10 a.m. to 4 p.m. Last admission is at 3 p.m.  All other guest areas (the historic powder yard, the historic home and garden, etc.) are closed in January. Reduced admission is offered in January.
In February, all guest areas are open Fridays through Mondays from 10 a.m. to 4 p.m. Last admission is at 3 p.m.  On Tuesdays, Wednesdays, and Thursdays, only Hagley's new exhibition, Nation of Inventors, is open.  All other guest areas (the historic powder yard, the historic home and garden, etc.) are closed.  Reduced admission is offered on days when only Nation of Inventors is open.
Beginning March 1, all guest areas (Nation of Inventors, the historic powder yard, the historic home and garden, etc.) are open every day from 10 a.m. to 4 p.m.  Last admission is at 3 p.m.
Delaware Museum of Art (2301 Kentmere Parkway, Wilmington, Delaware, delart.org) has two impressive exhibitions that are entering their final weeks – "Forgotten Pre-Raphaelites" and "A Marriage of Arts & Crafts: Evelyn & William De Morgan."
"Forgotten Pre-Raphaelites, which is running through February 5, looks at the Pre-Raphaelite Brotherhood, which revolutionized British painting traditions.
Overshadowed by famous peers, artists such as Barbara Bodichon, Marie Spartali Stillman, Alice Boyd, and Frederic Shields experimented with Pre-Raphaelite themes, subjects, and techniques. This exhibition brings together over forty works by such overlooked artists affiliated with the Pre-Raphaelite circle, including art by the American Pre-Raphaelites.
Women were crucial to the Pre-Raphaelite movement and their work accounts for more than half of the objects on view. By featuring these lesser-known artists, the museum seeks to recover them from the margins of art history and position them at the center of the Pre-Raphaelite narrative.
"A Marriage of Arts & Crafts: Evelyn & William De Morgan" focuses on the work of Arts and Crafts pottery maker William De Morgan (1839-1917) and Pre-Raphaelite painter Evelyn De Morgan (1855-1919) who lived in harmony as married artists in Victorian England.
A power couple, they encouraged one another's creative pursuits and engaged in the social issues of their day. William De Morgan created brilliantly colored tiles, pots, and plates with distinctive, shimmering lustre-ware surfaces. Evelyn De Morgan took inspiration from Botticelli to create richly symbolic paintings of modern subjects. This visually stunning exhibition is making its American debut at the Delaware Art Museum.
Admission to the Museum is $14 for adults, $7 for students and $6 for youth (ages 7-18). Children (6 and under) are admitted free.
Center City Parks District's Rothman Orthopaedics Institute Ice Rink at Dilworth Park (1 South 15th Street, Philadelphia, http://ccdparks.org/dilworth-park) is open for the season.
In addition, a full lineup of free attractions areoffered, including the Rothman Orthopaedic Institute Cabin.
The Rothman Institute Ice Rink at Dilworth Park is an unparalleled entertainment experience on Philadelphia's center stage in a wonderfully urban and unique setting. Open seven days a week, the rink offers wintery fun for all ages, with a full slate of programs.
Dilworth Park's winter season will run until February 26.
Winter has arrived and the Blue Cross RiverRink (Delaware Avenue at Walnut Street, Philadelphia, 215-925-RINK, www.riverrink.com) has come back to life.
Unlike most of the suburban ice rinks, RiverRink features public skating. Ice skating is the only use of the ice. This winter, RiverRink takes the ice-skating experience on the Delaware River waterfront to another level by once again transforming the annual rink into a bona fide winter wonderland.
For 29 seasons, Winterfest has been Philadelphia's favorite Winter tradition on the Delaware River Waterfront, inviting visitors for a chance to indulge in flights of fancy under thousands of sparkling lights in a winter wonderland with spectacular views of the Delaware River. Cozy up in comforting warming cabins, firepit stations, boardwalk rides and games for the young and young-at-heart, delicious food and hot beverages, the signature holiday tree, and, of course, ice skating on our NHL-sized rink. Winterfest is a top destination for anyone looking to rekindle family traditions.
The Winterfest site is free to enter and open to the public. Amenities such as ice skating and cabin and firepit experiences can be reserved in advance. Winterfest is open seven days a week including holidays through March 5.
Ghost Tour of Philadelphia (215-413-1997, www.ghosttour.com), Ghost Tour of Lancaster (717-687-6687, www.ghosttour.com) and Ghost Tour of Strasburg (717-687-6687, www.ghosttour.com) operate throughout the winter and offer an eerily entertaining evening of true ghost stories and real haunted houses.
The Ghost Tour of Philadelphia, which is based on the book, "Ghost Stories of Philadelphia, PA.," is a candlelight walking tour along the back streets and secret gardens of Independence Park, Society Hill, and Old City, where ghostly spirits, haunted houses, and eerie graveyards abound.
Participants can discover the ghost lore of America's most historic and most haunted city with stories from the founding of William Penn's colony to present-day hauntings.
The activity is open year-round – weekends, December-February; every night, March-November. Tickets are $24.
The Ghost Tour of Lancaster and the Ghost Tour of Strasburg are based on the book, "Ghost Stories of Lancaster, PA."
Participants in the Ghost Tour of Lancaster explore the long-forgotten mysteries of one of America's oldest cities, with haunting tales of otherworldly vigils, fatal curses, and star-crossed lovers. The tour provides the opportunity to experience 300 years of haunted history from the Red Rose City's thorny past. Tickets are $20.
The Ghost Tour of Strasburg is a candlelight walking tour of the quaint and historic town of Strasburg in the heart of Pennsylvania Dutch Country. Visitors will experience an entertaining evening with a costumed tour guide spinning tales of haunted mansions, eerie graveyards, and spirits that roam the night … in a town lost in time. Tickets are $20.
Grim Philly's "Dark Philly History Tour" (www.grimphilly.com) will be held every evening throughout the winter.
Participants can walk with tour guides from the grounds of America's first White House, Congress, and Liberty Bell to homes and sites of Hamilton, Washington, Franklin, Adams, Jefferson, Madison, Monroe, and more than 10 other Founding-Fathers. The surprising dirt of espionage, murder, sexual license and blackmail highlight the secrets of 1776 with a ghost story or two along the way. This tour is highly researched. And your guide is a historian.
Tickets are $35.
On January 28, Laurel Hill Cemetery (3822 Ridge Avenue, Philadelphia, 215-228-8200, www.thelaurelhillcemetery.org) will present "Hot Spots and Storied Plots" walking tour at 10 a.m.
In life and in death, we all have stories to tell, and what better place to hear tales of wonder than Philadelphia's most famous home of the dead?
This tour provides an informative overview of Laurel Hill's long history, which includes many of the marble masterpieces, stunning views, and legendary stories about Laurel Hill.
"Hot Spots and Storied Plots" is the perfect introduction for anyone who enjoys beautiful art, scenic nature, and fascinating history. An experienced graveyard guide will offer a unique perspective.
The Tour Guide will be Lora Lewis.
This tour departs from Laurel Hill Cemetery's Gatehouse entrance at 3822 Ridge Avenue, Philadelphia.
Also on January 28, Peace Valley Nature Center (170 North Chapman Road, Doylestown, http://www.peacevalleynaturecenter.org) is presenting a special event called "Nature Is Snow Much Fun."
The event is part of the 2023 Nature Center Discovery Days series.
Other upcoming Discovery Days are "Winter Birds" on February 18 and "Spring Into Nature" on March 25.
Visitors are invited to drop in and discover the newly refreshed nature center, which has been updated with a variety of nature-themed activities the entire family will enjoy.
Discovery Day is a family-friendly and free event where young explorers (ages 3-12) will learn about a unique nature topic though activities and explorations. Children and guardians are invited go on a self-guided nature scavenger hunt using a themed check list or they can simply enjoy the trails.
The event will run from noon-5 p.m. Donations are kindly accepted and no registration is required.
Sesame Place (100 Sesame Road, Langhorne, www.sesameplace.com) may be closed for park rides and activities but there's still furry fun to be had.
This weekend's special event will be "Ernie's Birthday Bash Dine" on January 28 and 29. It is the third of five themed dining experiences throughout January and February.
Visitors can join Bert's best buddy, Ernie on this one-of-a-kind birthday bash at Sesame Place.
Guests are invited to bring along a rubber duckie and get ready to sing and dance along with Ernie, Bert, Elmo and Cookie Monster, while enjoying a delightful buffet and birthday desserts.
There will also be a special meet and greet on the way into "Ernie's Birthday Bash Dine."
Other upcoming special dining events are "Elmo's Rockin' Birthday Dine" on February 4 and 5 and "My Fuzzy Valentine Dine" on February 11 and 12.
Theme park admission and parking fees are not required for entry.
Tickets for the dining events are $44.99 (ages 10 and older) and $24.99 for children (ages 2-9). Advanced dining reservation is required.
Not far from Sesame Place is another Bucks County attraction – the "Holiday Light Show" at Shady Brook Farm (931 Stony Hill Road, Yardley, www.shadybrookfarm.com)
The farm features a three–million-light Holiday Light Show with "Dashin' Through the … Lights," a family-friendly two-mile drive-through on Thursday and Friday nights.
The main display allows visitors to drive or (if weather permits) ride in wagons past post-sundown displays including illuminated tunnels.
The "Holiday Light Show" is open now through January 28.
Timed tickets, which start at $40, are required.
The Colebrookdale Railroad (South Washington Street, Boyertown, www.colebrookdalerailroad.com)  is running its "Winter Whiteout Express"  on January 29.
The Edwardian splendor of the Secret Valley Express will surely impress as the excursion train travels into the valley of our forgotten land. Passengers can observe winter (and maybe even snowflakes on a cold, clear winter's afternoon) in the warmth of the rail line's coaches as the train winds its way through the Secret Valley.
The two-hour round trip departing and arriving in Boyertown, Pennsylvania includes a la carte menu items for purchase. The excursion departs at noon.
The tourist rail line will also be running a special "Valentine's Train" excursion on February 11 at noon.