By Denny Dyroff, Entertainment Editor, The Times
Did you ever wonder what the witches of Oz were doing before the time they encountered Dorothy and her entourage?
Many questions that were left unanswered in "The Wizard of Oz" were answered at a later date — questions such as what the witches of Oz were doing before they encountered Dorothy and how they got to be the way they were.
They were answered in "Wicked," the hit musical based on the best-selling novel by Gregory Maguire. "Wicked," the fourth-longest running Broadway production," is a winner of 15 major awards — including a Grammy Award and three Tony Awards. The show features the music and lyrics of Stephen Schwartz.
The musical, which has already had several sold-out runs in Philadelphia dating back to the early 2000s, is back for another hot-selling visit. "Wicked" is running now through November 26 at the Academy of Music (Broad and Locust streets, Philadelphia, www.kimmelculturalcampus.org.)
"Wicked" is the winner of over 100 international awards, including Grammy® and Tony Awards®. Since opening in 2003, "Wicked" has been performed in over 100 cities in 16 countries around the world (U.S., Canada, United Kingdom, Ireland, Japan, Germany, Holland, Australia, New Zealand, Singapore, South Korea, The Philippines, Mexico, Brazil, Switzerland, and China) and has thus far been translated into six languages: Japanese, German, Dutch, Spanish, Korean, and Portuguese. "Wicked" has been seen by over 60 million people worldwide and has amassed over $5 billion in global sales.
The production is directed by Tony Award® winner Joe Mantello with musical staging by Tony Award® winner Wayne Cilento. Wicked is produced by Marc Platt, Universal Stage Productions, The Araca Group, Jon B. Platt, and David Stone.
The ultra-popular show depicts what the witches of Oz were doing before they encountered Dorothy and how they got to be the way they were.
"Wicked", which carries the subtitle "the untold story of the witches of Oz", tells the story of two girls who meet in the Land of Oz. The one born with emerald green skin is smart, fiery and misunderstood. The other is beautiful, ambitious and very popular.
The show tells the tale of how these two unlikely friends end up as Elphaba, the Wicked Witch of the West, and Glinda, the Good Witch. their Their initial rivalry turns into the unlikeliest of friendships…until the world decides to call one "good," and the other one "wicked."
Madame Morrible is the headmistress of Shiz University's Crage Hall, which Elphaba and Glinda attend. Elphaba and her friends suspect Morrible to be responsible for the murder of Doctor Dillamond.
At one point, Madame Morrible proposes that Elphaba, Galinda, and Nessarose become future behind-the-scenes rulers in Oz, a proposal that they never willingly accept.
Elphaba suspects that Madame Morrible has at least some magical powers and may have indeed controlled the fates of the three women. It remains unknown whether Elphaba murdered her or if she died of natural causes minutes before Elphaba's attempt.
The cast features Celia Hottenstein as Glenda, Olivia Valli as Elphaba and Kathy Fitzgerald as Madame Morrible. The cast also includes an actor with local roots – Brett Stoelker.
"The last time I did a show in Philly was "Les Misérables,'" said Stoelker, a Washington Township High School grad who studied musical theater at the University of the Arts in Philadelphia. "Then COVID hit.
"I joined the 'Wicked' tour in June this year and my first performance was in July in Atlanta at the Fox Theater. I had six auditions over the course of many years.
"I feel that 'Wicked' is my biggest personal accomplishment. I chased it for a long time. After all those 'no's,' I finally got it. After getting close so many times, it feels extra great.
"I'm the understudy for FIyero but mostly I do my ensemble track – which is fun. It's a pleasure to be on stage with this show."
With a thrilling score that includes the hits "Defying Gravity," "Popular" and "For Good," Wicked has been hailed by The New York Times as "the defining musical of the decade" and by Time Magazine as "a magical Broadway musical with brains, heart, and courage."  NBC Nightly News called the hit musical "the most successful Broadway show ever."
With a thrilling score that includes the hits "Defying Gravity," "Popular" and "For Good," Wicked has been hailed by The New York Times as "the defining musical of the decade" and by Time Magazine as "a magical Broadway musical with brains, heart, and courage."  NBC Nightly News called the hit musical "the most successful Broadway show ever."
"It's an amazing family show," said Stoelker, whose dance background includes ballet and jazz. "The show is the prequel to 'The Wizard of Oz.'
"It's a great Broadway production. The songs are incredible. The dancing is amazing. It's funny.
"It's the story of an outcast. And there's a love story. is
"It's relatable. Everyone knows the story of the Wizard of Oz.  Even people who don't like theater find that they love 'Wicked.' People keep coming back to see this show again."
Video link for "Wicked" – https://youtu.be/WNIuOrz0Gt8.
"Wicked" is running now through November 26 at the Academy of Music. Ticket prices start at $30.
There is also an "Oz-related" show this weekend for one night only at The Candlelight Theatre (2208 Millers Road, Arden, Delaware, 302- 475-2313, www.candlelighttheatredelaware.org).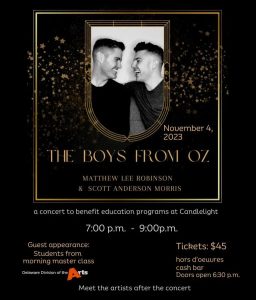 On November 4, the theater will present "ONE NIGHT ONLY CONCERT" featuring songs from the Broadway-bound musical, "Atlantis,"
performed by co-writers, Matthew Lee Robinson and Scott Anderson Morris (The Boys from Oz).
The show, which is being held as a benefit for education classes at Candlelight, will start at 7 p.m.
Patrons can immerse themselves in the charm of New York City's own Australians, Matthew Lee Robinson and Scott Anderson Morris, as this dynamic married duo delivers a one-night-only, one-act concert experience filled with beloved musical theatre melodies from their illustrious careers spanning the United States and Australia, including "Hairspray," "My Fair Lady," "A Chorus Line" and more.
These classic show tunes will appear alongside Robinson's own original songs that have been performed on stages ranging from Carnegie Hall to the Sydney Opera House with the Sydney Symphony Orchestra. To add to the occasion, featured guest performers from the vibrant Delaware performing arts community will make special appearances.
Robinson is a New York City-based Australian composer/lyricist, performer, vocal coach, and Co-Founder of performing arts training company, EQ Endeavours. On stage, he has performed three roles for Opera Australia at the Sydney Opera House: Freddy Eynsford-Hill in "My Fair Lady," Henrik in "A Little Night Music" and Frederic in "The Pirates of Penzance." He also appeared as the title role in "Pippin," and in the original Australian cast of "MAMMA MIA!"
As a composer/lyricist, he has written "Atlantis" (Virginia Repertory Theatre), "The Magic School Bus" (TheaterWorksUSA national tour), the five-time Helpmann-nominated "Metro Street," and the Emmy-nominated television series "Dance Academy." He most recently sold an original animated musical feature film to DreamWorks Animation.
Morris is a New York City-based Australian performer and director/choreographer who began his career performing in Australian theatre as Ernst in "Spring Awakening" (Sydney Theatre Company), Mark in "A Chorus Line" (TML Enterprises), Frank Lippencott in "Wonderful Town" (Sydney Opera House), and the ensembles of "Hairspray" (David Atkins) and "My Fair Lady" (Opera Australia, directed by Julie Andrews).
Across Australia and the United States, Morris moved into leadership positions as Assistant Dance Captain of Andrew Lloyd Webber's "The Wizard of Oz Australian Tour," Dance Captain of "Atlantis" (Virginia Repertory Theatre), Dance Captain of "Bliss" (5th Avenue Theatre, Seattle) and Director of the New York reading of "Black Box" (Broadway Dreams). He is an active musical theatre educator and Co-Founder of New York City-based performing arts training company EQ Endeavours.
The show at the Candlelight Theatre on November 4 will start at 7 p.m.
Jamey's House of Music (32 South Lansdowne Avenue, Lansdowne, 215-477-9985, www.jameyshouseofmusic.com) will be rocking' this weekend.
The main attractions over the next few days at Jamey's are Meghan Cary and Marc Douglas Berardo on November 3 and Stevie and the Bluescasters on November 4.
Meghan Cary's music has been hailed as healing, inspiring and infectiously joyful. Named Billboard's "Critic's Choice" for her debut EP, the stage actress turned folk rocker engages listeners with masterful storytelling and anthemic songs. Cary found solace in words and music after her fiancé unexpectedly passed away — and turned that passion into a platform to empower others to speak their truth by bravely sharing her own.
A frequent performer at such venerable festivals as Philadelphia Folk Festival, Spring Gulch, Huntington, DelMarVa Folk Festival, and music venues around the country, Cary's message of unity and the power of raising our voices together infuses every show, and her song, "Sing Louder", has become an anthem for the music-loving community.
Many people have favorite mantras. Cary's favorite – and very own – mantra is "Sing Louder" – and for good reason.
"Sing Louder" is one of her most popular songs. It was the title track on an EP – "Sing Louder – the Festival EP" in 2015. It is also the title of her latest album.
"The 'Sing Louder' album came out in November 2017, but I think of it as a 2018 album," said Cary. "My book – 'Sing Louder — Stories Behind the Songs' – is all about the songs that inspired the 'Sing Louder' album – 10 first-person stories."
Cary explained the inspiration for the book.
"I share a lot of my stories on stage," said the veteran singer-songwriter. "I do a lot of storytelling in my shows – but it's also a concert. My band would go crazy if I talked too much between songs.
"After shows, people ask me to tell them more about the songs. I'm a firm believer in sharing my stories – not only for the stories but also to help other people. People come up to me after shows all the time and say things like – I just lost my mom and didn't realize that it was still affecting me.
"When I was making the record, I said I was going to write a book and let people pre-buy it. That way, I wouldn't let other things get in the way. I knew I had to write the book and get it finished.
"There I one story for each song on 'Sing Louder.' It's pretty straightforward. I think it's a good read. The book I'm working on now is a companion to my first album 'New Shoes' from 1998. It's about how I began my music career."
Cary and her band Analog Gypsies produce a sound that is a blend of folk, rock, gypsy jazz and jam band. At the core of the band are Cary and Farrell. The keyboard and guitar duo produces a big musical footprint with cool grooves and tight vocal harmonies.
"The song 'Sing Louder' is a fan favorite – and very uplifting," said Cary. "The key line is – 'if you don't know the words, sing louder…sing stronger…sing louder, sing stronger for all of the world to hear.
"We recorded the album at Morning Star Studio with producer Glenn Barratt. Glenn's input on production is amazing.  We even brought 48 people – fans and friends – into the studio to sing on the title track."
Cary is also a veteran actress who performed in the musical "Pump Boys and Dinettes" and, more recently, performed a one-woman play she wrote called "On the Way to the Waterfall!"
This autobiographical play with music was originally created as a short piece for E.A.T.'s One-Woman Standing play festival in NYC in 2013 and was developed into a full-length play this past summer by Hypothetical Theatre Company. Two years ago, Cary performed it in the Boulder International Fringe Festival and received overwhelmingly positive feedback from both the audience and the critics.
"When I lived in New York, I used to help this playwright Tina Howe," said Cary. "She heard me playing my music and told me — you have to write a play. I didn't know how to do it."
The play she was about to write was based on a personal tragedy.
While performing in the musical "Pump Boys and Dinettes" years ago, Cary met and fell in love with Matthew Black, one of the show's musicians. Cary performed with Black as his backup singer with occasional solos. The pair became engaged, and things were going great. But Black died suddenly in 1995 and Cary's life path took another unexpected twist.
"Music carried me through that time period," said Cary. "Matthew and I made music together. When he died, I lost everything I had for the future. Music was something that I could keep. I wanted to keep making music. But I was writing songs with no intention of ever playing them for anyone.
"When I thought about the play, I knew had already written the story in songs. I had written music as a way to heal through this traumatic experience. The play is about going through the same thing — getting knocked off-course and ending up somewhere else."
When Cary graduated from Hershey High a few years back, she headed off to Duke University to major in biomedical engineering. But, the path of life goes through many twists and turns and that's why Cary now wears a guitar instead of a lab coat. She switched majors at Duke and finished with a bachelor's degree in drama.
"I thought I wanted to be a biomedical engineer," said Cary. "I looked at Cornell, but it was freezing up there, so I chose Duke instead. I was on a pre-med track and then got interested in theater. I finished Duke with a degree in drama with a minor in chemistry. Then, I got my MFA (master's in fine arts) in acting from Florida State University.
"I realized back then that I wanted to perform. When I started, I wanted to do regional theater. I also did Off-Broadway shows and I'm a charter member of New York's Actor's Shakespeare Company. I love Shakespeare's work. I love the way he used words."
Now, Cary has established herself as a singer, actress, songwriter, and playwright. She is also the mother of two musical kids who have already participated in making music with their family.
"Being a mom of two kids in school means I inhabit two entirely different worlds in a given week…or day," said Cary. "And I was thinking how important it is for me to have both.
"It's no surprise that sometimes trying to figure out the business of music can be pretty anxiety provoking — you know, how to afford to make records, if and how to sell records, and (most important for me) how to get the music out there so people fall in love and want to connect to and be a part of the music.
"And, for me, even the creative part of music-making can be less than peaceful at times. I sometimes suffer from writer's block, lack of inspiration, over self-editing or just plain self-doubt.
"But I've been blessed – and challenged — with this other side of life that balances it all out. When I'm with the kids and just being and doing whatever it is we're doing together, the drama that can be a part of the DYI musician's world seems really inconsequential.
"So, the fact that both of our kids are musical and inspired to make music is really a gift. It means I don't have to keep the two parts of my life so compartmentalized. Both of them sang on the album."
Regarding this weekend's show, Cary posted, "Bob Beach and Peter Farrell will be joining me for this special evening of music at one of my favorite venues. Hope you can be there too."
Singer-songwriter, performer, and keen observer, Marc Douglas Berardo composes songs that mine the deep feelings and lessons gleaned from real-life characters and situations along with an onstage presence that uses humor and deft storytelling to rally an audience.
In May 2014, Berardo won the 2014 Wildflower Art and Music Festival Song Contest in Texas. The following week he performed as a finalist in the legendary Kerrville New Folk Contest at the Kerrville Folk Festival. In early 2015, Berardo's interview and live performance feature on Sirius/ XM Satellite Radio show, The Village was voted one of the best of the year by listeners.
Berardo was nominated as Best Americana Vocalist by readers of Motif Magazine in early 2017. In 2023 the Rhode Island Music Awards nominated him as Best Singer-Songwriter. He has been nationally recognized for his music and performances (Rocky Mountain Folks Fest Song contest, Telluride Troubadour Contest, Sisters Folk Festival, 2013 Rams Head Onstage Rammie for Best Show of the Year.)
Video link for Meghan Cary — https://youtu.be/7p56MwK_j3k.
The show at Jamey's on November 3 will start at 8 p.m.
Tickets are $25 in advance and $30 at the door.
Stevie and the Bluescasters is a three-piece acoustic blues band from Philadelphia featuring vocals, acoustic guitars, mandolin, National Steel and wood body Resonator, harmonica and percussion. The trio plays unique arrangements of all kinds of blues: Old Country blues including Piedmont, Delta, Texas, Chicago blues, some old gospel, old country, and a smattering of International "Blues."
The show at Jamey's House of Music on November 4 will start at 8 p.m.
Tickets are $20 in advance and $25 at the door.
Every Sunday, Jamey's presents "SUNDAY BLUES BRUNCH & JAM" featuring the Philly Blues Kings. Another weekly event at the venue is the "THURSDAY NIGHT JAZZ JAM" featuring the Dave Reiter Trio.
Tickets, which are $45, include the performance, Hors d'oeuvres, cash bar, free parking and a post-show meet-and-greet with the artists.
Usually, when people hear the word "samba," they think of Brazil. Usually, when people hear the word "samba," they do not think of New Hampshire – but they soon might.
In Brazil, samba is a lively dance of Afro-Brazilian origin danced to samba music. It originally referred to any of several Latin duet dances with origins from the Congo and Angola. Today, Samba is the most prevalent dance form in Brazil, and reaches the height of its importance during Carnaval – especially in Rio.
In New Hampshire, the samba is Joe Samba, a rising singer, songwriter, and guitarist who has quietly emerged as a phenomenon racking up more than eight million total streams.
Samba just embarked on his maiden U.S. headlining tour this fall. The tour, which has Joy Harkum as the opening act, will make a local stop on November 8 at 118 North (118 North Wayne Avenue, Wayne, www.118northwayne.com).
"This is my second time to play Philly," said Samba, during a phone interview last week from his home in Portsmouth, New Hampshire. "I played down there with Pepper last winter."
According to Samba, "Embarking on my first-ever headlining tour is exciting to think about. Early on, I was performing at local pizza shops and bars envisioning the day I'd get to headline a national tour.
"Not only is that vision becoming reality, I also get to take some of the most amazing musicians and people along for the ride. I'm very excited to bring this show on the road. It will be a memorable one for all who attend."
Samba, who generates smoked-out Caribbean bliss and sweat-soaked punkified energy, has spent years honing his skills and building up his acclaimed energetic live show. So far this year, the Massachusetts-born and now New Hampshire-based artist has toured extensively from coast to coast supporting Pepper, Badfish: A Tribute To Sublime, and Shwayze.
Samba has also performed at a variety of festivals including Summer Camp Music Festival, Cali Roots Festival, Reggae Rise Up Florida and Maryland, Cali Vibes 2023, and Summer Camp Music Festival. In addition to headlining his own shows, Samba opened for Sublime With Rome, Andy Frasco & The U.N, and Ziggy Marley.
"My music is a good mixture of reggae and other influences including punk and heavy elements," said Samba. "I'm leaning more to being a singer/songwriter with an island vibe."
Samba was exposed to a lot of different music styles when he was young.
"I'm from a musical family," said Samba. "My dad played bass in a funk band, so I heard a lot of Tower of Power, R&B and soul.
"One of my favorite bands when I was young was Hanson. I was also into Metallica and Goth.
"I started playing piano when I was seven and then took drum lessons when I was 12. I taught myself guitar when I was in high school."
In 2019, Samba released his independent debut, "The Wrong Impression." The album made its debut at  #1 on the Billboard Reggae Albums Chart and has since clocked over 2 million streams — thanks in part to the breakout hit "How We Do."
In 2021, Samba signed with LAW Records and, after a run of successful single releases, he put out his sophomore album, "Far From Forever," in June 2022.
"I've had two albums and a bunch of singles," said Samba. "I'll have a new album coming out in 2024 – hopefully by March.
"I just recently got back from L.A. I was working on the album with Anthony Resta. He's an old friend of mine from Massachusetts. I met him for the first time when I was 17.
"I got interested in producing several years ago. I produced my first two albums myself. For the new album, I'm using Anthony as producer. This is my first time to record with him since I was in high school. It's come full circle.
"We stayed in touch over the years. I'm a reggae-rock artist. If he was working on something and needed a reggae flavor, he'd send me the track to work on."
This time around, they got to work together in the same room.
"He's a 'real deal' producer," said Samba. "He had a great studio in Massachusetts — Bopnique Musique – and he now has a great studio in Laurel Canyon.
"I was in L.A. for two weeks and worked with two different producers. I cut three songs with Anthony and four tracks with Eric Krasno from Soulive. I was a huge fan of his so getting to work with him was a great experience.
"I want to record eight more songs for the album at Revelry Studio in New Hampshire – get 15 done and then narrow it to 12."
Before they know it, Samba's fans will be skanking to a dozen new songs by their fave. In the meantime, they should plan on being at 118 North on November 8.
Video link for Joe Samba — https://youtu.be/RCj6W6Z07s0.
The show at 118 North on November 8, which has Joy Harkum as the opening act, will start at 8 p.m.
Tickets are $15.
Other upcoming shows are Hot'lanta on November 4 and Vinnie Paolizzi on November 5.
The Trouble Notes are a progressive world folk trio based in Europe. Currently on the road supporting their new album, "Liberty Awaits," they will make a stop here on November 8 for a show at MilkBoy Philly (1100 Chestnut Street, Philadelphia, 215- 925-6455, www.milkboyphilly.com).
Known for its explosive energy and worldly melodies, the band was formed in 2013 by violinist Bennet Cerven and has since established itself in the international world folk scene.
The band's core hails from three different continents: American violinist Bennet Cerven, German guitarist Florian Eisenschmidt and Australian drummer Julian Lardis.
The Trouble Notes story begins when Cerven moved from Indiana to New York City and focused on his prodigious musical gifts.
"I started studying music – classical violin — when I was three," said Cerven, during a phone interview last week.
At the age of three, he began playing violin. By the time he was 15, he was classically trained and performing with orchestras.
"I grew up in the Midwest and then went back east to study at Seton Hall University in New Jersey. I majored in diplomacy and international relations. Then, I moved to Manhattan and met musicians playing folk style violin.
"Classical music has a lot of rules. Once I discovered folk music and realized I could write more, I knew what I had to do. I was working for a Hedge Fund on Wall Street. I quit in May 2013. In June 2013, I bought a one-way plane ticket for London."
By the time Cerven decided to cut ties and move to London, he had already paid his dues on the streets of New York.
According to Cerven, "If you can work on the streets of New York, you can work anywhere. There, you're lucky to get five seconds of anyone's time. That's where I learned about showmanship, dynamics, energetic performance, and how to speak to audiences."
Armed with nothing but a piece of luggage and his violin, Cerven boarded a plane for a Trans-Atlantic flight. Upon his arrival in London, he began busking in the streets of the metropolis to connect with the city and its inhabitants.
After a transcendent jam in Hyde Park, Cerven found a creative and ideological soulmate in percussionist Oliver Maguire. His command of hip-hop and beats and traditional rhythms and his ability to ramp up the energy of the crowd has been crucial to shaping the group's panoramic artistry.
Born in west London, Maguire grew up in a rock-and-roll family. His father had been a tour manager for Motörhead. That led to Maguire learning his kit skills from legendary rock drum legend, Phil "Philthy Animal" Taylor (drummer for Motörhead as well as Waysted and The Deviants).
"After I got to London, I started bouncing around for a while," said Cerven. "After four months, I moved to Berlin."
Within months of their arrival, the traveling musicians met guitarist Florian Eisenschmidt. Having graduated from SAE, the German had spent his young adult life working in recording studios in Berlin. When he first saw Bennet and Oliver playing, he was impressed by their infectious energy and skills on their instruments.
"The plan was always to bounce around – to not stay too long in one place," said Cerven. "When the Wall went down, artists flocked to Berlin and that led to techno parties. The 90s was the best for underground culture. Then, it came above ground.
"Our group prides itself on being very international. Now, we have members from four continents. This year, we added a fourth member – Carol Zerega from Guayaquil, Ecuador. Our new drummer Julian Lardis joined at the start of the year. He was in an Aussie band that split, so he joined us.
"We have two studio albums. The first album was 'Lose Your Ties' in 2018. Our second album, "Liberty Awaits," was just released in June. In our shows on this tour, we play a healthy mix of songs from both albums – and a couple new things."
Their new show, "More Violins, Less Violence," is packed with songs from their second studio album "Liberty Awaits." Their repertoire brings the traditions of Europe and the Americas together and carries a message of "Unity in Diversity."
The band has a campaign to support children affected by violence. One dollar of every ticket and one dollar of every "More Violins, Less Violence" shirt will be donated to "Stop War on Children" — Save the Children's initiative helping children affected by violence and war crimes.
Video link for The Trouble Notes — https://youtu.be/2JivT56LhOA.
The show at Milkboy Philadelphia on November 8 will start at 8:30 p.m.
Tickets are $12.
Uptown! Knauer Performing Arts Center (226 North High Street, West Chester,
www.uptownwestchester.org
) is presenting The Dave Matthews Tribute Band on November 3, The Brit Pack on November 4 and a "Bohemian Rhapsody Singalong" on November 6.