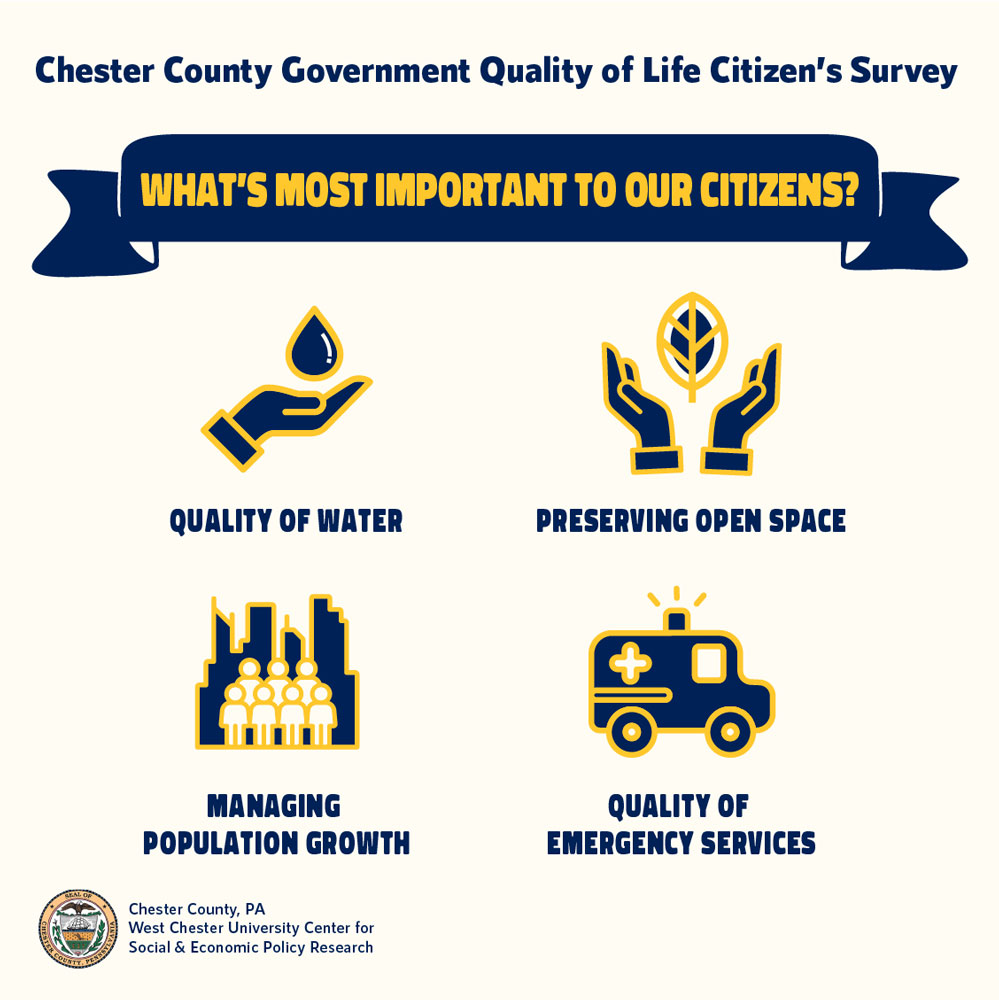 Chester County Government's five-yearly survey of citizen priorities and service satisfaction re-confirms that 94 percent of residents believe Chester County is an excellent or good place to live and raise a family, and that maintaining the quality of water, preserving open space, and managing population growth remain top areas of importance.
Results of the latest Chester County Quality of Life Survey, conducted by West Chester University's Center for Social and Economic Policy Research, are based on a random sample of 1,703 responses, representing all areas of Chester County. The results provide a comparison to the citizen surveys undertaken in 2009, 2013, and 2018 which help form the basis of the Chester County Commissioners' Strategic Plan goals.
In addition to ranking Chester County as an excellent or good place to live and raise a family, the 2023 survey reports that nine out of ten people (90 percent) rate the county as an excellent or good place to obtain a good education, and 83 percent define Chester County as an excellent or good place to participate in community affairs and activities. Notably, the percentage of residents indicating that Chester County is an excellent place to find a job increased from 21 percent in 2018, to 30 percent in 2023.
When it comes to services provided by Chester County Government, 80 percent of respondents indicated that emergency services and the 9-1-1 system are most important, followed by 60 percent who believe that open space preservation is most important, and 58 percent rating flood and stormwater planning and control as very important. Over half – 53 percent and 52 percent respectively – noted that County parks and trails and voter services are most important.
And when it comes to the County's performance in providing those services, maintaining County parks and trails, ensuring public safety, managing the election process, and providing park programs all received 70 percent or greater positive (excellent or good) responses.   Notably, 76 percent of survey respondents rated the County's management of the election process as excellent or good – up from 69 percent in the 2018 survey.
"We know that people have a positive impression of Chester County, both as a place to live and with regard to county services, and it is reassuring to see this once again validated by our citizens through this survey," said Chester County Commissioners' Chair Marian Moskowitz.
"These survey results not only help us to gauge where we stand now and how we have improved upon the level of satisfaction over the past five, ten and 15 years, but they also help us to move forward, refine our goals, and focus on what we need to improve upon."
In addition to "quality of life" questions, the citizen survey addresses the performance of Chester County Government employees. Of all residents surveyed in 2023, 44 percent indicated that they had contact with County employees in the past 12 months. Those respondents gave County employes high marks for courteousness, knowledge, and responsiveness, with 83 percent rating staff as excellent or good in their overall performance.
Chester County Commissioner Josh Maxwell said, "The feedback on the professionalism of our staff is as important as the feedback on the services the County provides. You can have the best services and programs available anywhere, but if you don't have a strong, committed workforce to communicate and deliver them, then the services and programs will not be effective.
"To maintain the level of professionalism that we have – during a time when work practices changed so drastically because of the pandemic – is a testament to the dedication and flexibility of our employees."
As it relates to the pandemic, this year's survey results showed that close to 7 out of 10 respondents (68 percent) rated the County as excellent or good in its response to epidemics or public health hazards. Those areas where Chester County did not rate as highly include planning for residential and commercial growth and development, and ensuring the availability of affordable housing.
Commissioner Michelle Kichline said, "Chester County's attraction as a great place to live brings with it challenges that we must address. This includes the way that we balance growth – including development, transportation, and housing – with the preservation of our beloved green and historic spaces.
"Building and repurposing properties to create more affordable and attainable housing is a key priority for the County, and we will continue to work with all of our municipalities – especially our urban centers – as well as property developers and community organizations to do this."
For the first time, this year's citizen survey included a section regarding the importance of childcare and family support as it relates to workforce, businesses, and economy. More than one in three survey participants (35 percent) indicated that they were currently responsible for the care of a child, aging parent, or other family member. In this context, the top services beneficial to support this were identified as flexible work hours, flexible paid time off, livable wages, and paid parental leave.
A summary of the 2023 Chester County Quality of Life Survey can be viewed at www.chesco.org/citizensurvey.