By Mike McGann, Editor, The Times @mikemcgannpa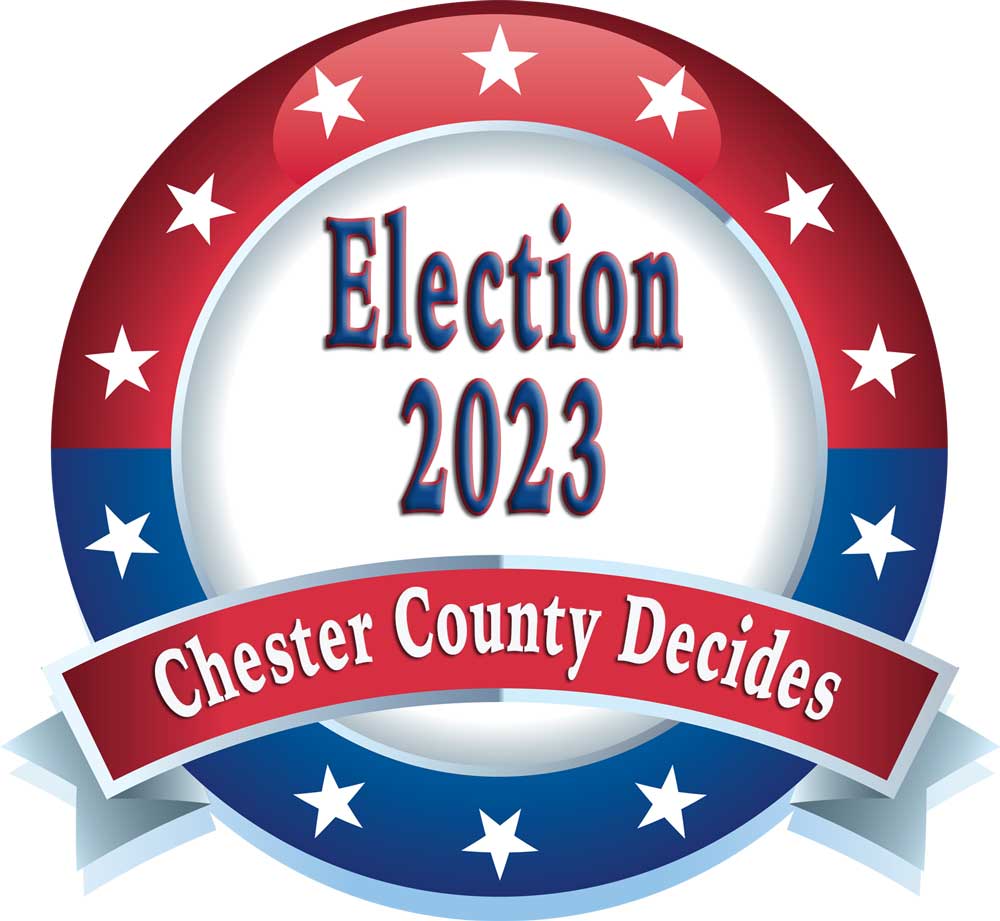 Once again, Democrats swept all possible countywide races, Tuesday, winning all of the Row Office races, maintaining control of the County Commissioners and electing five new Democratic judges to the Court of Common Pleas.
"Chester County voters chose to re-elect Democrats to lead the county government," Chester County Democratic Chairwoman Charlotte Valyo said in a statement. "The excellent leadership and governance of Commissioner Moskowitz and Commissioner Maxwell have made Chester County the healthiest place to live in the state and at the same time we have the lowest unemployment rate and highest median income in the state. They successfully led the County through a pandemic, a hurricane, hospital closings and a devastating fire."
Democratic Commissioners Marian Moskowitz and Josh Maxwell won reelection and will be joined on the board by Republican Eric Roe, a fromer State Representative who will replace the retiring Michelle Kichline, who opted not to seek reelection.
Democrats swept Sarah Black, current District Attorney Deb Ryan, current county Sheriff Fredda Maddox, Nicole Forzato and Thomas "Tip" McCabe to the bench in the county Court of Common Pleas, defeating Republicans Lou Mincarelli, PJ Redmond, Andy Rongaus, Don Kohler and Dave Black. Democrats swept those races by a bit more than 20,000 votes per race.
Current Court of Common Pleas judges Patrick Carmody and John Hall won retention races.
In the Row Office races, Democrat Christopher de Barrena-Sarobe defeated Ryan L. Hyde for District Attorney. In the Sheriff race, Democrat Kevin Dykes defeated Roy Kofroth. Democrat Debbie Bookman won reelection as Prothonotary over Michael Taylor. Incumbent Michele Vaughn defeated former Republican Register of Wills Terri Clark. Democrat Diane O'Dwyer defeated Brian Yanoviak for Recorder of Deeds.
Democrats also fared well in local Board of Education races, winning key races in Downingtown, West Chester, Unionville, Tredyffrin-Easttown, Phoenixville, Owen J. Roberts and Great Valley school districts.
Democrats fared well in statewide races, sweeping the judicial races. In the hotly contested Supreme Court race, Democrat Daniel McCaffery held off Republican Carolyn Carluccio by a 52.97% to 47.03% margin.
In the state Superior court races, Democrats Jill Beck and Timika Lane edged past Republicans Maria Battista and Harry F. Small Jr., with statewide vote margins of more than 200,000. Superior Court judges Jack Panella and Victor Stabile won retention elections.
In the Commonwealth Court race, Democrat Matthew Wolf edged Republican Megan Martin.