By Denny Dyroff, Entertainment Editor, The Times
Nellie McKay is a talented singer/songwriter from the Poconos who has been making impressive albums for more than three decades.
Fortunately, she heads south on the Pennsylvania Northeast Extension now and then to perform shows in this area – including a spell-binding show at Longwood Gardens, a show at Rrazz Room in New Hope, and an intimate performance at Arden Gild Hall in Delaware.
This weekend, McKay is returning to the Arden Gild Hall (2126 The Highway, Arden, Delaware, ardenclub.org) for a concert on November 10.
McKay is touring her new album "Hey Guys, Watch This," which was just released on August 25 on Hungry Mouse Records.
McKay treats fans to live renditions of classic songs that are commonly referred to as standards. Her set list might also feature a Beatles song or even the Frank Zappa classic tune, "Hungry Freaks Daddy."
Unlike most of many of her previous albums, the new disc features McKay as a composer instead of song stylist.
"This is my first album of all original songs in 13 years," said McKay, during a phone interview last week from her home in the Pocono area.
"The oldest song is from 13 years ago – 'did I catch you dreaming.'  It was inspired by my dog who was sleeping.
The most recent one is badumbump.'
"There are 15 songs on the album. I had a lot of songs, and I chose these 15 because I was running out of time. It was – what do you need to hear? My co-producer Robin Pappas was good at sequencing."
McKay recorded the new LP in several locations – mainly in the hills of the Mountaineer State.
Recorded in Charleston, West Virginia with The Carpenter Ants and a roving retinue of musical compadres, "Hey Guys, Watch This" traces the haunted sounds of Appalachia to a renaissance of revelry.
The Carpenter Ants are Michael Lipton / guitar & vocals, Ted Harrison / bass & vocals, Jupie Little / drums & vocals, and Mark Bates / vocals. Also joining in were Ron Sowell / harmonica, Tim Carbone / fiddle and Alexi David / upright bass & vocals.
"I recorded the album over the past year," said McKay. "I went to Charleston, West Virginia. It was lovely working with the fellows down there. It informed the sound with the spirit of Appalachia.
"I also did some recording at Southview Arts in St. Petersburg, Florida; John Kilgore Sound in New York City; Red Rock Recording in Saylorsburg, Pennsylvania; and Soundmine Studios in East Stroudsburg."
The album featured an all-star cast of engineers including Don Dixon, Jim Gilmour, Kent Heckman, MP Kuo, Dan Malsch and Brenton Nicholas.  The album was mixed by Malsch at Soundmine Studios.
McKay released an EP titled, "Bagatelles," in 2019. Her most recent prior album was "Sister Orchid" in 2018.
"Sister Orchid" includes timeless gems such as "Willow Weep for Me," which was first recorded in 1932 by the Paul Whiteman Orchestra and later was a hit for Billie Holiday in the mid-1950s; "Georgia on My Mind," a Hoagy Carmichael song from 1930 that was a hit for Ray Charles in 1960; and "In a Sentimental Mood," which was penned and performed by Duke Ellington in 1935.
On McKay's website, "Sister Orchid," which was released May 2018 on Palmetto Records, had this description – "Conjuring the image of a lonely all-night truck stop along Highway 1 on the California coast, all but lost in the fog that comes creeping along the shoreline… this album speaks of the night, the outsider, the plaintive wail of those lost at sea. 'Sister Orchid' was conceived in solitude, executed in darkness. It comes from a place of quiet, a world of low lights and cool drinks, up against a hard wall. An oasis of hungry eyes and easy promises, warm as a biscuit, the kind of place your mother warned you against."
Tackling such classic standards was a tough challenge but McKay proved she was equal to the task. The album featured McKay on vocals with just piano accompaniment.
McKay first played shows in this area back in 2004 to accompany the release of her debut album "Get Away from Me" on Columbia Records
When she was getting started, McKay's music bridged the gap between jazz and hip-hop — a combination not often heard in today's pop music.
The versatile performer was born in London and raised in New York, the Pacific Northwest and Pennsylvania's Pocono Manor. When she was still in her teens, she was living in her own apartment in New York — at the edge of Harlem at 123rd and Amsterdam.
McKay, who attended school at Pocono Mountain Junior and Senior High, learned to play a variety of instruments including piano, cello, timpani, vibes, triangle and saxophone. Her main concentration has always been on keyboards.
"I played with the East Stroudsburg University Jazz Ensemble when I was still in high school," said McKay. "Patrick Dorian, a music professor at ESU, gave me my first formal jazz training. He taught me a lot about composition."
Eventually, McKay began playing gigs at New York piano bars such as Don't Tell Mama's, Stonewall Bistro, Psychic Cafe, Regents, Rose's Turn, and Mozart Café (where she was canned because she liked to play Christmas songs in August when people weren't sick of them). A record deal with Columbia followed and the rest is history.
"Sister Orchid" was McKay's seventh label release in just 31 years. Her previous albums include "Get Away from My Head," "Pretty Little Villagers," "Obligatory Pie," "Normal as Home: A Tribute to My Day," "Sweet Mobile" and "Blueberry Reader."
McKay is like a modern-day "Renaissance Woman."
On Broadway, she won a Theatre World Award for her portrayal of Polly Peachum in "The Threepenny Opera." She also co-created and starred in the award-winning Off-Broadway hit "Old Hats," and has written and produced musical biographies around a compelling gallery of ladies – from environmental pioneer Rachel Carson to the life, conviction, and execution at San Quentin of underdog Barbara Graham.
Recent projects include "The Big Molinsky – Considering Joan Rivers," and "A GIRL NAMED BILL – The Life and Times of Billy Tipton," which was named one of the "Best Concerts of the Year" by The New York Times.
McKay's screen work includes roles in "PS I Love You" and "Downtown Express." She contributed movie music to "Rumor Has It," "Monster-in-Law," "Gasland," "Last Holiday," and "Private Life."
In the television world, her music has been heard on "Mad Men," "Boardwalk Empire," "Weeds," "Grey's Anatomy," "NCIS," "Nurse Jackie," and "SMILF." Additionally, McKay's writing has appeared in The Onion, Interview, and The New York Times Book Review.
"Right now, it's a cabaret act," said McKay. "That's what we'll do – a classic cabaret show. I'll be playing all the songs from the album. Also, people call out request and I like to oblige them."
McKay also has devoted much of her life to projects combating animal abuse.
She is a recipient of PETA's Humanitarian Award and The Humane Society's Doris Day Music Award in recognition of her dedication to animal rights.
"I've been a vegetarian since I was eight," said McKay. "I've been vegan since 2004. Non-violence begins on your plate."
Musically, McKay always has a lot on her plate – including this weekend's show at Arden Gild Hall.
The Gild Hall dates back to the 1850s when it was used as a barn for the Grubb farm. It was substantially renovated in 1910 as the Gild Hall. Concerts and theater, meetings, dances, dinners, and community gatherings take place in Upper and Lower Gild Hall, Moonlight Theatre, and the Shady Grove.
"I love the Arden Gild Hall," said McKay. "You can feel the history there – everyone who has played there. The community is quite magical and mystical. It's just a beautiful place. It's a real treat to play there."
And it's a real treat to hear McKay play anywhere – to enjoy a live repertoire that might include Moby Grape's "Murder in My Heart for the Judge," Hoagy Carmichael's "Up a Lazy River," The Kinks' "Sunny Afternoon," Doris Day's "Sentimental Journey," or any one of a number of Beatles' songs.
Video link for Nellie McKay – https://youtu.be/zGzxVKsSV6U.
The show at Arden on November 10 featuring Nellie McKay with Niall Connolly as the opening act, will start at 8 p.m.
Tickets are $33.99.
On November 12, area music fans – and area sports fans – can attend a special event where they can have a great time and, at the same time, support a great cause.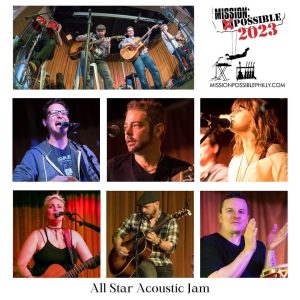 The "MISSION: Possible" benefit concert in support of the Cancer Support Community Greater Philadelphia (CSCGP), will be held November 12 at Craft Hall (901 North Delaware Avenue, Philadelphia, www.MissionPossiblePhilly.com) from noon-8 p.m. All net proceeds will go directly to the non-profit.
The much-anticipated family-friendly event will feature 11 live performances from some of the most renowned artists in the region including Bonehead, SideArm, Reaction, Brian Bortnick (of Octane), Bryen O'Boyle (of Mr. Greengenes) & JTT, the School of Rock Newtown, Mikeal Anthony Greto, Kenny Curcio, Rob & Anastasia Groden, and the First-Place Winner of the 2023 Mummers Parade, The Quaker City String Band.
The crowd-favorite "All-Star Acoustic Jam," featuring LauraLea Taraskus, Steve Turner, Cara Lynne, Michael Anthony Thompson, Richie Yusko, and Ray Pierson will also return.
Special appearances will include NHL Legend Bernie Parent, Paul Palmer (Temple Athletics Hall of Fame, Heisman Trophy Runner-Up and 1st Round NFL Draft) and Fran Murphy (Lasalle University's Men's Basketball Coach).
Founded in 2018 by cancer survivor, Dr. Jason Duff and his wife, Trisha Duff, "MISSION: Possible" has raised $36,000 for CSCGP with three fundraising events.
"The first one was in 2018 and the second one was in 2019," said Duff, during a phone interview Wednesday afternoon from his office at the United States Naval Academy in Annapolis, Maryland.
"We were set to go in 2020 and then COVID hit. We switched to a two-day online event and raised $9,000. This Sunday is our first time to go live since 2019."
Duff is a Philly boy who is now a clinical psychologist for the U.S. Navy. He grew up in Northeast Philadelphia, graduated from Archbishop Ryan High School and got a degree in nursing in 1996 from Widener University. He then earned his master's degree at Drexel University and doctorate at Philadelphia College of Osteopathy.
"I discovered I had lymphoma in 2017," said Duff. "I've since had chemotherapy, surgery and radiation. I'm good now.
"I had two young children and a beautiful wife. I didn't want to die. I didn't even call it cancer – lymphoma didn't sound as bad.
"When I got the diagnosis, I knew I had to be aggressive. I asked – what do I have to do? The answer was catching it early with proper screening and then acting on it."
With "MISSION: Possible," we're trying to educate people about the need for resources."
"MISSION: Possible" was always intended to serve as a vehicle to educate and entertain while operating as a catalyst for change. "MISSION: Possible" has the resources, ability and desire to impact myriad issues.
This is a family-friendly event. Kids 12 and under are free. A $40 ticket includes all day live music, food and drink specials, including free tastings from Stateside Vodka, access to exclusive raffle items, 50/50, and family-friendly activities.
Teddy Bear Mobile will be onboard helping you to create your custom "MISSION: Possible" stuffed animals. Parking is free on-site at Craft Hall and at the Rivers Casino.
On November 11, Kennett Flash (102 Sycamore Alley, Kennett Square, 484-732-8295, http://www.kennettflash.org) is hosting an act featuring a local two-way love affair – the band with the venue and the audience with the band.
The Dukes of Destiny, who have been treating fans to live performances of top-flight blues and soul music for almost three decades, are back in action with a lineup built around John Colgan-Davis (harmonica, vocals) and AC Steel (guitar, vocals).
Colgan-Davis just posted this message earlier in the week, "The Dukes return to one of our favorite places to play in one of our favorite towns. The Kennett Flash is a place with a great sound system, great seats with good views of the stage, space to dance and a great wait staff. Kennett Square itself has a number of great places to stroll and to shop and to eat, so you can take in the town, eat at a great restaurant, and get dessert and a night of great blues and dancing at the Flash. Sounds like a marvelous night to me!"
About a year-and-a-half ago, the Dukes' lineup went through a major change when vocalist Aryl Wolters retired from the band.
As a result, Colgan-Davis had a dual role with the Dukes.
"Now that Arlyn is gone, I'm doing the majority of the singing," said Colgan-Davis. "I was singing before Arlyn so now it's back to the roots.
In addition to performing at most of the clubs in the Tri-State area, the Dukes of Destiny have performed at the Pocono Blues Festival, the Waterfront Jam at Philadelphia's Penn's Landing, the State Street Blues Stroll in Media, the Bucks County R'n'B Picnic, the New Jersey Folk Festival and the Longwood Gardens Summer Concert Series.
"For the past few years, we've had great years," said Colgan-Davis back in 2019. "We played places we had never played before – like the Philadelphia Folk Festival. We also played places we really love like The Kennett Flash and the West Grove Friends Meeting.
"We played the Phoenixville Blues Festival and the Paoli Blues Festival. We really love playing The Kennett Flash. And we love our Chester County crowd. They've been coming to see us play for 14-15 years."
Chester County music fans and the Dukes of Destiny definitely have a love affair going on.
"We did the Turks Head Festival in West Chester a few years ago – and 'Rhythm and Roots' in Media," said Colgan-Davis. "We love the Flash – the intimacy and the sound system. And we love what it stands for and what it means to Kennett Square.
"We love the people of Chester County and I really like the landscape of the area. It's always a special place for us. Chester County gigs have the vibe of old coffee houses. We put out the energy and the audience give sit back to us."
Audiences that like to get out of their seats and dance are a big part of the Dukes of Destiny live experience.
"We get all kinds of dancers at our shows," said Colgan-Davis. "We've been playing a lot more festivals. We're back on the festival circuit. I love playing festivals for a couple reasons. You get a whole bunch of people playing together. That takes me back to the 60s and the be-ins back then.
"Sun Ra had said the message that music is the healing force of the universe, and you feel that at festivals. And kids get to hear real music played by real people. With a band like us that plays off the crowd, a festival show is a real exciting thing."
Colgan-Davis's introduction to the blues came when he was in high school at Central High in Philadelphia and saw the Stones performing with Howling Wolf on the "Shindig" TV show. Howlin' Wolf, whose real name was Chester Burnett, was an American blues singer, guitarist and harmonica player who was one of the premier Chicago bluesmen.
"When I saw Howlin' Wolf on that TV show, I jumped up and said — this is what I want to do," said Colgan-Davis. "I started playing blues when I was 16. My dad gave me a grab bag for my birthday and a harmonica was in it.
"I started listening to blues records a lot — players like Muddy Waters and James Cotton. I was really into Chicago blues of the 1950s and 1960s when I started. Then, I got into guys like Sonny Terry and Brownie McGhee. One of the first bands I played in was a Philly blues band called Sweet Stavin' Chain."
A while later, the Dukes of Destiny became the main musical vehicle for Colgan-Davis. At first, they played house parties in Germantown, generating word of mouth interest. A gig at the now-defunct Taker's Cafe in Germantown launched their public career.
"The Dukes got together in the mid-1980s," said Colgan-Davis. "Steve Brown started the band, and it began with that gig at Taker's Café. Steve died of pancreatic cancer in 2000 and I've been the leader ever since. Steve has always been in my mind. We did a tribute concert to him a few years ago and we still do some of his favorites in our set.
"We have a whole range of music in what we can play — everything from Chicago blues to old-school soul. What's great about the Dukes is that we're a band. We use each other's strengths."
Video link for the Dukes of Destiny – https://youtu.be/j5fM0sugB5w.
The show at Kennett Flash on November 11 will start at 8 p.m. Tickets are $20 at the door.
Jamey's House of Music (32 South Lansdowne Avenue, Lansdowne, 215-477-9985, www.jameyshouseofmusic.com) will be rocking this weekend with Michael London & Friends on November 10 and Gretchen Emery Band on November 11.
The Gretchen Emery Band grew out of a partnership that began years ago between singer Gretchen Emery and guitarist Kenny Windle. The world may never know what cosmic lineup caused this unlikely pair to meet, start a rock band and eventually tie the knot, but to get a sense of just how extraordinary this pairing is.
Imagine this — a young , bouncy Gretchen with curly red hair, singing at the top of her lungs in church with her family in Dover, Delaware, following the rules, learning to play the flute, getting good grades …and contrast it with Kenny being deposited on Earth by an alien craft in the early 1950's, developing keen survival skills in North Philly, breaking the rules, and eventually focusing all of his energies on playing guitar.
Windle's unique use of rhythm and melody, inspired by the Motown he grew up on, creates the canvas upon which Emery tells a story in each original song. Despite their wildly different backgrounds, they are each equally moved by their observations of love, loss, injustice, and redemption in life, all of which play out in their music and lyrics. While their songwriting is flavored by soul and rock, with elements of the blues winding through each piece, their goal is to allow each song to evolve as it will, without trying to suit a particular genre.
Though it may not have been a predictable match, the distinct musical skills which they each contribute seem to complement and support the other — resulting in artfully crafted music that hits the nail on the head. Together, they have found contentment in writing and playing, whether as a duo or a full electric band.
In 2013, their previous band Dirty Boots earned a spot to compete at the International Blues Challenge in Memphis, Tennessee and was subsequently inducted into the Delaware Blues Hall of Fame.
Video link for Gretchen Emery Band — https://youtu.be/49E-Nv4JqNk.
The show on November 11 will start at 8 p.m.
Tickets are $20 in advance and $25 at the door.
On Friday night, the stage will belong to Michael London & Friends.
London is a Philadelphia Area musician with a soulful voice and a great touch on acoustic and electric guitars. His latest recordings feature interpretations of classic folk, jazz and soul songs in his own unique, exciting and expansive style.
London is also a passionate interpreter of Rumi's poetry, the great 13th century Sufi poet. He offers us a musical window into the ecstatic poems, which reveal and make tangible our connection with the self, humanity, nature and beyond. His music inspired by this mystical poet speak directly to listeners and touches on the central themes and issues of living with passion and true joy.
His musical journey began with singing folk songs and show tunes with his family. He was especially inspired singing songs by James Taylor, Cat Stevens, Richie Havens and Marvin Gaye and began to write songs and to develop his own musical voice. In college, he found a whole new world of incredible players and shifted his focus to instrumental work, learning to improvise and accompany dancers with atmospheric and lyrical guitar.
He is also a professor at Muhlenberg College who has a Ph.D in Organizational Behavior. He also performs with Cabin 23, an Americana jam band and the Spiritual Window Shoppers, which is an eclectic folk ensemble.
Appearing with Micheal will be Paul Butler on flute and sax, Larry Cohen on bass and Bill Marconi on drums.
The show on November 10 will start at 8 p.m.
Tickets are $25 in advance and $30 at the door.
Every Sunday, Jamey's presents "SUNDAY BLUES BRUNCH & JAM" featuring the Philly Blues Kings.
Another weekly event at the venue is the "THURSDAY NIGHT JAZZ JAM" featuring the Dave Reiter Trio.  This week's guest vocalist is Geri Oliver. Geraldine ("Geri") Oliver is a vocalist whose singing reaches deep down and touches your heart, taking you on a journey to a place inside your soul, called "reverie."
With an uncanny ability to hold you captive, her instrument of voice weaves a lyrical and melodic story that colors the atmosphere with healing hues. Add the live, fluid, dynamism of jazz tones emanating from the band, and you become engulfed in a must hear and must feel, musical mosaic.
Video link for Geraldine Oliver — https://youtu.be/gRFQmpjfcm8.
Doors open at 6 p.m. on Thursday. Oliver will perform from 7-8 p.m. followed by an "Open Mic Jazz Jam" from 8-10 p.m. There is a $10 cover charge.
Many questions that were left unanswered in "The Wizard of Oz" were answered at a later date — questions such as what the witches of Oz were doing before they encountered Dorothy and how they got to be the way they were.
They were answered in "Wicked," the hit musical based on the best-selling novel by Gregory Maguire. "Wicked," the fourth-longest running Broadway production," is a winner of 15 major awards — including a Grammy Award and three Tony Awards. The show features the music and lyrics of Stephen Schwartz.
The musical, which has already had several sold-out runs in Philadelphia dating back to the early 2000s, is back for another hot-selling visit. "Wicked" is running now through November 26 at the Academy of Music (Broad and Locust streets, Philadelphia, www.kimmelculturalcampus.org.)
"Wicked" is the winner of over 100 international awards, including Grammy® and Tony Awards®. Since opening in 2003, "Wicked" has been performed in over 100 cities in 16 countries around the world (U.S., Canada, United Kingdom, Ireland, Japan, Germany, Holland, Australia, New Zealand, Singapore, South Korea, The Philippines, Mexico, Brazil, Switzerland, and China) and has thus far been translated into six languages: Japanese, German, Dutch, Spanish, Korean, and Portuguese. "Wicked" has been seen by over 60 million people worldwide and has amassed over $5 billion in global sales.
The production is directed by Tony Award® winner Joe Mantello with musical staging by Tony Award® winner Wayne Cilento. Wicked is produced by Marc Platt, Universal Stage Productions, The Araca Group, Jon B. Platt, and David Stone.
The ultra-popular show depicts what the witches of Oz were doing before they encountered Dorothy and how they got to be the way they were.
"Wicked", which carries the subtitle "the untold story of the witches of Oz", tells the story of two girls who meet in the Land of Oz. The one born with emerald green skin is smart, fiery and misunderstood. The other is beautiful, ambitious and very popular.
The show tells the tale of how these two unlikely friends end up as Elphaba, the Wicked Witch of the West, and Glinda, the Good Witch. Their initial rivalry turns into the unlikeliest of friendships…until the world decides to call one "good," and the other one "wicked."
Madame Morrible is the headmistress of Shiz University's Crage Hall, which Elphaba and Glinda attend. Elphaba and her friends suspect Morrible to be responsible for the murder of Doctor Dillamond.
At one point, Madame Morrible proposes that Elphaba, Galinda, and Nessarose become future behind-the-scenes rulers in Oz, a proposal that they never willingly accept.
Elphaba suspects that Madame Morrible has at least some magical powers and may have indeed controlled the fates of the three women. It remains unknown whether Elphaba murdered her or if she died of natural causes minutes before Elphaba's attempt.
The cast features Celia Hottenstein as Glenda, Olivia Valli as Elphaba and Kathy Fitzgerald as Madame Morrible.
With a thrilling score that includes the hits "Defying Gravity," "Popular" and "For Good," "Wicked" has been hailed by The New York Times as "the defining musical of the decade" and by Time Magazine as "a magical Broadway musical with brains, heart, and courage."  NBC Nightly News called the hit musical "the most successful Broadway show ever."
With a thrilling score that includes the hits "Defying Gravity," "Popular" and "For Good," Wicked has been hailed by The New York Times as "the defining musical of the decade" and by Time Magazine as "a magical Broadway musical with brains, heart, and courage."  NBC Nightly News called the hit musical "the most successful Broadway show ever."
It's an amazing family show. It's a great Broadway production. The songs are incredible. The dancing is amazing. It's funny. It's relatable. Everyone knows the story of the Wizard of Oz.
Video link for "Wicked" – https://youtu.be/WNIuOrz0Gt8.
"Wicked" is running now through November 26 at the Academy of Music. Ticket prices start at $30.