By Denny Dyroff, Entertainment Editor, The Times 
November 11 is Veterans Day, and many area attractions will honor veterans in a variety of ways.
The motto for the day is the Latin phrase, "Nos salutant vos," which translates to "We salute you" in English.
Veterans Day (originally known as Armistice Day) is a federal holiday in the United States observed annually on November 11, for honoring military veterans of the United States Armed Forces (who were discharged under conditions other than dishonorable).
On November 11 and 12, the Olde Fort Mifflin Historical Society will celebrate the 246th Anniversary of the "Siege & Bombardment of Fort Mifflin."
There will be two days of activities commemorating the historic siege and bombardment of Fort Mifflin (Fort Mifflin and Hog Island roads, Philadelphia, 215-685-4167, www.fortmifflin.us) that took place in 1777. The event gets underway each day at 10 a.m. and continues until 4 p.m.
Four full scripted battles will tell the story of the greatest bombardment of the Revolutionary War.
Fort Mifflin, which was originally called Fort Island Battery, was commissioned in 1771. It was also known as Mud Island Fort because it sits on Mud Island (also known as Deep Water Island) on the Delaware River near the Philadelphia International Airport. During the American Revolutionary War, the British Army bombarded and captured the fort as part of their conquest of Philadelphia in autumn 1777.
During the siege, 400 American soldiers held off more than 2,000 British troops and over 250 ships that had been responsible for launching an endless barrage of cannonballs into the fort. After five days of holding off the British, the American troops evacuated the fort after having successfully denied the British Navy free use of the Delaware River.
Activities at this weekend's commemoration will depict life in the 18th century and feature weapons demonstrations, tactical demonstrations, musket drills for youngsters and a scavenger hunt. There will be military re-enactors portraying both American and British forces as they commemorate the largest bombardment that took place in the entire American Revolution.
A "skirmish" will be staged at 1:30 p.m. each day.
There will be a special Veteran's Day commemoration during the flag raising on Saturday at 10:15 a.m.
As an added attraction this year, visitors will be able to see the Fort as the British did on a one-hour sail aboard the Schooner Northwind. Separate ticket required.  Fort Mifflin admission required for Sail passengers.
Tickets are $10 for adults, $8 for seniors and $6 for veterans with ID and children (ages 6-12).
Hagley Museum and Library (Route 141, Wilmington, Delaware, 302-658-2400, www.hagley.org) will celebrate Veterans Day Weekend on November 10 with free admission for current military members, veterans, and their families.
For 2023, Hagley has extended this offer to include Sunday, November 12.
Hagley is also presenting a special event called "Science Saturday" on November 11.
Visitors of all ages are invited to discover solutions to science and engineering challenges. Science Saturdays are drop-in activities, so visitors are free to stop by at any time during the event hours – noon-4 p.m.
The program on November 11 will be "Science Saturday:  Robotics Roundup."
Participants will be able to learn how robots are built and programmed. They can also visit with a local robotics team to test out their designs.
Hagley welcomes special guests MOE365 and Green Lemons.
On November 11, Hagley will present this month's installment of "Cannon Firings."
Guests can have a blast during their visit to Hagley by watching a demonstration of the museum's signal cannon.
Demonstrations take place at 1, 2, and 3 p.m.
Please note that cannon firings are weather-dependent.
The "Cannon Firings" are included with admission and free for Hagley members.
Admission is $20 Adults, $16 Seniors (62+) and Students, and $10 Children (6-14.).
The Wilmington & Western Railroad (2201 Newport Gap Pike, Wilmington, DE, 302-998-1930, www.wwrr.com) is running its special "Salute to Veterans" excursions on November 11.
The W&W honors our military and their service to our country with a ceremony at Greenbank Station, followed by the Yorklyn Limited train rides to Yorklyn. Veterans ride free on the Yorklyn Limited excursion this day.
This event is powered by one of our historic first-generation diesel locomotives.
The Yorklyn Limited excursion is a relaxing and fun way to spend an afternoon with family or friends. This is the re-branded name of the Mt. Cuba Meteor excursion.
The ceremony is scheduled for 11:30 a.m. and the excursions will depart at 12:30 and 2:30 p.m.
Train ride tickets are $18 for adults, $17 for seniors, $16 for children and free for all military veterans.
Elmwood Park Zoo (Elmwood Park Zoo, 1661 Harding Boulevard, Norristown, www.elmwoodparkzoo.org) also has a financial treat for veterans this weekend.
In honor of Veterans Day, veterans of the United States Armed Forces receive free zoo admission, along with one free guest on Saturday, November 11.
The Elmwood Park Zoo's "Dog Days" event will be held on November 10, 12, 15, 17 and 19.
All guests visiting the zoo with a furry friend must complete an online waiver and submit required documents before visiting the zoo. You must upload a copy of your most recent veterinary visit, including proof of vaccine and heartworm test here. All items will be required for you to attend "Dog Days."
The "Dog Days" event is slated to run from 1-5 p.m.
Pricing is $10.95 per dog with each additional dog at $9.95. Regular zoo admission is required for all humans.
Winterthur Museum, Garden & Library (Route 52, Wilmington, Delaware, 800-448-3883, www.winterthur.org) is presenting one of its most popular annual events this weekend — the Delaware Antiques Show.
One of the area's longest-running traditional events, the Delaware Antiques Show has been around for more than 50 years. This year, it will be held from November 10-12 at the Chase Center on the Riverfront in Wilmington.
Honored as one of the nation's most highly acclaimed antiques shows, the annual three-day event presents a large and diverse assemblage of art, antiques and design. With more than 60 top-flight dealers participating, the Delaware Antiques Show highlights the best of American antiques and decorative arts.
From the newest collector to the most knowledgeable connoisseur, there is something for everyone. Tickets include lectures, book signings, and admission to the show and to Winterthur Museum, Garden & Library on the days of the Show.
The 60th annual staging of the show will feature sales displays featuring furniture and decorative accessories from the 17th to the early 20th centuries, including folk art, Native American art, ceramics, needlework, quilts, jewelry, prints, paintings, and rugs.
As usual, the knowledgeable dealers will be at their booths answering questions and offering advice to collectors. Visitors to the show can learn from the experts about a variety of different antiques categories, including brass, jewelry, painting, ceramics, silver, textiles and 18th and 19th century furniture.
Highlights include a keynote lecture entitled The New Antiquarians and the Future of Connoisseurship by art historian, designer, and author Michael Diaz-Griffith on Saturday, November 11 at 10 a.m. followed by a book signing. The New Antiquarians: At Home with Young Collectors is his first book. The book features young antiques connoisseurs whose interiors exemplify unorthodox approaches to living with objects that reflect life and history.
Diaz-Griffith is executive director of the Design Leadership Network. Prior to joining the DLN, he served as executive director of Sir John Soane's Museum Foundation and as associate executive director of The Winter Show, America's most prestigious and longest-running art and antiques fair.
Young Scholars lectures, presented by students in the Winterthur/University of Delaware Program in American Material Culture and sponsored by The Decorative Arts Trust, will take place Saturday, November 11, at 3 p.m. Becca Lo Presti will deliver her lecture The Last Tall Clock in America? A Winterthur Tall Clock and Time Telling in Nineteenth-Century America.
Taylor Rossini, will speak about Empire on a Plate: Imperial Rivalry and Cartographic Knowledge in Overton's Trading Part of the West Indies (1741).
The Sunday Lecture entitled A Storied Past: Collections of Historic Odessa will be delivered on November 12 at 2 p.m. by Philip D. Zimmerman. Author of A Storied Past: Collections of Historic Odessa (Rowman & Littlefield, 2023), Zimmerman will present this eponymous lecture about the recent and ongoing research and interpretations of the furnishings and other decorative arts at Historic Odessa in southern New Castle County, Delaware.
Historic Odessa has beautifully restored 18th and 19th-century houses and an outstanding collection of furnishings and fine and decorative arts. Many pieces of original family furniture were made by prominent Delaware cabinetmakers of the 18th century. The collections include major works of regional paintings, prints, textiles, silver, pewter, and other metals.
Zimmerman will discuss new findings and interpretations as well as the interlocking histories of many of the objects in this remarkable collection. A museum and decorative arts consultant based in Lancaster, Pennsylvania, Zimmerman is a prolific author, teacher, and lecturer and author of numerous books, essays, and articles in books and periodicals such as American Furniture and The Magazine Antiques. He holds a doctorate in American and New England Studies from Boston University and a master's degree from the Winterthur Program in Early American Culture / University of Delaware. Book signing to follow the lecture.
Proceeds from the Delaware Antiques Show benefit the educational programs at Winterthur Museum, Garden and Library. Hours are from 11 a.m.-6 p.m. on Friday and Saturday and 11 a.m.-5 p.m. on Sunday.
Tickets are $25 and include the show catalogue. Children under 12 are admitted free. Ticket holders can also enjoy complimentary general admission at Winterthur Museum, Garden & Library when they present their Delaware Antiques Show ticket during the three days of the show.
Winterthur is currently showcasing a new exhibition "Ann Lowe: American Couturier" now through January 7, 2024
In 1964, The Saturday Evening Post referred to fashion designer Ann Lowe as "Society's Best-Kept Secret." Although Lowe had been designing couture-quality gowns for America's most prominent debutantes, heiresses, actresses, and society brides—including Jacqueline Kennedy, Olivia de Havilland, and Marjorie Merriweather Post—for decades, she remained virtually unknown to the wider public. Since then, too little recognition has been given to her influence on American fashion.
Ann Lowe's recently emerging visibility as a designer stands in contrast to much of her career and the countless unrecognized Black dressmakers and designers who have contributed to American fashion for generations, including her own grandmother and mother. She blazed a path for others to follow and her legacy is still felt in fashion culture.
This is the largest exhibition of Ann Lowe's work to date, featuring 40 iconic gowns, many that have never been on public display, and it will illuminate her evolution as a designer from the 1920s to the 1960s. The exhibition will also feature the work of contemporary couturiers and fashion designers whose current design practices, perspectives, and career paths reflect the trajectory of American fashion emanating from Lowe's foundation. These include B Michael, Tracy Reese, Amsale Aberra, and Bishme Cromartie. Elizabeth Way, associate curator at The Museum at the Fashion Institute of Technology, is guest curator of the exhibition.
Born in Clayton, Alabama, into a family of African American dressmakers, Ann Lowe (ca. 1898–1981) learned the skill of dressmaking from her mother and grandmother. She developed not only expert technical skills by the time she was a teenager but also her distinctive style—feminine, elegant, and often incorporating her signature hand-made floral elements. Her extraordinary career took her through the Jim Crow South, from Montgomery, Alabama, to Tampa, Florida, and in 1928 to New York City. Lowe's work made her an asset to wealthy society women around the country, yet she also experienced the tumultuous hardships of the fashion business and segregated America in a period of dramatic change.
Ann Lowe's workplaces her among America's significant fashion designers, and her life illustrates a legacy of Black women's knowledge and skills that began as enslaved labor. Lowe modernized this legacy and expanded it to international visibility, positioning herself as a creative designer, a fashion insider, and a vital contributor to American culture.
Admission to Winterthur is $25 for adults, $23 for seniors and students and $8 for children.
On November 11 and 12, Historic Yellow Springs (1685 Art School Road, Chester Springs, yellowsprings.org) is hosting its "Fine Arts & Crafts Show" from 10 a.m.-5 p.m. on Saturday and 10 a.m.-4 p.m. on Sunday.
This meticulously curated event features an impressive selection of artworks, including paintings in various mediums, ceramics, glasswork, woodcraft, paper art, fiber arts, exquisite jewelry and more. The HYS members' booth showcases a wide range of arts and crafts crafted by our talented members and our exceptional Chester Springs Studio faculty.
There will be an opening reception on November 10 from 5-8 p.m. Tickets will be available at the door for $10, with free admission for HYS members. It's a fantastic opportunity to be the first to shop at this year's attractive show.
The show continues on Saturday and Sunday. Admission is $5 at the door.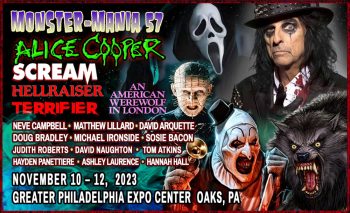 Monster-Mania Con 57 will be held now through November 12 at the Expo Center in Oaks (100 Station Avenue, Oaks, phillyexpocenter.com or monstermania.net).
One of the nation's premier horror film conventions, Monster-Mania Con features an impressive list of celebrities who will be appearing this weekend, including the Grandmaster of "shock rock" — Alice Cooper.
Also featured on the roster of guests this weekend are John Turturro, David Arquette, Skeet Ulrich, Hayden Panettiere, Neve Campbell, Matthew Lillard, Sosie Bacon, Hannah Hall and more.
Daily passes start at $30 and three-day passes start at $65.
Visitors to the convention will be able to meet the stars, get autographs, browse vendor rooms and enjoy films and special events all weekend long.
Activities get underway at 5 p.m. on November 10 and at 10 a.m. on November 11 and 12.
The Philadelphia Comic-Con, which is scheduled to run from 10 a.m.-4 p.m. on November 12 at the Clarion Hotel Conference Center (76 Industrial Highway, Essington, 856-217-5737, www.philadelphiacomic-con.com), features comic books, trading cards and other collectibles — both modern and vintage.
The event, which has an admission fee of $4, also features a number of special autograph guests.
The popular collectibles event, which is the area's longest running comic convention, will host dealers from all over the Northeast with sales booths featuring Gold & Silver Age comics, action figures, non-sport cards (including Topps "Journey to Star Wars: The Force Awakens").
Also featured will be Japanese Manga, gaming cards such as Pokemon and Magic the Gathering, original artwork and all the latest issues of today's popular comic book series.
On November 11, Laurel Hill Cemetery (3822 Ridge Avenue, Philadelphia, 215-228-8200, www.thelaurelhillcemetery.org) will present "Hot Spots and Storied Plots" walking tour at 10 a.m.
In life and in death, we all have stories to tell, and what better place to hear tales of wonder than Philadelphia's most famous home of the dead?
This tour provides an informative overview of Laurel Hill's long history, which includes many of the marble masterpieces, stunning views, and legendary stories about Laurel Hill.
"Hot Spots and Storied Plots" is the perfect introduction for anyone who enjoys beautiful art, scenic nature, and fascinating history. An experienced graveyard guide will offer a unique perspective. No two "Hot Spots and Storied Plots" are alike.
The Tour Guide will be Pat Rose.
Tickets are $15 general admission, $13 seniors, and $7.50 for youth.
A good location for a nature walk is Tyler Arboretum (515 Painter Road, Media, 610-566-9134, www.tylerarboretum.org).
The arboretum's schedule for this weekend features a "Saturday Wildflower Walk" on November 11.
With 650 protected acres of beautiful woodland, seasonally charming meadows, and a lively program of seasonal events and activities, Tyler Arboretum is a delight for nature lovers, birders, botanists, and those who want rediscover the natural world.
Dating to 1681, making it one of the oldest public gardens in the United States, and home to eight generations of three families, Tyler Arboretum connects visitors to the region's rich culture and history while preserving, developing, sharing, and celebrating Pennsylvania's priceless horticultural heritage.
"Saturday Wildflower Walk," which runs from 1-3 p.m., features wildflower expert Dick Cloud on an informative two-hour hike that will take guests through meadows, woods, and occasionally streamside. These walks are for those who have a love of plants, their role in ecology, or for those who want to learn more.
Although the focus is on plants, Cloud will also talk about whatever else is seen on the tour. Walkers should wear comfortable hiking shoes and bring a camera and/or a wildflower guide, for this botanical-filled walk.
Admission to Tyler Arboretum is $15 for adults (ages 18-64), $13 for Seniors (65+) and $9 for children (ages 3-17) and Military with valid ID.
The Lehigh Valley Wine Trail (http://lehighvalleywinetrail.com) is presenting its annual "Giving Before Thanks" event on November 11 and 12. Event hours at all the wineries are Saturday from 11 a.m.-5 p.m. and Sunday from noon-5 p.m.
Visitors are invited to join the Lehigh Valley Wine Trail just before Thanksgiving and help the association help the less fortunate in the community.
If you bring a packaged or canned (non-perishable) food item as a donation to each winery you visit, you can receive a complimentary wine tasting at each one.
Food will be donated to donated food items to New Bethany Ministries in Bethlehem and Portland Upper Mount Bethel Food Pantry in the Slate Belt Region.
The Wine Trail will also donate one dollar for every pound of food donated (up to $1,000) to Second Harvest Food Bank for the Lehigh Valley.
Member wineries will each have their own special features taking place this weekend such as live music, wine promotions, food vendors and more.
Participating wineries are Black River Farms, Blue Mountain, Franklin Hill, Tolino, and Vynecrest.
This weekend, you can get a glimpse at how holidays are celebrated in a culinary way in Eastern Europe and Russia by visiting the festival at Saint Herman of Alaska Orthodox Church (1855 North Middletown Road (Route 352), Gradyville, 610-459-5310, www.sthermansoca.org).
The annual Christmas bazaar and food festival at St. Herman is running on November 11 and 12.
There will be no entertainment this year because of COVID-19 concerns. The food will be available through online ordering or drive-through from noon-5 p.m. each day.
The menu, which is billed as a "Taste of Tradition," offers a selection of Russian, Ukrainian, Serbian, Greek & Eastern European Cuisine.
The menu features stuffed cabbage, blini, beef stroganoff, cevapcici, kolbassi sandwiches, halushki, homemade pastries and other specialties.
Autumn's colors just came in and are already on their way out. There is still time to take in autumn's annual color display by riding on a special excursion on an area tourist railroad.
The Colebrookdale Railroad (South Washington Street, Boyertown, www.colebrookdalerailroad.com) is running its "Autumn Splendor Fall Foliage Excursions" on November 10, 11 and 12 and on November 17, 18 and 19.
These rides feature views of some of the best foliage in the area. Spectacular autumn colors and the rich fragrances of fall in the Secret Valley delight the senses while locally produced autumn snacks and ciders available on board warm the soul.
The two-hour round trips depart and arrive in Boyertown.
Ticket options include Deluxe-Coach, Dining, Garden Cafe, First-Class Parlor or First-Class Lounge.
The Northern Central Railway (2 West Main Street, New Freedom, www.northerncentralrailway.com) is running its "Fall Foliage Trains" on November 11 and 12.
Riders can enjoy the beauty of fall in Southern York County as the train follows the original Northern Central Railroad, a mainline in operation since 1838, through the scenic Heritage Rail Trail County Park.
Motive power will be the William H Simpson No. 17 replica steam locomotive or the 6076 PRR GP9 historic diesel locomotive. The conductor and brakeman will tell riders about the history and growth of the towns and villages they pass along the way.
Ticket prices start at $34.
The Strasburg Railroad (Route 741, Strasburg, www.strasburgrailroad.com) is running its "Wine & Cheese Train" on November 10, 11 and 12 at 4 and 6 p.m. each day.
Passengers can enjoy the luxurious, climate-controlled first-class accommodations and a tasting of select wine, cheese, and crackers as they travel in style down the tracks from Strasburg to Paradise and back. The train departs at 7 p.m. and the total trip time is 45 minutes.
"Wine & Cheese Train" boarding is 30 minutes before the scheduled departure. Riders must be 21 or older and have their photo ID ready when they board.
Featured wines are carefully selected from Waltz Vineyards, and cheeses are paired accordingly. Beer and select non-alcoholic beverages are also available for purchase upon request. Riders can purchase a souvenir wine glass on board the train if desired. Glasses are $7 each.
In accordance with Pennsylvania law, alcohol is only served during the train ride. The rail line is not permitted to serve alcoholic beverages while the train is berthed in the station.
Tickets are $65.
Longwood Gardens (Route 1, Kennett Square, 610-388-1000, www.longwoodgardens.org) is a great place to visit any time in the year and always has special attractions to add to the experience.
Longwood's Chrysanthemum Festival is running through November 12. Innovative plant-growing techniques and displays take center stage by way of thousands of trained chrysanthemums throughout our Conservatory.
Big, bold colors and thousands of carefully nurtured and trained chrysanthemums abound during this imaginative display serving as the largest and oldest of its kind in North America.
Throughout the Conservatory, specialty chrysanthemum forms from fanciful clouds to sculptural spirals not only showcase our horticultural savvy but help preserve an ancient Asian artform that we are beyond proud to perpetuate.
Daily performances in the Main Fountain Garden will feature more than 1,700 spinning jets that spin dance to various music programs. These are no little jets as some shoot up as high as 175 feet in the air.
The 30-minute show is slated for Thursdays, Fridays and Saturdays at 9:15 p.m.
The Main Fountain Garden Show fountain performance that begins with a touch of narrated history and concludes with dynamic choreography marrying music and the site's newest fountain features.
These displays will be presented daily at 1:15 a.m., 1:15, 3:15 p.m. and 5:15. There will also be performances on Thursdays, Fridays and Saturdays at 6:15, 7:15 and 8:15 p.m.
The "Illuminated Fountain Performance" will be staged Thursdays through Sundays at 9:15 p.m.
Admission to Longwood Gardens is $25 for adults, $22 for seniors (ages 62 and older) and college students, $18 for active military and veterans and $13 for youth (ages 5-18).
Usually, Nemours Estate (850 Alapocas Drive, Wilmington, Delaware, www.nemoursestate.org) is open Tuesday to Sunday from 10 a.m.-5 p.m. Reservations are not required and there is no timed entry.
Nemours Estate will be closed now through November 13 for holiday decorating. Guests can resume visiting when Nemours reopens for its "Holiday Season" on November 14.
Nemours Estate comprises an exquisite, 77-room Mansion, the largest formal French gardens in North America, a Chauffeur's Garage housing a collection of vintage automobiles, and 200 acres of scenic woodlands, meadows and lawns.
Nemours was the estate of Alfred I. duPont.
Alfred named the estate Nemours, after the French town that his great-great-grandfather represented in the French Estates General. While looking to the past and his ancestors for inspiration, Alfred also ensured that his new home was thoroughly modern by incorporating the latest technology and many of his own inventions.
The Historic Odessa Foundation (Main Street, Odessa, Delaware, 302-378-4119, http://www.historicodessa.org) is presenting a new exhibition now through December 31 – "RISE-NEW DIMENSIONS: Photography by Avi Gold."
You can immerse yourself into the captivating world of photography by Avi Gold with "RISE" as it stretches the limits of perspective and perception, ushering you into the enchanting realm of 3-dimensional storytelling.
Through this exhibition at the Historic Odessa Foundation's Visitor Center, conventional photography sheds its confines, seamlessly merging aerial photography, infrared photography (IR), and 360 immersive experiences with cutting-edge Augmented Reality (AR).  Perception and perspective "RISE" as landscapes awaken, breaching their frames, and inviting you to step into the very essence of each captured instant.
"RISE" orchestrates a flawless marriage of artistry and technology, elegantly blurring the boundary between reality and imagination. Visitors embark on a journey of transformation where photography defies the boundaries of time and space.
This showcase exhibit is included with general HOF admission – Adults, $10; Seniors and Students, $8; Children (under six), free.
Wonderspaces at the Fashion District (27 North 11th Street, Philadelphia, philadelphia.wonderspaces.com) is an experiential, interactive arts venue.
Building on the success of annual pop-up shows in San Diego, and its first permanent location in Scottsdale, Arizona, Wonderspaces opened a 24,000 square foot gallery space in Philly a year ago.
Wonderspaces features 14 art installations that all play with the idea of perspective.  The artwork ranges from award-winning virtual reality short film about a dinner party-turned-alien abduction, to a room where visitors digitally paint the walls with the movement of their bodies.
New artworks rotate in every few months, creating an ever-evolving, year-round show.
Tickets are for entry at a specific date and time. Visitors are welcome to stay as long as they please during operating hours. The average time spent experiencing the show is 90 minutes.
A few installations contain flashing lights, images, and patterns that may trigger seizures for people with photosensitive epilepsy. All visitors must sign a waiver prior to being admitted into the space. Adult supervision is required for visitors under 16.
If crisp fall weather puts you in the mood for an energetic outdoor activity, you have two good options.
Treetop Quest Philly (51 Chamounix Drive, Philadelphia, www.treetopquest.com) is an aerial adventure park that will challenge you physically and mentally as you maneuver from tree to tree through obstacles and zip-lines. Once you're equipped, they will teach you how to operate your equipment and you'll be able to swing through each course as many times as you want for 2.5 hours.
Each participant is outfitted with a harness and gloves. Each course has a continuous belay system — a lifeline that is impossible to detach without a staff member. The activity is self-guided, and the staff is ready to assist when needed.
Gloves are required for our activity. During this time, we encourage participants to bring their own gloves to use while up in the trees, gardening gloves are perfect for this activity.
Ticket prices are $55, adults; $48, ages 12-17; $38, ages 7-11.
"TreeTrails Adventures Trevose" (301 West Bristol Pike, Trevose, treetrails.com/trevose-pa) is an adventure park full of fun challenges for outdoor adventurers of all ages.
Participants can experience the rush of TreeTrails Adventures as they swing through the trees of the new adventure park. They will be able to discover the excitement of climbing and zip lining above the forest floor with family, friends, co-workers, or teammates.
The park, which is based at Phoenix Sport Club in Bucks County, offers two ways to experience climbing – TreeTrails Adventure Park and KidTrails Park. Young explorers can enjoy miniaturized courses in the adjacent KidTrails Park.
General Park Admission prices are: Main Park Adult Tickets (Ages 12+), $59; Main Park Youth Tickets (Ages 7–11), $51; KidTrails Tickets (Ages 4–7), $12.W
When it comes to celebrating favorite holidays, some people simply refuse to let go – especially when that holiday is Halloween.
Halloween is fading in the rear-view mirror, but some Halloween events are still going.
The "27th Annual Field of Screams" (109 College Avenue, Mountville, 717-285-7748, www.fieldofscreams.com), which is open now through November 12, features four world-class Haunted Experiences and an impressive Midway Area.
Top attractions include "Horrifying Haunted Hayride," "Den Of Darkness," "Nocturnal Wasteland" and "Frightmare Asylum."
Ticket prices start at $16.
For years, Eastern State Penitentiary (2124 Fairmount Avenue, Philadelphia, www.easternstate.org ) presented one of the premier Halloween attractions in Philadelphia — "Terror Behind the Walls."
Now, it has morphed into an event called "Halloween Nights at Eastern State Penitentiary."
The truly scary attraction, which is running through November 12, takes place at a penitentiary site that was once was an active prison and is now a National Historic Landmark. It is a scream-inducing event featuring laser and special-effect lighting, digital sound, sinister scents, animatronic creatures and 3-D illusions.
There is "Delirium," a 3D Haunted House where visitors take a mind-altering trip into another dimension –a parallel, neon universe where nothing is quite as it seems. Fascinating creatures emerge from seemingly nowhere as the world you thought you knew shrinks away.
"The Crypt" is another Haunted House. The creatures of The Crypt request your presence. Wade through the mist and into the lair of an ancient clan of vampires. They've set the table, but if you're not careful, you might end up on their next menu.
"Big Top Terror" is a Haunted House which is new for 2022. Visitors step out of the center ring and head backstage through the carnival grounds where menacing performers will do anything it takes to carve out their moment in the spotlight.
"Nightmares" is another Haunted House which is new for 2022. As sleep paralysis sets in, there's no escaping the terrors that lurk in the shadows. Mr. Sandman conjures up a menagerie of frightening personalities all dead set on trapping you in your worst nightmares… forever.
Another Haunted House is the "Machine Shop." Hidden away from the world is a long-forgotten machine shop. Evil pervades this space – an evil with one mind but with many bodies. Will visitors survive or will they become just another cog in the machine?
Other attractions are "The Speakeasy at Al Capone's Cell," "The Bloodline Lounge," "The Big Graph & Prisons Today," "The Voices of Eastern State" Highlights Audio Tour, "Kaleidoscope Hall," and "S'mores and Lore."
Admission prices, which vary with the date, start at $34.
Grim Philly's "Dark Philly History Tour" (www.grimphilly.com) will be held every evening throughout the fall.
Participants can walk with tour guides from the grounds of America's first White House, Congress, and Liberty Bell to homes and sites of Hamilton, Washington, Franklin, Adams, Jefferson, Madison, Monroe, and more than 10 other Founding-Fathers. The surprising dirt of espionage, murder, sexual license and blackmail highlight the secrets of 1776 with a ghost story or two along the way. This tour is highly researched. And your guide is a historian.
Tickets are $35.
Ghost Tour of Philadelphia (215-413-1997, www.ghosttour.com), Ghost Tour of Lancaster (717-687-6687, www.ghosttour.com) and Ghost Tour of Strasburg (717-687-6687, www.ghosttour.com) operate throughout the winter and offer an eerily entertaining evening of true ghost stories and real haunted houses.
The Ghost Tour of Philadelphia, which is based on the book, "Ghost Stories of Philadelphia, PA.," is a candlelight walking tour along the back streets and secret gardens of Independence Park, Society Hill, and Old City, where ghostly spirits, haunted houses, and eerie graveyards abound.
Participants can discover the ghost lore of America's most historic and most haunted city with stories from the founding of William Penn's colony to present-day hauntings.
The activity is open year-round – weekends, December-February; every night, March-November. Tickets are $24.
The Ghost Tour of Lancaster and the Ghost Tour of Strasburg are based on the book, "Ghost Stories of Lancaster, PA."
Participants in the Ghost Tour of Lancaster explore the long-forgotten mysteries of one of America's oldest cities, with haunting tales of otherworldly vigils, fatal curses, and star-crossed lovers. The tour provides the opportunity to experience 300 years of haunted history from the Red Rose City's thorny past. Tickets are $20.
The Ghost Tour of Strasburg is a candlelight walking tour of the quaint and historic town of Strasburg in the heart of Pennsylvania Dutch Country. Visitors will experience an entertaining evening with a costumed tour guide spinning tales of haunted mansions, eerie graveyards, and spirits that roam the night … in a town lost in time. Tickets are $20.
In reality, Halloween is over, and Thanksgiving is not a holiday with a lot of special events.
That can only mean that it's time for the annual onslaught of Christmas events.
Anyone wanting to get into a Christmas mood early can visit Koziar's Christmas Village (782 Christmas Village Road, Bernville, 610-488-1110, www.koziarschristmasvillage.com) which begins its 75th season on November 5.
Koziar's Christmas Village is truly a holiday wonderland — a wintertime spectacle that delights young and old alike with a huge amount of holiday displays and special attractions. It will remain open every night through January 1 — including Christmas Eve, Christmas Night, New Year's Eve and New Year's Night.
The tours of "Christmas Village" feature visits to a variety of displays and exhibits, including "Santa's Post Office," "Christmas in the Jungle," "Manger Scene," "Christmas Beneath the Sea," "'Twas the Night Before Christmas," "Olde Fashioned Bakery Shop," "Toy Maker and his Toy Shop," "Christmas in Other Lands" and "The Olde Church".
Other attractions at Koziar's Christmas Village include a huge model train display, a toy shop, a country kitchen, indoor and outdoor Christmas displays and a place to visit with Santa and even get pictures taken with the old guy in the red suit. Admission to Christmas Village is $12 for adults, $11 for seniors (65 and older) and $10 for children (ages 4-10).
In addition to Koziar's Christmas Village, several other Christmas events are already underway.
This weekend's activities schedule in Philadelphia features the Center City Parks District's the Rothman Orthopaedics Institute Ice Rink at Dilworth Park (1 South 15th Street, Philadelphia,http://ccdparks.org/dilworth-park).
Beginning this November, some of Philadelphia's favorite winter traditions return to Dilworth Park. Visitors of all ages can enjoy a dramatic seasonal transformation as fountains are replaced by the Rothman Orthopaedic Institute Ice Rink and reindeer topiaries take up winter residence on the Greenfield Lawn.
In addition, a full lineup of free entertainment is planned, including the Deck the Hall Light Show, the Made in Philadelphia Holiday Market and Rothman Orthopaedic Institute Cabin.
Dilworth Park's winter season began at the start of the month with the opening of the Wintergarden on the Greenfield Lawn presented by TD Bank. Around the same time, the Rothman Orthopaedics Ice Rink and Cabin made its annual return.
The Rothman Institute Ice Rink at Dilworth Park is an unparalleled entertainment experience on Philadelphia's center stage in a wonderfully urban and unique setting. Open seven days a week, the rink offers wintery fun for all ages, with a full slate of programs.
The Rothman Orthopaedics Institute Ice Rink's Grand Opening celebration is scheduled for November 10 at 10 a.m. The winter season kicks off with a ribbon cutting ceremony, complete with guest skaters and magical snow flurries.
The Made in Philadelphia Holiday Market will also open this weekend and run through January 1 with more than 40 local vendors.
The American Music Theatre (2425 Lincoln Highway East, Lancaster, 800-648-4102, www.AMTshows.com) has its holiday show running now through December 30.
The AMT's 2023 show "The First Noel" is an all-new presentation of favorite sacred and secular holiday songs performed by professional artists from across the country. The show will feature spectacular vocal harmonies, lively musical arrangements, impressive dancing and the music of the AMT Orchestra.
"The First Noel" features incredible singers, astonishing dancers, wondrous costumes, breathtaking sets, and all the endearment of a perfect fireside family moment. Patrons can bask in the beauty of the season and cherish the stories of spirit and love.
This year's all-new holiday show features favorite seasonal and sacred Christmas songs – songs brought to life by marvelous vocal talent from across the country, accompanied by the highly-touted AMT Orchestra.
Beautiful snowscapes, child-like joy, cherished stories, the spirit of love, and all your favorite things about the holiday season are cast onstage in this glorious celebration of timeless holiday classics.
The show will have both matinee and evening performances each week with the addition of 10:30 a.m. performances on Saturdays throughout December. Tickets are $49 for adults and $25 for children.
"Christmas Candylane," which is the annual holiday event at Hersheypark (100 West Hersheypark Drive, Hershey, 800-HERSHEY, www.hersheypark.com), is running now through January 1.
Visitors to Hershey can also experience the winter wonderland called "Hershey Sweet Lights, A Holiday Drive-Thru Spectacular." The attraction is a two-mile drive through wooded trails featuring approximately 600 illuminated, animated displays.
Admission prices for "Christmas Candylane" start at $29.95.