To The Editor,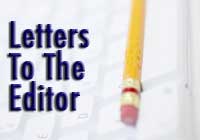 To the Residents of Kennett Township:
I'd like to thank the residents of Kennett Township for electing me to the Board of Supervisors. The broad range of support for my platform and the wonderful effort of all those who helped my campaign were evident in my winning all four precincts.  I'd also like to thank my opponent, Jim Przywitowski,  "P12", for his dedication and desire to improve Kennett Township.
In the years to come, I will work with my fellow Supervisors to create a government that functions in respectful partnership with all committees, volunteers, employees and residents of Kennett Township. As stated during my campaign, my priorities while in office will be to make all decision making processes transparent, make all allowable Township finances public, preserve open space, expand and link public trails, build the local business environment, and develop and fund a long range capital plan.
Through open communication, your support and volunteer efforts, I know that we can make our government work more creatively and efficiently. Kennett Township is a wonderful place, together we can make it even better.
Take care.
Richard Leff
Kennett Township
Supervisor-elect