EAST MARLBOROUGH — The 44th annual National EMS week begins May 20 and Longwood Fire Company is recognizing its EMS personnel. "EMS professionals provide such a valuable service to the community every week of the year," said Longwood Chief A. J. McCarthy. "Their life-saving skills are invaluable." Longwood Fire Company is providing lunch for the EMS crew each day next week.

Matt Eick Matt Eick, a 16-year veteran of EMS, is the new Captain of EMS for Longwood Fire Company. He began his duties in February. "In my new role I have total oversight of the ambulances and Emergency Medical Services," Eick said. "I manage a staff of nine full time, 14 part time and 10 volunteer EMS staff. Aside from responding to emergencies, we offer CPR Training, EMS outreach programs,...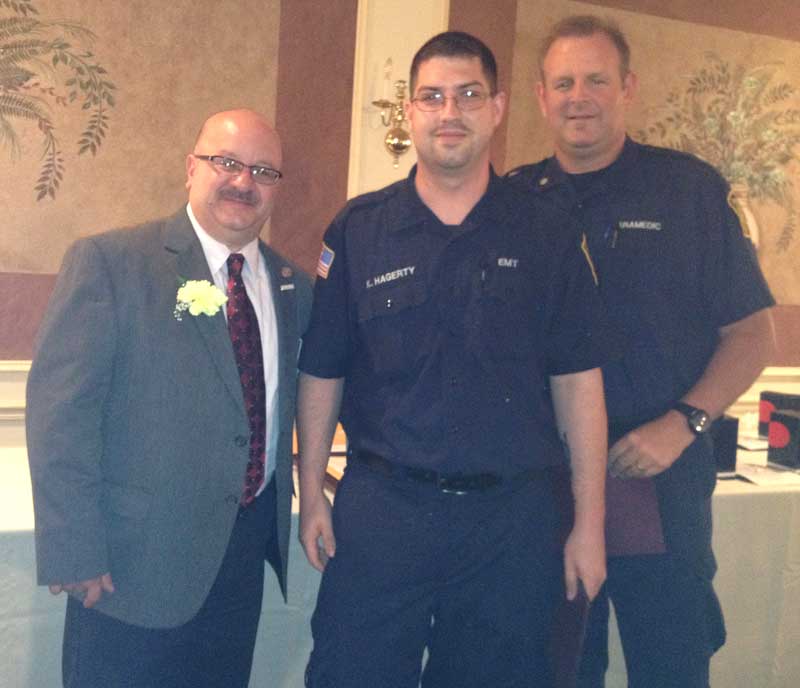 Local EMS workers honored for their positive impact By Kathleen Brady Shea Managing Editor, KennettTimes.com EMS Council President Leo Scaccia (from left) contratulates Kevin Hagerty and Scott Runge from Longwood Fire and Ambulance for assisting in the delivery of a baby. When medical personnel arrived, the 14-year-old girl who collapsed after cheerleading practice had stopped breathing. She was...