The Unionville boys varsity golf team played Oxford Monday.  The match result was: Unionville 206 Oxford 242 Win Thomas led the way for the Longhorns with a score of 39. Unionville's record goes to 6 – 0 in the CM-American league. Unionville's next match is Tuesday at 3pm.   It is against Devon Prep, and it will be held at Kennett Square Golf and Country Club.

Unionville Girls 194   Oxford Girls 260 (top 4 players scored) Match played at Wyncote Golf Club (par 36) Unionville top scorers :  Mary Dunigan 34  Sarina Patel 50  Mira Patel 51  Cecilia Nutter 59 Oxford's top scorers:   Angela Beadle 63   Ashley Flynn  65   Hannah Aker  65   Elizabeth Dewees  67 Special Note:  Mary Dunigan made an "Albatross" on the par 5 ...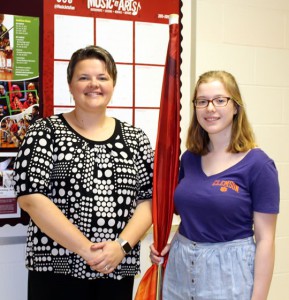 OXFORD – Oxford Area High School junior Hayley Allport is a talented musician and is assigned first chair of the flute section in the concert band. But, it is Hayley's second love, color guard with the marching band, which earned her a place in the 2015 Macy's Thanksgiving Day Parade. Hayley Allport,with OAHS band director Erin Kauppila, will perform in the color guard flag team of the...