One suspect taken into custody and two at large, police said
By Kathleen Brady Shea, Managing Editor, The Times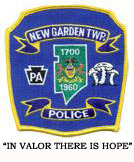 A trio of masked robbers, one brandishing a black revolver, preyed on Hispanic men during an hour-long robbery spree that hit three locations on Saturday; it ended with one suspect in custody and two on the loose, police said Tuesday.
New Garden Township Police said the first robbery occurred in the 700 block of Penn Green Road in New Garden Township about 3:15 p.m. on Saturday; however, it was not reported until Monday. The 20-year-old victim said that a white sedan (later identified as a Ford Taurus) with three suspects in dark clothing entered a parking lot and that a Hispanic male wearing a mask exited the vehicle with a black revolver and demanded the victim's money, police said.
After the victim complied, the vehicle left the area, police said. At 3:42 p.m., police responded to the 400 block of Pemberton Road, where two Hispanic men, ages 28 and 32, said they were returning to their residence from shopping when they noticed a white Ford Taurus behind them in the area of Cedar Springs Road, police said. After the men turned into their driveway, the Taurus pulled in behind them, blocking them from fleeing, police said.
The victims said the three individuals in the Taurus were wearing masks and dark clothing, and the one who approached them brandished a black revolver as he demanded their money and property, police said, adding that the vehicle was last seen heading toward Pemberton Road.
Police said a third incident occurred in the 600 block of Rosedale Road in Kennett Township at 4:04. Several minutes later, a Kennett Square police officer and a state trooper from the Avondale barracks spotted the Taurus, which refused to stop, resulting in a pursuit that terminated at Ninth and Market Streets in Wilmington, De., police said.
With assistance from Wilmington Police, Saul R. Alvarez, 23, of Wilmington, a former resident of West Grove, was taken into custody; the other two suspects fled, police said. New Garden police said an investigation is continuing, and anyone with information is asked to call the department at 610-268-3171 or its anonymous tip line: 610-268-2907, ext. 222.