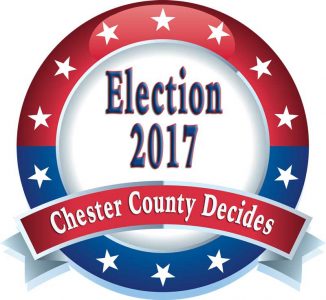 We have rarely, if ever, offered endorsements in local District Justice races. We remain uncomfortable with the idea of electing the judiciary — a needless introduction of partisan politics into our justice system.
However, the race that has unfolded in District 15-3-04 — which encompasses the Unionville and Kennett areas — has been deeply disturbing in its level of nastiness since the primary season started.
The race has Republican Jane Donze facing Democrat Al Iacocca — two Willowdale attorneys with offices in close proximity.
Donze has stressed her lengthy legal experience — some 30 years in practice — and her involvement in the community as her talking points.
Iacocca has more strongly played up his involvement in the local community and with kids — and his recent experience in local district courts and the Chester County Court of Common Pleas.
Were those the lone talking points or points of conversation, we would not be making any endorsement in this race. We will stipulate the following: both have the requisite experience and community involvement to make excellent District Justices.
We do not totally buy the argument that 30 years of legal experience, which Donze has, versus nine for Iacocca, who has additional broadening experience as a teacher (no small issue when so many District Justice cases involve juveniles) is such a big issue. We would make the argument that there are a number of District Justices serving around the county right now with distinction who are not even attorneys.
The experience argument is also let down by the performance of State Rep. Eric Roe (R-158), who despite not reaching his 30th birthday, has shown surprising leadership in his first term in office and the courage to lead anti-Gerrymandering efforts in the state legislature — this despite having never held elective office before.
So if experience is not to be the deciding factor, then one must look at character and judgment.
It is here where we see a clear difference.
While Iacocca mostly stayed in his lane and largely spoke about what he'd like to do if elected — although yes, some of his more vocal supporters have been openly critical of Donze — Donze's campaign has been more focused on attacking opponents.
We saw it directly when, through a GOP political operative, damaging, personal opposition research was distributed to this and other media outlets this spring on Donze's Republican primary opponents. The campaign's fingerprints were almost literally all over the documents — Donze's husband, George, appears within them as the party doing the initial legal searches.
Ironically, the information, was nearly exactly the type of information that Republican elected officials and party officials have, in the past, asked us to remove from our comments section to "protect their families." We honored those requests then and did not report on the allegations, as we felt they would do too much damage to candidates' families and had not been formally issued by the campaign. Additionally, they appeared to be cherry picked and not an entirely true reflection of the facts at hand.
In other words, it appeared to us, that the Donze campaign was hoping we in the media would do their dirty work for them. We are thankful to say we — and none of our colleagues locally — indulged this out of bounds conduct.
To us, this suggests both poor judgment and a lack of character. While we would be deeply troubled by this sort of conduct by a state legislative candidate, it is much worse in a contest for an office that is entirely defined by a person's judgment and character.
In a time when we are increasingly seeing how important character is for an elected official — not just their ideology — we see all of this as disturbing and ultimately disqualifying for Donze.
Conversely, we see no such issues or questions with Iacocca, who has been a visible, involved member of the local community for more than a decade. We are confident he will exercise fair, impartial judgment on the bench.
The Times endorses Al Iacocca for District Justice in 15-3-04.