It takes a team of professionals to keep you fully healthy
By Dr. Stephanie McGann, DMD FAGD, Columnist, The Times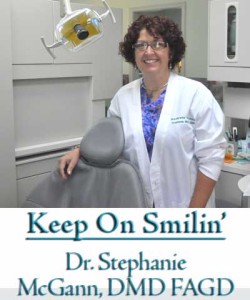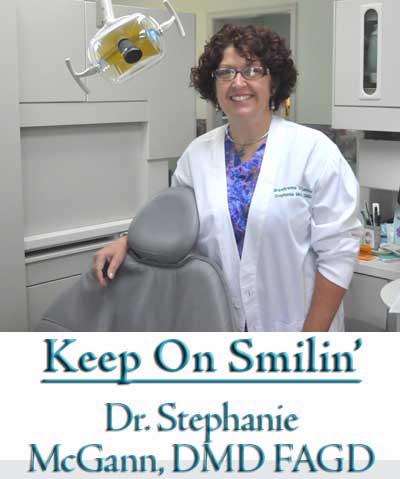 It's easy to get confused when so many people work in a modern dental practice. Most dental practices have a variety of skilled people working to provide you with state of art dental care.  It takes a team to provide great dentistry.
The Dental Hygienist: This person is a skilled licensed professional whose scope of practice includes dental charting, cleaning teeth, performing many periodontal therapies, administering topical and in some states injectable anesthetics. A dental hygienist is the front line of preventive dentistry. Their license allows them to place dental sealants and administer topical fluoride therapies. The hygienist is also licensed perform x-ray procedures. The dental hygienist has a post high- school either 2 or 4 year degree from an accredited school of dental hygiene. They must take annual continuing education to maintain their license.  The dental hygienist is familiar with all aspects of dentistry and can often answer many questions about dental care. They often perform dental screening and can document a patient's health status.
Most patients spend more time with their hygienist than they do with the dentist. A great hygienist is a huge asset to any practice. I have been very fortunate in my career to have worked with some of the best.
The Dental Assistant: These are the chairside assistants that are the right hand of the dentist.  Most dental assistants maintain an X-Ray certificate. This certificate allows them to take x-rays per the dentist order.  Assistants who maintain X-Ray certification in Pennsylvania must take additional training at regular intervals.  Dental assistants perform sterilization duties; they provide an extra set of hands during procedures and maintain the equipment and inventory of all the supplies needed to provide care.  Dental assistants can only do "reversible" steps during procedures. Some dental assistants have become certified EFDA's. These Expanded Function Dental Assistants have the education and certifications to do more than just help In some busy dental practices EFDA's are used to place filling materials after the dentist has completed the preparation of the tooth.
Front Desk: These are the wizards of the dental office.  They take multitasking to a whole new level. They deal with scheduling, phone calls, finances, insurance, making sure deliveries arrive and all of the non-clinical aspects of the practice run smoothly.   Please, thank your office front desk the next time you go. Even the most seasoned dental professional may get anxious when asked to cover the front desk.
Office manager:  Some larger practices have a designated office manager. This individual takes the management burden off of the dentist to allow them to spend more time seeing patients and less time on hold with (fill in service provider of choice). Office managers routinely handle the scheduling of employees, payroll and human resource functions. By making the day to day functions of a dental office go smoothly the dentist can focus on providing dental care.
The Dentist:  Your dentist has a college degree followed by 4 years of dental school.  When a dentist graduates they still have to take their state's licensing exams and many spend time in a residency program.  A dental specialist, such as an orthodontist or endodontist, has additional years of specialty training. A private practice dentist does more than just work with their patients. They are often there, behind the scenes writing letters on behalf of patients to their insurance carriers, managing the office, doing everything else a small business owner has to do.  In Pennsylvania we take regular continuing education to maintain our state license.
A great dental practice involves a team of caring professionals trained to work together.
Dr. Stephanie McGann is a resident of the Unionville area and along with her partner, Dr. Marie Scott, operates The Brandywine Smile Center, a family-friendly dental practice in Concordville. She is a Fellow of the Academy of General Dentistry.